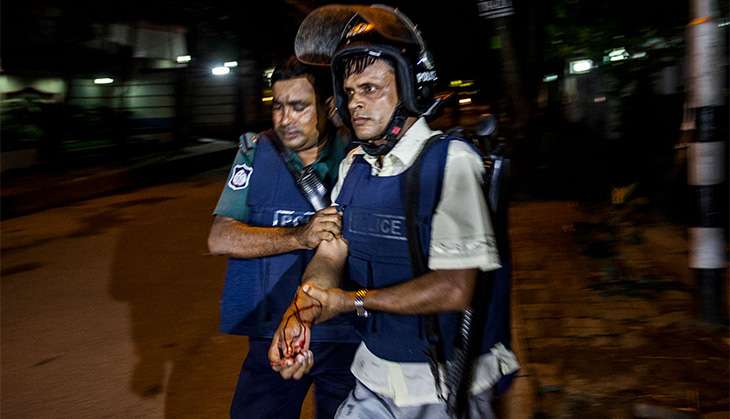 Investigation agencies have found that a consignment of AK-22 rifles along with other weapons was delivered to militants in mango baskets a month before the terror attack on the Holey Artisan Bakery in the upscale suburb of Gulshan in Dhaka.
The attackers used three AK-22 rifles in the Gulshan attack, whereas another rifle was used for the security of New Jama'atul Mujahideen Bangladesh (JMB) chief Tamim Ahmed Chowdhury, reports the Dhaka Tribune.
Dhaka Police investigators claimed they have finally been able to map out the route of the smuggled arms.
Chief of the Counter Terrorism and Transnational Crime ( CTTC), Monirul Islam said they have finally learned the source of the AK-22s supply and have also been able to identify the group primarily.
He said these AK-22 rifles, recovered at different times in drives, mainly entered Bangladesh through the Chapainawabganj border, adding that the consignment was then sent to Dhaka inside mango baskets.
The consignment was received by missing new JMB leader Nurul Islam Marjan in Dhaka, who then delivered it to the Bashundhara residential area.
"A large amount of mangoes came to Dhaka from Chapainawabganj in baskets at the time and the militants took advantage of that to elude law enforcers," the Dhaka Tribune quoted Islam, as saying.
He said drives are underway to arrest Marjan and other mysteries of such arms smuggling will be solved soon after his arrest.
Islam said a total of Tk 20 lakh came to Bangladesh in two phases through Hundi. The fund was received by a person named Chocolate alias Basharuzzaman, who was a close associate of killed leader Tamim Chowdhury on behalf of the New JMB chief.
At least five assailants had entered the Holey Artisan Bakery on 1 July, with crude bombs, machetes, pistols, and took several dozen hostages, including foreigners and locals.
In all, 29 people were killed, including 20 hostages (18 foreigners and two Bangladesh citizens), two police officers, five gunmen and two bakery staff.
--ANI