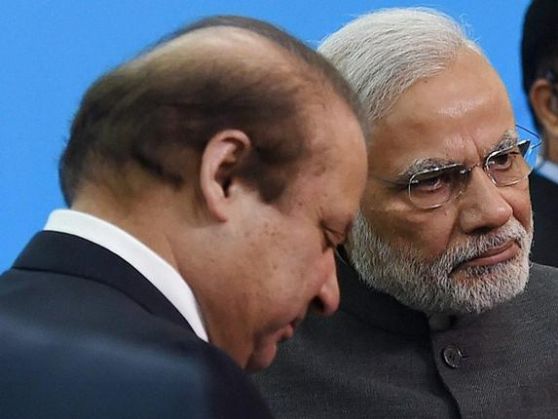 Prime Minister Narendra Modi on Friday arrived here on a visit during which he is expected to hold talks with Afghan leadership, including President Ashraf Ghani, and inaugurate the Parliament building which has been constructed by India at a cost of $90 million.
Modi who flew in the wee hours from Moscow, where he had annual summit talks with Russian President Vladimir Putin, was received by Afghan National Security Adviser Mohammad Hanif Atmar and deputy Foreign minister Hekmat Karzai.
External Affairs Ministry Spokesperson Vikas Swarup tweeted:
A binding of democracies. PM @narendramodi with Afghan President and the speakers of the two houses of Parliament. pic.twitter.com/BuccvV1k8x

- Vikas Swarup (@MEAIndia) December 25, 2015
On his arrival Modi said, "delighted to be in Kabul among friends. Will meet Ashraf Ghani, Chief Executive Officer (CEO) Abdullah Abdullah and former President Hamid Karzai".
Modi will be holding talks with Afghan leaders on key bilateral issues, including security co-operation and discuss the ways to help war-torn country where India has committed over $2 billion in assistance. The prime minister will also be inaugurating the Parliament building and expected to address the Afghan lawmakers.
The Parliament building project, which was initially conceived at a cost of $45 million, was started by India in 2007 as a mark of friendship and cooperation to help rebuild Afghanistan.
Situated between historic landmarks King's Palace "Darulaman" and the Queen's Palace - the building has elements of Mughal and modern architecture and has Asia's largest dome as its key feature. The building will house the Wolesi Jirga (Lower House) with a seating capacity of 294, a 190-seat Meshrano Jirga (Upper House), besides other facilities like conference hall and press room.
Meanwhile, Mi 25 choppers were taken to Afghanistan in a C-17 transport aircraft of the Indian Air Force, sources said.
While Afghanistan has repeatedly sought India's support in beefing up its military's fighting capability in terms of machinery, India had shied away till now. The development came after the recent visit of Afghan National Security Adviser Mohammad Hanif Atmar to New Delhi. Afghanistan has till now been dependent on the US air support in its operations against the Taliban.
However, with the American forces pulling out that country to a large extent, the Afghan forces will be using the Mi 25 now.
-PTI