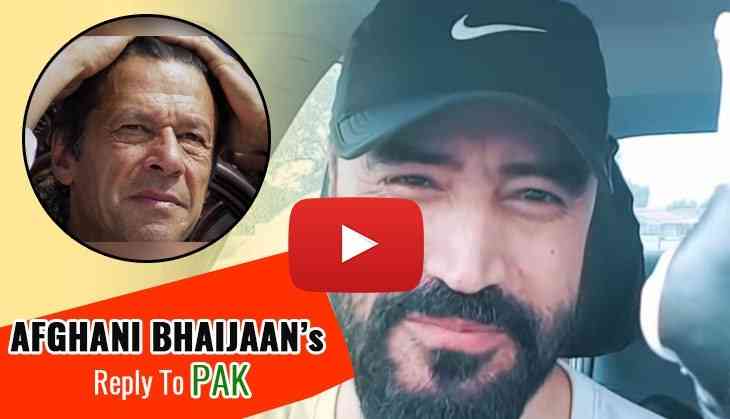 The Pulwama terror attack on the Central Reserve Police Force (CRPF) convoy has not only shaken Indians but other countries have extended their sympathies and condolences to martyred CRPF jawans.
The protest against militants and the Pakistani government can be seen everywhere either on roads, television or on social media also. Many YouTubers and Twitterati have condemned the terror attack. Even Afghanis have also come in support India and also shown their agitation against Pakistan after Pulwama attack.
Recently, a video is doing the round on social media in which an Afghani bhaijaan has given a befitting reply to Pakistan and also mocked Pakistan Prime Minister Imran Khan.
The video has released post-Pulwama terror attack, in which over 40 Indian security forces personnel have lost their lives on 14th February suicide attack in south Kashmir's district.
In the 13-minute long video, he had shown two videos first from Pakistan, one is of Pak PM Imran Khan, in which he talked about 'naya Pakistan' and lots of verbosities while in another video, a Pak armyman slammed Modi-led government.
After showing these two clips, the Afghani bhai mocked at the two videos and called Pak PM as 'garib'. He kept on criticising Pakistani and Imran Khan government with laughter.
He also slammed ISI and Pakistani military.
See his viral video:
Here's one more video of Bhaijaan:
Well, Indians are very happy with the befitting reply of Afghani bhaijaan to Pakistan. Meanwhile, the video has received over 20,000 views and it continues to raise.
How amazingly this Afghan Bhaijaan wins the hearts of millions of Indians!
Check out some reactions of Twitterati:
Afghan Bhaijaan & BeastMotivation ने की Pakistani YouTuber सुअर Inam Bha... https://t.co/PWR2TkKUBp via @YouTube

— Krishna chandra das (@Krishna55896894) February 24, 2019
AFGHAN BHAIJAAN
This message only for Pakistani people 😂🇮🇳🤝🇦🇫😂 https://t.co/S07nh7ivm9 via @YouTube

— 🇮🇳Naveen Solanki🇮🇳 (@naveensolanki89) February 24, 2019
AFGHAN BHAIJAAN REPLY TO PAK | VIRAL SENSATION | THE SHOW TIME https://t.co/EQuvbaWNXp

— JayantHrx Super30 (@jayant8851) February 24, 2019
AFGHAN BHAIJAAN K naam se channel h iss bhai ka you tube pr jakr subscribe kre or iske sare video dekho mja aa jayega pakistaniyo ko to ye apni hasi😂😂 se hi maar deta h 😂😂😂https://t.co/y1ljb5Orkl

— Amit Choudhary (@jat_boy_mukesh_) February 22, 2019
Also read: Pulwama Attack: Minutes before attack, CRPF jawan sent his last video to wife