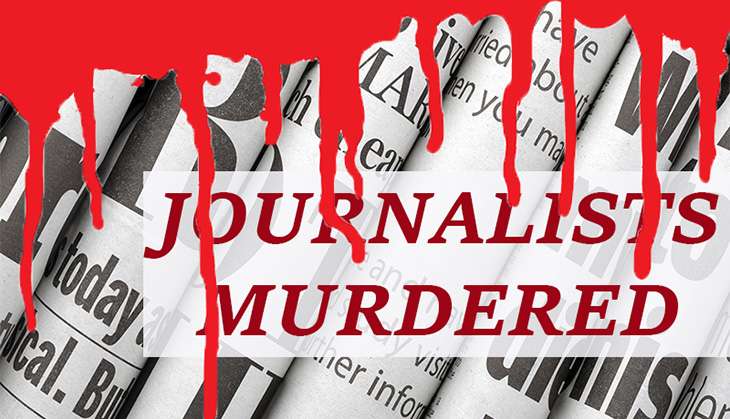 93 journalists and media professionals were killed in 2016, according to new statistics published by the world's largest journalists' organisation.
The International Federation of Journalists (IFJ), which represents 600,000 members in 140 countries, published a list of 93 journalists and media staff who were killed in 2016 in work-related incidents. A further 29 died in two plane crashes.
The killings, including targeted murders, bomb attacks and cross fire incidents span 23 countries in Africa, Asia Pacific, the Americas, Europe and the Middle East and Arab World regions.
Although the figures for 2016 are down on previous years the IFJ has warned against complacency citing reports of rising threats, intimidation and self-censorship as evidence that attacks on freedom of expression remain at critical levels.
In addition to the 93 targeted killings, 20 Brazilian sports reporters perished in a plane crash over the city of Medellin in Colombia, a country where for the first time in many years no killing was recorded this year, against three listed in 2015. 9 Russian journalists were killed in a military plane crash.
The figures for 2016 are down from 112 in 2015, with decreases in killings in a number of countries including Honduras, Libya, the Philippines and South Sudan.
However, the level of violence was higher in Afghanistan, Guatemala, Iraq and Mexico, countries in the grip of terrorist extremism, armed conflict and organised crime.
Yemen, India, Pakistan and Syria form another group which saw little or no change in the numbers of killings from last year.
"Any decrease in violence against journalists and media staff is always welcome but these statistics and the continued deliberate targeting of media workers in many incidents causing loss of life give little room for comfort nor ground for hope to see the end of the current media safety crisis," said IFJ President Philippe Leruth.
"These levels of violence in media should spur into action all those committed to protecting journalists. There must be no impunity for those crimes. The IFJ and its affiliates around the world will redouble efforts to mobilise for credible steps to remove the shadow of violence over journalism," he added.
The IFJ compiles the annual list of journalists and media staff killed from information from its affiliates and other credible sources, after having established a clear or reasonable link between the killing and the professional activity of the victim.
"The number of journalists and media staff killed for doing their work could be higher if it weren't for lack of credible information on these missing cases and for the self-censorship by journalists in some countries to avoid drawing the unwelcome attention of crime barons," added IFJ General Secretary Anthony Bellanger.
According to IFJ records, the Arab World and Middle East has the highest killing tally with 30, followed by Asia Pacific with 28 killings, Latin America with 24, Africa 8 and Europe with just three killings.
--PTI