Haryana tense after Jat quota violence, Delhi water supply hit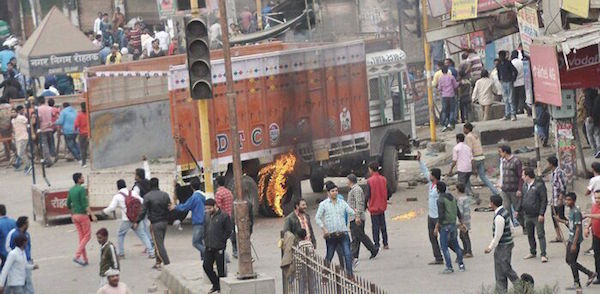 The Jat quota violence in Haryana has claimed three lives so far. One more person was killed by a mob on Friday night despite authorities imposing a curfew and issuing shoot at sight orders in two districts. Outer Delhi borders have also been reportedly sealed after the violence in Gurgaon. The protesters have also stopped water supply to Delhi, according to media reports. The Army conducted a flag march in the tense areas on Friday and used choppers to reach parts of Rohtak even as incidents of violence and arson by Jats demanding reservations continued at several places overnight. Schools and colleges have been closed till Monday.
AAP leader & tribal activist Soni Sori attacked with acid-like liquid
Three unidentified men allegedly hurled acid like chemical tonight on tribal activist and Aam Adami Party (AAP) leader Soni Sori in Chhattisgarh's Maoist-hit Dantewada district, police said.
The incident took place near Jawanga village under Geedam police station at around 10:40 pm on 20 February.
North Indian Railways hit hard by Jat agitation; 1000 trains stalled
The Jat agitation for quota has hit rail services hard in the northern states, affecting around 1000 trains with 736 trains cancelled and 105 diverted besides damage to rail property, causing a loss of Rs 200 crore to the transporter.
The important rail routes to the states of Punjab, Haryana, Rajasthan, Chandigarh, and Jammu and Kashmir have been badly affected due to the Jat agitation, said a senior Railway ministry official.
-- PTI
Wrestler Yogeshwar Dutt slams 'anti-nationalists' in viral poem
Olympic Games bronze medalist Yogeshwar Dutt has reacted to the state of affairs in Jawaharlal Nehru University by penning a patriotic poem which he posted on his official Facebook page. The poem has gone viral, being shared over 19,000 times and liked over 81,000 times. Dutt compared the protesters who raised anti-national slogans in JNU to Turkish invader Mahmud Ghazni, and accused the students and their supporters of dishonouring the memory of Lance Naik Hanumanthappa, who died in an avalanche in the Siachen glacier earlier this month. Read the full poem here.
India's Mayookha Johny bags gold, silver at Asian Athletics Championships
India's Mayookha Johny on Saturday won her second medal -- a silver in women's triple jump -- to add to her gold in long jump on the second day of Asian Indoor Athletics Championships in Doha.
Mayookha came up with an effort of 14.00m to finish second behind Olympian Olga Rypakova of Kazakhstan who cleared a distance of 14.32m. Another Kazakh, Irina Ektova took the bronze with 13.48m.
-- PTI
With weak land laws, Koala numbers down in Australia
Koalas are fast losing ground in Australia. According to the findings of a conservation group in Queensland, more than 40,000 hectares of koala habitat has disappeared in the face of weakened state land-clearing controls.
WWF Australia has warned that the species' numbers will continue its alarming slide until policies are changed. The analysis, done by the conservation group's scientist Dr Martin Taylor has showed that approximately 40,312 hectares of habitat has been lost between 2012 and 2014.