Could crackdown on Kashmiri students jeopardise PDP-BJP alliance?
The Delhi Police have made no more arrests in the JNU case since that of JNU students' union president Kanhaiya Kumar despite claims that far-Left and Kashmiri outfits were behind the 9 February Afzal Guru protests on campus, reports The Economic Times. This is possibly because to arrest students from Kashmir might make it more difficult for the BJP to continue its ruling alliance with the People's Democratic Party in Jammu and Kashmir.
PDP sources said that the party has already conveyed to the BJP its "strong reservations" about reports that Kashmiri students are being investigated by the Delhi Police.
What's the cost of patriotism? Approx. Rs 185 crore
The HRD ministry is looking at a possible bill of Rs 185 crore this year when it implements its new resolution to fly the national flag "prominently and proudly" at all centrally-funded universities, reports The Telegraph.
The flag, should it be modelled on the one that flies in Delhi's Connaught Place (CP) as recommended by the ministry, will cost the nation Rs 185 crore this year if it is placed in all centrally-funded institutions of higher education.
President's Rule withdrawn from Arunachal Pradesh
After the Supreme Court rejected an appeal on Friday from deposed chief minister of Arunachal Pradesh Nabam Tuki, who sought a directive that his party, the Congress, be allowed to conduct a floor test in the Arunachal Pradesh Assembly to prove its majority, President Pranab Mukherjee lifted President's Rule from the state, possibly allowing a new government to be formed by rebel Congress leader Kalikho Pul, reports The Indian Express.
On Wednesday, the cabinet had recommended withdrawing President's Rule after Pul led 31 MLAS, including Congress rebels, BJP legislators and independents to meet Governor JP Rajkhowa and stake his claim to the government.
Capital punishment in Bihar for those who trade in spurious liquor
From 1 April this year, capital punishment will be imposed on anyone in Bihar selling spurious liquor that causes death, reports The Economic Times. This tough measure is part of the new excise policy in the state that bans the manufacture, trade and consumption of country and spiced liquor.
Bihar Chief Minister Nitish Kumar personally reviewed the measures that the excise department will take to implement this prohibition, and cleared a proposal for including tough legal provisions in the act.
"He is personally monitoring the ongoing preparations to ensure successful implementation of the new policy," said a state government source.
I-T team questions Ringing Bells employees
The Income Tax department on Friday questioned the employees of Ringing Bells two days after it launched Freedom 251, apparently the world's cheapest smartphone, reports the Hindustan Times.
The I-T department sent its three-member team after noting complaints from people who had pre-ordered the phone, as well as questions from tech and industry experts and a letter from the Indian Cellular Association to the telecom ministry asking it to investigate as it appears almost impossible to sell a smartphone for only Rs 251.
Contempt of court charges for Kanhaiya, Geelani?
The Supreme Court on Friday agreed to hear a plea seeking contempt proceedings against JNU students' union leader Kanhaiya Kumar, JNU student activist Umar Khalid, Delhi University professor SAR Geelani and four others for calling the hanging of Afzal Guru a judicial killing, reports Mail Today.
The plea was filed by Supreme Court lawyer Vineet Dhanda, who said: "By calling the act a judicial killing, judges of the apex court have been projected as killers despite the free and fair trial of the convict and it is clearly tantamount to criminal contempt."
Haryana tense after Jat quota violence, essential services hit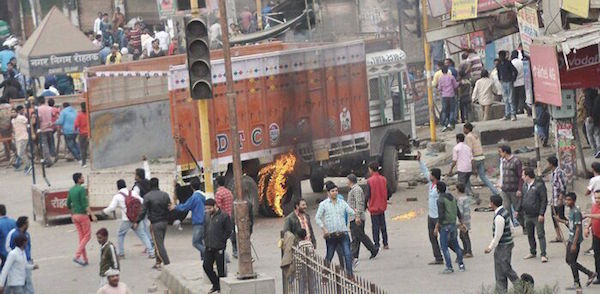 The Jat quota violence in Haryana has claimed three lives so far. One more person was killed by a mob on Friday night despite authorities imposing a curfew and issuing shoot at sight orders in two districts. Outer Delhi borders have also been reportedly sealed after the violence in Gurgaon. The protesters have also stopped water supply to Delhi, according to media reports. The Army conducted a flag march in the tense areas on Friday and used choppers to reach parts of Rohtak even as incidents of violence and arson by Jats demanding reservations continued at several places overnight. Schools and colleges have been closed till Monday.
Wrestler Yogeshwar Dutt slams 'anti-nationalists' in viral poem
Olympic Games bronze medalist Yogeshwar Dutt has reacted to the state of affairs in Jawaharlal Nehru University by penning a patriotic poem which he posted on his official Facebook page. The poem has gone viral, being shared over 19,000 times and liked over 81,000 times. Dutt compared the protesters who raised anti-national slogans in JNU to Turkish invader Mahmud Ghazni, and accused the students and their supporters of dishonouring the memory of Lance Naik Hanumanthappa, who died in an avalanche in the Siachen glacier earlier this month. Read the full poem here.
With weak land laws, Koala numbers down in Australia
Koalas are fast losing ground in Australia. According to the findings of a conservation group in Queensland, more than 40,000 hectares of koala habitat has disappeared in the face of weakened state land-clearing controls. WWF Australia has warned that the species' numbers will continue its alarming slide until policies are changed. The analysis, done by the conservation group's scientist Dr Martin Taylor has showed that approximately 40,312 hectares of habitat has been lost between 2012 and 2014.