Modi statue at Madame Tussauds wax museum
Prime Minister Narendra Modi has posed and been measured for a wax statute to be displayed at Madame Tussauds in London, Singapore, Hong Kong and Bangkok from April onward.
According to a statement from the museum, Modi will be dressed in his "signature kurta" in cream with a jacket, doing a namaste.
It is not yet known if Modi will unveil his statue at any of the four museums, says The Telegraph.
NHRC takes up Tamil Nadu 'honour-killing' case
The National Human Rights Commission has taken suo moto cognisance of the recent case in Tamil Nadu in which a Dalit man was killed for marrying an upper caste woman.
The man, Shankar, was hacked to death in broad daylight by three men on motorcycles. His wife, Kausalya, was injured in the attack, and accused her family of being behind Shankar's murder.
The NHRC has issued notices to Tamil Nadu's chief secretary and the director general of police, asking for a report within four weeks, says The Telegraph. It said that the incident raises serious questions about the safety of people belonging to lower castes.
Hrithik, Kangana make their battle legal
Actors Hrithik Roshan and Kangana Ranaut have sent legal notices to each other over a spat in which Kangana alleged that she had been seeing Hrithik and Hrithik denied it.
Last month, Hrithik sent a notice to Kangana demanding an "unconditional apology" for a "defaming" remark in an interview where she allegedly referred to him as "silly ex".
Hrithik had tweeted: "There are more chances of me having had an affair with the Pope than any of the (I'm sure wonderful) women the media has been naming."
In response, according to The Indian Express, Kangana sent a counter notice, asking Hrithik to take back his notice within seven days as "at no point did my client say that the 'silly ex' was actually Hrithik Roshan".
Pathankot: India grants visas to six-member Pakistani SIT
A six-member Special Investigation Team from Pakistan has been given visas and cleared to visit India soon as part of its investigation into the 2 January terrorist attack on the Pathankot air base.
The dates of the team's visit are yet to be finalised, and it is not clear as yet whether they will be permitted to visit the site of the attack and record the statement of National Security Advisor Ajit Doval as a witness in the case, reports The Economic Times.
Aadhaar Bill: Cong may move court
The Congress party might consider moving court against the government's decision to call the Aadhaar bill a money bill and push it through Parliament almost undiscussed.
"A legal challenge is not only possible, but desirable," said Congress spokesperson Abhishek Singhvi. He argued that "the Speaker's certificate cannot override the constitutional scheme".
Lok Sabha Speaker Sumitra Mahajan had certified the Aadhaar bill as a money bill, according to The Telegraph.
Petrol prices up by Rs 3.07 per litre, diesel up by Rs 1.90 per litre
The government has announced hikes of Rs 3.07 a litre for petrol and Rs 1.90 per litre for diesel, effective from midnight on Wednesday.
This is a turnaround of the last three months' trend of declining petrol prices, while being the third increase in diesel rates over the last six weeks. The government can now expect additional revenues of Rs 17,000 crore, says The Indian Express.
The Indian Oil Corporation said: "The current level of international product prices of petrol and diesel and rupee-US dollar exchange rate warrant increase in price of petrol and diesel, the impact of which is being passed on to consumers with this price revision."
95 Lucknow University teachers put in papers after student violence
The authorities of Lucknow University have received the resignation letters of 95 teachers, each citing the difficulty of working in 'the current atmosphere'.
This occurred the day after a students' protest against the suspension of the girls' hostel provost expressed itself in violence against the teachers. The teachers alleged that the protest had been led by members of the right wing students' party ABVP and that they had been attacked and their property damaged.
University vice chancellor SB Nimse says that the issue has now been resolved, according to The Indian Express.
Vijay Mallya row: Kingfisher House to be auctioned off
Liquor baron Vijay Mallya's Kingfisher Airlines owes the SBI-led bank consortium, it has been decided that the Kingfisher House in Mumbai will be auctioned off. SBICAP Trustee Company Ltd, which took possession of the property last year, will conduct an e-auction of the 2,401.70 square meter property on 17 March.
The e-auction will be done under Securitisation and Reconstruction of Financial Assets and Enforcement of Security Interest (SARFAESI) Act, 2002. The Trustee Company has kept reserve price of Rs 150 crore and the bid increment amount is Rs 5 lakh, a public notice said. The earnest money deposit for this auction has been fixed at Rs 15 lakh.
BJP leader offers Rs 1 crore for Asaduddin Owaisi's tongue
The furore over AIMIM chief Asaduddin Owaisi's refusal to chant 'Bharat Mata Ki Jai' at a rally in Udgir tehsil of Latur district in Maharashtra on 13 February, continues unabated. Now BJP leader, Shyam Prakash Dwivedi, has condemned Owaisi's comment and has reportedly announced a reward of Rs 1 crore to anyone who cuts off Owaisi's tongue for refusing to chant 'Bharat Mata Ki Jai'. Dwivedi has also claimed that Owaisi has no right to reside in the country, and has called him a traitor.
Bhupinder Singh Hooda summoned over Robert Vadra land probe
Former Haryana Chief Minister and Congress leader Bhupinder Singh Hooda was on 18 March summoned by the Justice SN Dhingra Commission of Inquiry. The Congress leader has been asked to appear before the commission before 23 March to record his statement in connection with the allotment of land to Skylight Hospitality - promoted by Congress President Sonia Gandhi's son-in-law Robert Vadra and other private companies. The commission has also asked Union Public Service Commission Chattar Singh, Haryana Chief Secretary Deepinder Singh Dhesi and few officials of the private companies to record their statement in the case.
Haryana on alert as Jat reservation protests rear head again
Section 144 has been issued in the districts of Rohtak, Sonepat, Hisar and Bhiwani to prevent unlawful assembly, as threats of another agitation from the Jat community looms large. Jat bodies have reportedly appealed to the youths in the state to assemble at the Rohtak Jat Bhawan on 18 March to decide the future course of action if the bill for Jat Reservation is not introduced in the Legislative Assembly. In view of the possible agitation, all colleges in Rohtak district will remain shut 17 March onward.
German Bakery Blast: Bombay HC commutes Himayat Baig's death sentence to life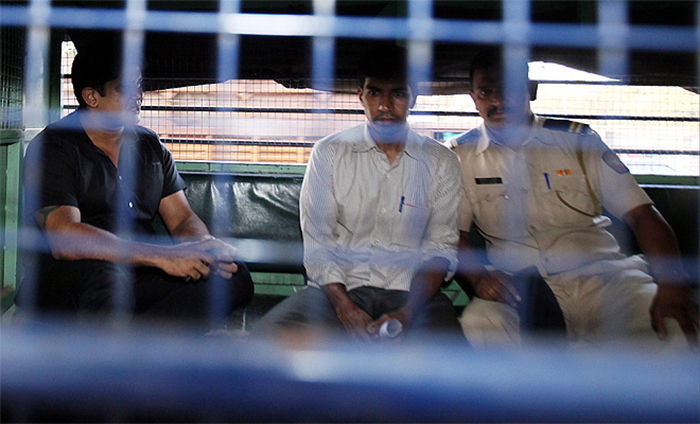 Bombay High Court on Thursday set aside the death sentence of Himayat Baig, the lone convict in the 2010 Pune German Bakery blast case. The High Court has quashed Baig's death penalty and confirmed his life sentence for possession of explosives. A division bench of Justices N H Patil and S B Shukre pronounced the verdict. It was hearing a petition of the Maharashtra government and an appeal filed by Baig challenging his conviction and his death sentence.
NIA arrests suspected ISIS sympathiser arrested in West Bengal
The National Investigation Agency (NIA) has arrested an alleged 'sympathiser' of banned terror group IS in West Bengal. The agency identified the youth as one Ashiq Ahmed alias Raja, a resident of Hooghly district of the state. Ahmed, who was arrested yesterday, will be produced before a special court in Delhi today for further custody.
Scientists may be one step closer to solving Bermuda Triangle mystery
Scientists now believe that they have come a step closer to solving the mystery surrounding the Bermuda Triangle. This belief has been established with the discovery of a series of underwater craters at the bottom of the Barents Sea, off the coast of Norway. It is hoped that the craters are the key for explaining the bewildering phenomenon. According to a scientist, the crater areas represent one of the largest hot spots for shallow marine methane release in the Arctic, which creates enormous blowouts of gas bubbles, leading to sinking of ships. Details of the discovery will be released at the annual meeting of the European Geosciences Union next month.
New SARS-like virus found
University of North Carolina at Chapel Hill researchers have found that the newly identified virus, known as WIV1-CoV, could bind to the same receptors as SARS-CoV that infected thousands in 2002.
They also showed that the virus readily and efficiently replicated in cultured human airway tissues, suggesting an ability to jump directly to humans. Researchers have said the capacity of this group of viruses to jump into humans is greater than was initially imagined. If the virus does jump, WIV1-CoV has the potential to seed a new outbreak with significant consequences for both public health and the global economy.