Catholic plenary raises issues of exclusion, intolerance
The Church in India faces several challenges today, including growing fundamentalism, increasing saffronisation of education, lack of clarity on the government's stand on intolerance, and a narrow interpretation of nationalism, says a manifesto of issues raised and discussed by the 32nd plenary of the Catholic Bishops Conference of India (CBCI) which ended in Bengaluru on Wednesday.
The plenary saw the participation of 178 Catholic bishops from 171 dioceses in India, according to The Indian Express.
CBCI president Cardinal Baselios Cleemis said: "We don't have a clear picture from the government on the issue of intolerance."
Court summons Kejriwal for 'insulting' statements against Jaitley
The Chief Metropolitan Magistrate of Delhi has summoned Chief Minister Arvind Kejriwal and five other AAP leaders to appear before him on 7 April as accused in a criminal defamation case filed against them by Union Finance Minister Arun Jaitley in the controversy over the Delhi and District Cricket Association.
The DMM said the AAP leaders' statements against Jaitley, who they accused of corrupt practices when he headed the DDCA, were "not only insulting but jeeringly taunting and provocative", according to The Indian Express.
Anar Patel-linked Gujarat land allotment was cleared by Modi
The allotment of land near the Gir forest reserve to Wildwoods Resorts had been cleared in 2009 by then Gujarat chief minister Narendra Modi, and had nothing to do with favours to business associates of Anar Patel, said the Gujarat government in an affidavit to the High Court on Wednesday.
According to The Indian Express, the government filed the affidavit in response to a petition by RTI activist Rajakbhai Baloch who alleged that "the high value public property was sold away secretly without giving public advertisements and that too at a very lower price".
Pak threatens to pull out of World T20 over security concerns
Pakistan has threatened to pull out of the ICC World T20 tournament altogether if it is not given an "explicit assurance" on the security of its players and fans.
The issue of security arose when the Himachal Pradesh government refused to allow the marquee India-Pakistan match to be held at Dharamsala on 19 March for fear of protests by the families of servicemen killed while fighting terrorists from Pakistan. The ICC on Wednesday shifted the match to Kolkata.
Despite that, Pakistani diplomatic sources told the Hindustan Times: ".even a statement from the government assuring security to players and fans will suffice."
Kanhaiya in 'anti-national' row again
The BJP's youth wing, Bharatiya Janata Yuva Morcha, has filed a police complaint against JNU Students' Union president Kanhaiya Kumar for making 'anti-national' statements during a speech on International Women's Day and defying his bail conditions.
Kanhaiya had said: "While we have a lot of respect for our soldiers, we will still talk about the fact that in Kashmir, women are raped by security personnel."
The BJYM said: "Despite the submission of an undertaking before court, Kanhaiya has yet again addressed a gathering of students and uttered poisonous words against the Indian Army..."
No FIR has been registered, according to The Indian Express.
Supreme Court to hear Babri Masjid demolition case today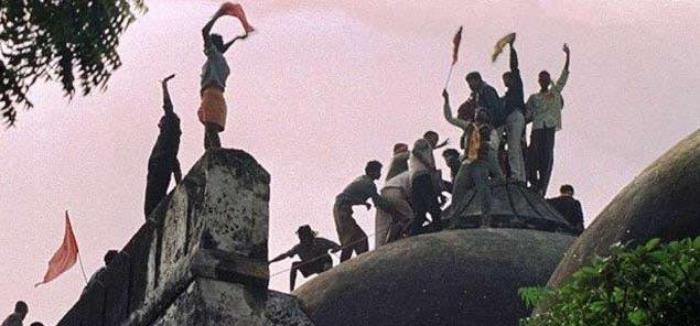 The Supreme Court will today hear Central Bureau of Investigation (CBI)'s plea against Allahabad High Court's order dropping criminal conspiracy charges against the Bharatiya Janata Party (BJP) leaders in Babri Masjid demolition case.
There are two sets of cases - one against BJP veteran L.K. Advani and others who were on the dais at Ram Katha Kunj in Ayodhya on December 6, 1992 when the Babri mosque was demolished. The other case was against lakhs of 'karsevaks' (volunteers) who were in and around the disputed structure.
Government to order internal inquiry for missing documents in Ishrat Jahan case
An internal inquiry at the Home Ministry level will be ordered regarding the missing documents in the Ishrat Jahan encounter case, Home Minister Rajnath Singh told the Lok Sabha today. He presented the government's stand on the issue, amid much sloganeering from the Congress in the lower House. Putting out a strong statement against terrorism, Singh said that there were several discrepancies in the way the UPA government handled the Ishrat Jahan case during its tenure.
Yamuna floodplain damage: Art of Living can pay Rs 5 cr fine tomorrow, says NGT
As a temporary reprieve to the Art of Living (AOL) organisation, the National Green Tribunal (NGT) has said that it can pay the penalty, for causing damage to the Yamuna floodplain, tomorrow i.e. 11 March.
A bench headed by NGT chairperson Swantanter Kumar gave its consent for the massive cultural event being organised by AOL on the ecologically fragile Yamuna floodplain but imposed a penalty of Rs 5 crore on the Art of Living Foundation for damaging the environment.
On 9 March, this bench had ruled that if AOL doesn't pay the penalty of Rs 5 crore to the Delhi Development Authority (DDA) by 4 pm today, it could revoke clearance for the three-day World Culture Festival beginning on 11 March.
Zika virus destroying neurons in child brain
The belief that Zika virus caused birth defects such as microcephaly, a condition in which a baby is born with a small head was strengthened on Friday by two studies published in medical journals. Researchers working with lab-grown human stem cells "suspect they have discovered how the Zika virus probably causes microcephaly in fetuses," reported the journal Cell Stem Cell. Zika virus selectively infects cells in the brain's cortex, or outer layer, making those cells "more likely to die and less likely to divide normally and make new brain cells," according to a press release from the journal.
5,00,000 will die by 2050, as climate change alters diets
Climate change will take 5 lakh lives by 2050, a new study has suggested. These deaths would be caused by the food scarcity, and are additional to deaths caused by other effects of global warming. The study was published in the medical journal The Lancet. Scientists behind the study predicted world temperatures to be two degrees higher than in the 1986-2005 time period. It found that there would be 3.2% lower food availability, and people would be consuming 4% less fruit and vegetables.