Uneasy calm in Gujarat, death toll rises to 10, Hardik asks Patel farmers to stop supplying essential commodities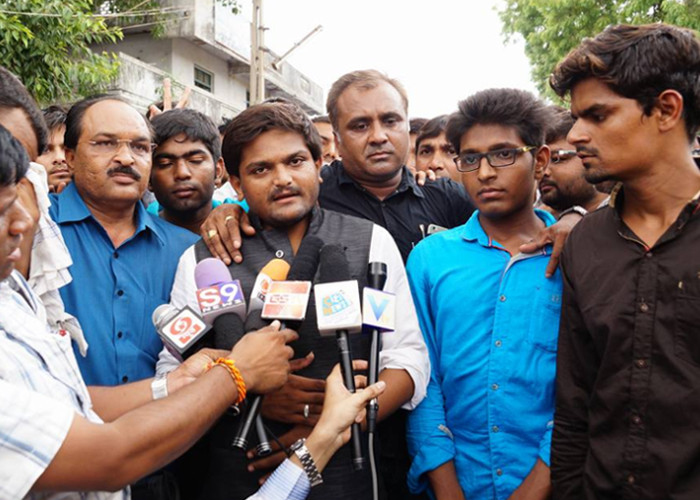 An uneasy calm prevailed in Gujarat two days after the Patel OBC quota stir turned violent. The death toll in the violent clashes between police and Patidar Anamat Andolan Samiti activists increased to 10, even as a defiant Hardik Patel vowed to intensify the agitation.
Notwithstanding appeals for peace by Prime Minister Narendra Modi and Chief Minister Anandiben Patel, 22-year-old Hardik, who is spearheading the agitation, on 27 August upped the ante asking farmers of his community not to supply essential commodities like vegetables and milk to cities and support the demand for reservation in jobs and education under OBC quota. He has also demanded a compensation of Rs 35 lakh for the next of kin of those killed in the 25 August clashes.
Former STAR CEO changes statement, says he knew Sheena was Indrani's daughter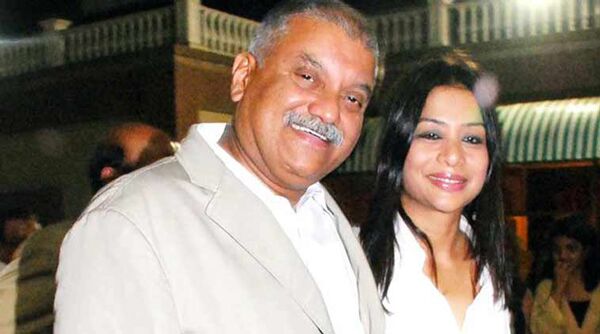 Murkier details emerged in the sensational Sheena Bora murder case as former STAR CEO Peter Mukerjea admitted that Sheena had told him that she was not his wife Indrani's sister. Earlier he had said that he was not aware of the fact that Sheena wasn't Indrani's sister but daughter.
Police investigation so far revealed that it was a cold-blooded murder. Mumbai's top cop Rakesh Maria grilled Indrani, her driver and stepson Rahul Mukerjea while her son Mikhail was questioned in Guwahati and her former husband Sanjeev Khanna in Kolkata. Driver S P Rai and Sanjeev Khanna have told police that Indrani had done a recce of Raigad's Pen area in Maharashtra, the place where Sheena's body was to be dumped, a day before the murder on April 24, 2012.
In another statement Khanna said while he was present in the same car in which Sheena was found dead, he didn't come to know about it as he had fallen asleep.
Law Commission to recommend abolition of death penalty except in terror cases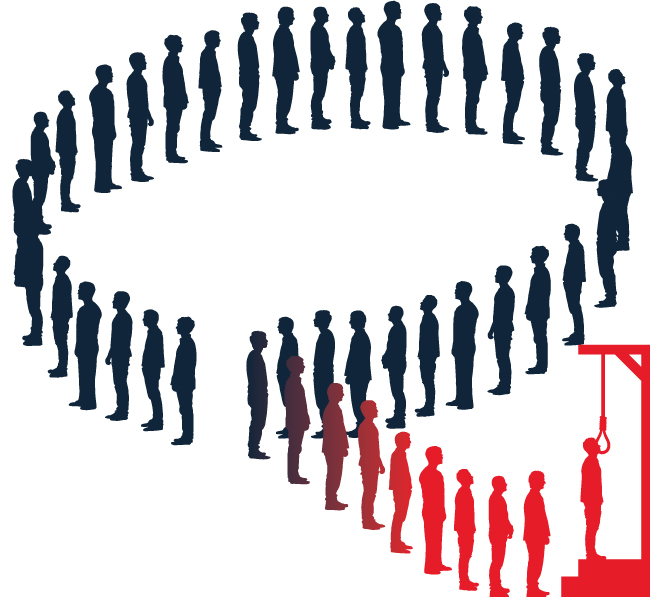 The Law Commission of India will recommend abolition of death penalty in the country, as is evident from the 272-page draft report prepared on the direction of the Supreme Court. The apex court had last year tasked the Commission to review the death penalty in Indian statute and submit a report. However, in cases of terrorism, the commission makes an exception.
The report says, "The Commission suggests that the death penalty be immediately abolished for all crimes other than terror offences" -The Commission is most likely to submit the report to the government over the weekend or on Monday, The Indian Express reported.
India is one of 59 countries where the death penalty is still awarded by courts. Recently, the hanging of 1993 Mumbai blast convict Yakub Memon had sparked off a debate on whether the it was time to abolish capital punishment all together. India has the policy of awarding death penalty only in the rarest of rare case.
Pak terrorist caught in Kashmir, 3 weeks after Udhampur attacker Naved was nabbed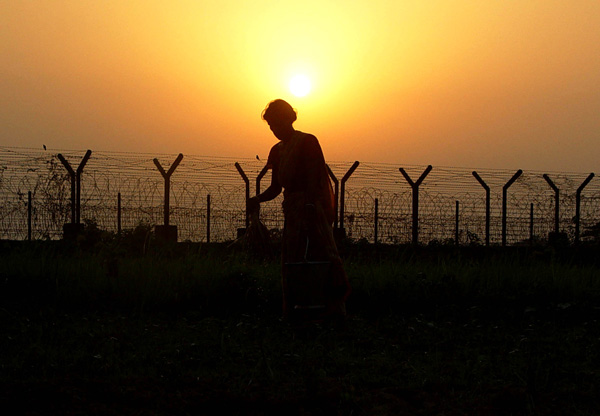 In a major success, army captured a Pakistani terrorist after killing his four associates in a two-day operation in Kashmir, about three weeks after Naved from Pakistan was caught alive in Udhampur.
The arrested terrorist has been identified as 22-year-old Sajjad Ahmed from Muzaffargarh in south west Pakistan was captured from a cave in Rafiabad area in Baramullah, about 100 kms from Srinagar.
Sajjad, part of a five-member group of infiltrating terrorists, was nabbed after an operation which began on 26 August near the Line of Control (LoC). Four terrorists were gunned down while one soldier was injured in the encounter.
OROP talks fail, ex-servicemen threaten to boycott golden jubilee celebrations of 1965 war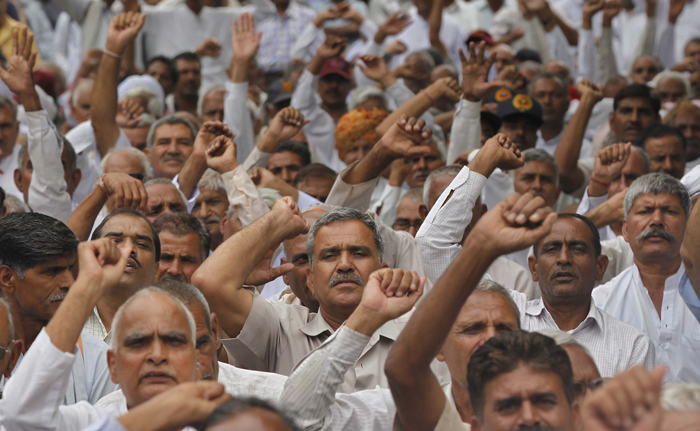 In a major setback to government's efforts to break the deadlock over the demand for implementation of the One Rank-One Pension (OROP) scheme, protesting ex-servicemen walked out of a meeting with Army Chief General Dalbir Singh. There were disagreement regarding the proposed annual hike in pension and the date of implementation of the revised pensions.
Veterans have threatened to intensify their protests with many threatening to boycott the golden jubilee celebrations of the 1965 Indo-Pak war on 28 August. Meanwhile, two other veterans have been admitted to the hospital after their health condition deteriorated due to the hunger strike.
WTO rules against India's solar policy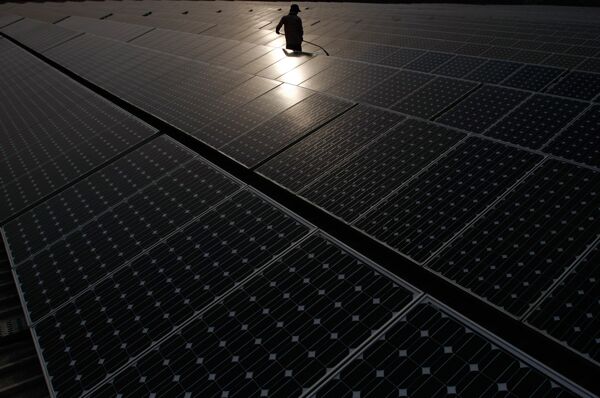 India's National Solar Policy has been ruled to be inconsistent with global norms by the WTO. The development comes after the US dragged India to the WTO's dispute panel after complaints by US manufacturers. The complaint was based on India's domestic content policy that required solar energy producers to use locally manufactured solar cells and offered subsidies for using domestic equipment. Last year America dragged India to the WTO courts arguing that the policy discriminated against US solar equipment. There was also an allegation that the forced localisation hampered US exports to India. India will appeal the ruling. This is the second time India has lost to the US at the WTO appellate this year. Earlier in the year an Indian ban on the import of pigs, poultry meat and eggs from the US was also deemed to be inconsistent with global norms.
Sushma's twitter handle to the rescue once again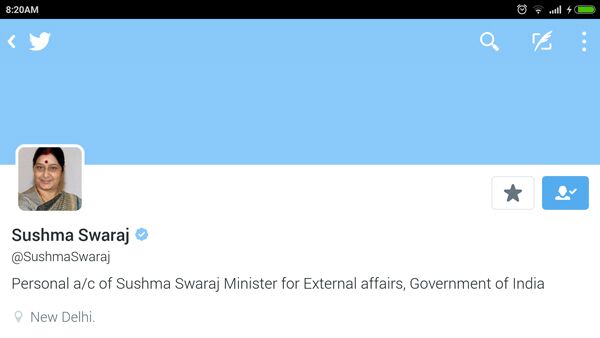 A man's tweet to External Affairs minister Sushma Swaraj led to the rescue of his sister from human traffickers in the UAE.
Dev Tamboli, an Indian working in Qatar, had alleged that his sister was being held against her will in Al Ain by traffickers. In a series of tweets Tamboli explained his sister's predicament to Swaraj. Swaraj responded with a promise to intervene the very next day.
Thanks to Swaraj's intervention, the girl was rescued the next day as a result of efforts by the Al Ain police, Indian embassy officials and Indian community leaders.
Tamboli's sister had come to the UAE to become an air hostess but was instead forced to work as a baby-sitter and a housemaid. When she refused she was beaten and locked up with other girls.
She managed to escape and hid behind a bush until Al Ain police found her.
An all-Patel cricket team in the UK
While Patel's in Gujarat are battling for reservation, one cricket team in the UK has seemingly managed 100% reservation for them. The team, Dewsbury Young Stars, is made up of 11 Patels, making life easy for the scorers and harder for the umpires. Yunus Patel, one of the players said, "We should change the name to Patel XI but the Dewsbury Young Stars' name has been going for so long we will keep it." Patel also clarified that while everyone on the team was a Patel, none of them were related. Dewsbury had turned out an all-Patel team for the first time against Warwick in West Yorkshire's Dewsbury District League Section B. Interestingly, Warwick also had three Patels. Dewsbury hung on for a one wicket win.
Sea level rise to worsen in future, NASA warns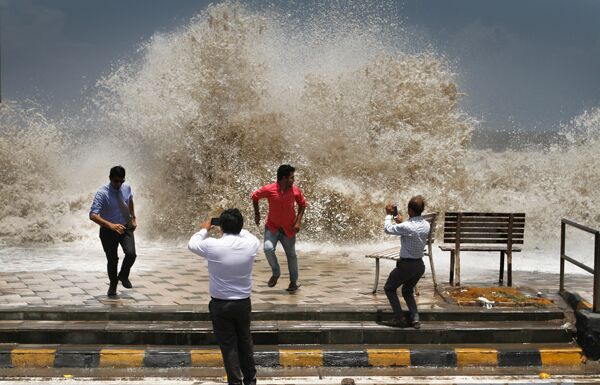 According to a new NASA model, sea level rise around the world is being seen as a direct result of climate change.At a news conference 26 August, NASA officials described a new computer visualization of sea level change which reveals that the phenomenon is occurring quickly but unevenly across the globe. The data has been collected from satellites since 1992."Sea level rise is one of the most visible signatures of our changing climate, and rising seas have profound impacts on our nation, our economy and all of humanity," Michael Freilich, director of NASA's Earth Science Division at the agency's headquarters in Washington, D.C., said at the news conference.
'20 crore adivasis ignored in religion-based census'
The tribal organisations on 27 August described the latest Census data on religion published by the Registrar General and Census Commissioner as "faulty and unauthentic" claiming it left out over 20 crore adivasis in the report. "There is no mention of separate Sarna religion code and no column of 20,13,78000 adivasis, having faith in Sarna religion, and who worship nature." He also questioned the registration of the tribals under the Hindu religion or other during the latest census claiming that adivasis worship nature and their religion is Sarna. The former MLA said even if two crore of the adivasis embraced Christianity, the figure would whittle down to 18 crore all over the country.