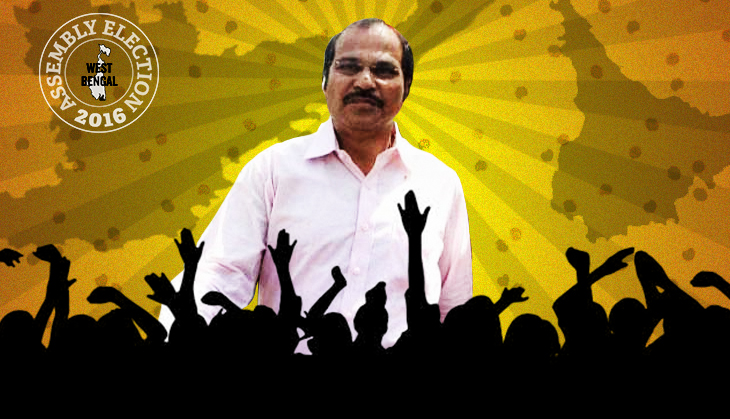 The region
Murshidabad is the district with the highest population of Muslims in Bengal
Locals say there has been a lot of development in the area because of one man
The leader
That man is state Congress chief Adhir Ranjan Chowdhury, who was instrumental in allying with the Left
Some even go to the extent of saying that Chowdhury will be the winner of the Bengal elections
More in the story
Why TMC thinks it can win seven of the district\'s 22 seats, but locals scoff at the idea
Adhir\'s ego - myth or reality?
The winner of the West Bengal Assembly elections will be Adhir Ranjan Chowdhury. Virtually everyone you meet in Berhampore, Murshidabad, says exactly the same thing, and makes it a point to show you the Congress state chief's house.
All of them have stories to tell about how Chowdhury has changed the town: there are no law-and-order problems, no 'syndicate' raj, development is never an issue, and a district with the highest Muslim population in the state has no 'disturbances'.
Advocates of Chowdhury's work
At about 4pm on a sultry afternoon, when Catch visited the Berhampore Bar Council, every lawyer, after hectic day at the court, sat resting, sipping tea and discussing the elections.
They predict that the TMC 'will' only triumph in Suti and Jangipur, while Hariharpara will see a really close contest.
The district has 22 seats and goes to the polls on Thursday, 21 April.
Read- Hariharpara: Will Congress-CPI(M) fight help TMC sneak through?
They are full of stories about Chowdhury's humility and personal sacrifice; of how he was hounded by the Left Front, who filed 'false cases' against him, and still, he grew in stature to propel this alliance. They insist it is all about his 'charisma, acceptance and popularity'.
Another advocate says: "There is no syndicate because Chowdhury controls all the business; there is no law and order issue because he is the system."
One senior advocate is closely monitoring this discussion, and pitches in from time-to-time to correct this correspondent about the low socio-economic development of the district, political violence and seats where CPI(M) and Congress are fighting each other.
He turns out to be a former TMC candidate from the early 2000s, who later became Chowdhury's No.1 supporter. Significantly, there seems to be no TMC representative in the room.
Loyal TMC man with grievances
Outside, at a tea shop, we meet Debashish Roy, the district president of the TMC legal cell.
He says the ruling party expects to win at least seven seats in the district this time, courtesy the development ushered in by the government. He lists out things that Mamata Banerjee has done for the district - from new health facilities at Murshidabad Medical College, allowance for junior lawyers, a flyover, sabuj sathi, reducing crime. However, all of it is city-centric development.
WATCH: Mamata needs a better team, says Kolkata ex-Army doc
Asked what are the organisational challenges in the district, he says: "We have failed to take Mamata's message of development to the grassroot level."
He is also displeased about the fact that many of the TMC candidates this time are former Chowdhury aides, who fell out with him.
He ends the discussion with his latest demand - subsidy for lawyers, in the form of insurance coverage, including health insurance.
"We pay bar council and bar association fees, which benefit all. We should get a legalised state backing," he concludes.
Before leaving, he says: "People are not scared anymore, our workers are coming out, we are hopeful."
His motorcycle has a sticker bearing Mamata's slogan 'Maa, Maati, Maanush', and he says he worships mother, soil, human beings and Hanuman.
'He is the high command'
One strong allegation against Chowdhury is that he is full of 'ego'. As one former Congress worker says: " He is the high command".
There have been several instances when Chowdhury has fielded independent candidates, simply because he had no personal equation with the official Congress candidates. He has flouted senior leadership and done that. This time too, rumours say the same thing.
Also read- Slippery slope: how illegal sand mining has turned Birbhum against TMC
However, another Congress worker says with pride: "Chowdhury is the clear winner of this election. After 19 May, if Rahul Gandhi asks him what did he achieve after he was made the state chief, he will show a fair increase in seats, courtesy the CPI(M)'s help. This is why an egoistic man like him shook hands with a party which hounded him once."
The alliance that wasn't
Of the 22 seats in the district, 10 feature a direct fight between the CPI(M) and the Congress, which the parties have labelled 'friendly fights'. The TMC practically ranks third.
Dedicated Left party workers hope that at the last moment, there may be vote transfer from either side, depending on who is ahead, to achieve the larger goal of stopping the TMC. But they do not seem to have the courage to raise the question - why is there no alliance in the district?
When it comes to the door-to-door campaign, nothing seems to be 'friendly'. Both sides are blaming each other for breaking the alliance.
Pratik, an activist who has been working in Murshidabad for a long time, says: "We have always been deprived. Earlier, it was the Left who ruled, and it used to discriminate against this Congress fortress. Now it is the TMC which discriminates. Even if the Left or TMC did something, they made it only benefitted their own men, such as jobs, contracts etc."
Meanwhile, the fight is on: between Chowdhury and his 'ego'. As we travel through Murshidabad, it seems like 'Congress is Adhir and Adhir is Congress'. It is difficult to ascertain who is the candidate, every poster, practically, is a cut out of Adhir.
Edited by Shreyas Sharma
More in Catch:
EPF: Has Arun Jaitley alienated BJP's core vote bank?
Badal in firefighting mode over wheat procurement crisis
Lalu endorses Nitish as PM candidate in 2019. What's his play?
Achhe Din: BJP's income rose by 44% within a year of coming to power