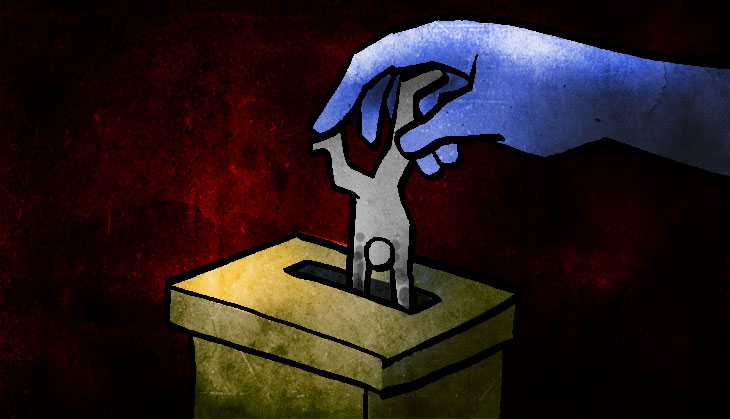 The Syndicates
The Syndicate raj has a huge say in how the elections swing in Bengal
In about 40 villages across Rajarhat and nearby areas, there are 400-500 syndicates operating
These syndicates have flourished with political support and help
More in the story
How have these syndicates hooked unemployed youth?
Learn how the syndicates cheat builders and promoters too
Rahul Gandhi on Saturday attacked the Trinamool Congress (AITC) government saying that the only industry flourishing in Bengal is that of Real Estate syndicates. These syndicates are a major issue this election with Prime Minister Narendra Modi, Rahul Gandhi and the national media highlighting and discussing this problem.
Monday sees elections in the constituencies of Bidhannagar, Rajarhat-New Town and Rajarhat-Gopalpur, areas known for the construction boom and thus, the flourishing syndicate raj, who are a deciding factor on polling day.
Read- Hot seat Basirhat Dakshin: where lotus blooms amid the grassroots
In 2015, Bidhannagar (where people expect a close contest this time) witnessed unprecedented violence during municipal elections, leading to the resignation of the state's election commissioner. The 'leads' in a few wards were so unexpected, eve local Trinamool leaders were surprised.
The mayhem was perpetrated by hundreds of youths who belong to the syndicates. Recently, the candidate from Rajarhat-New Town, Sabysachi Dutta, admitted in a sting operation that syndicates are the lifeline for political funding and for manpower on polling day.
As you enter Rajarhat from Bidhannagar (Salt Lake), you are greeted with clusters of high-rise apartments, swanky office buildings, shopping malls, multiplex and excellent roads.
Leave the main road and take any turn inside, you will see coconut trees, farm lands, serpentine village roads -- the entire landscape changes. You also come across villages such as Mahisbathan, Jotbhim, Kochpukur, Chakpachuria and Shikharpur: all dens of real estate syndicates.
This correspondent met two brothers in a village, about one kilometre away from Bhangar constituency, one of the most politically sensitive places in Bengal. Both of them, along with another three brothers, used to run seven syndicates covering six villages of Rajarhat.
They offered me some tea and snacks and start talking about syndicates.
Approximately 400-500 syndicates operate in about 40 villages across Rajarhat and adjoining areas. Of this, only 30 or so were registered under the Housing Infrastructure Development Corporation, as of 2010.
Each syndicate has an average of 50 unemployed youths from the area. They invest a certain amount (it can vary) which gives the seed funding for the syndicate.
Also read: After killing of CPI(M) workers, anti-TMC voters fear for well-being
For instance, if 50 people give Rs 10,000, the syndicate starts off with Rs 5,00,000 to buy sand, cement, stone chip etc. At the end of the year, each gets back the profit on their investment and if they want they can put that into their account again.
Syndicates have their own bank accounts and accounts officers. Each syndicate, during the days of real estate boom in the mid-2000s, earned about Rs 30 lakhs on an average per month, which translates into Rs 3.6 crore per year.
Sources later explained to me that these brothers prefer to stay in a semi-village setting, but they have flats in the nearby Shapoorji Pallonji complex.
"Those were the days when traffic jams (as long as 2-3 kms) were a common occurrence in Rajarhat, as hundreds of trucks supplying building materials used to throng the region," they say referring to the mid- 2000s.
Both the brothers were candid enough to admit that they used to meet the promoters of commercial and residential buildings and "offer them building materials at a rate, which is 'slightly higher' than the prevalent market rate". They even mentioned how syndicates had managed deals when the Tata Consultancy Services office came up in the area.
And then there are ways to deceive builders to earn more money.
For example, about 10 trucks of sand sign in and enter the site. However, by threatening or bribing security guards, 2 trucks out of 10 would exit without unloading. But the payment is received for 10 trucks. The promoters understand that the amount delivered is lower than what was promised but they cannot prove it.
WATCH: CPM candidate Rabin Deb says "We'll bring Nano back to Singur"
Syndicate raj started during the Left front rule. Some workers of the Communist Party of India (Marxist) who didn't wish to be identified said syndicates (earlier called 'cooperatives') were started by the then ruling party to ensure that people who gave up their land for the township got some benefit in return.
Unemployed youths, with no other source of income, got the mantle of these syndicates. Interestingly, everyone agreed that during Left Front rule there was 'sharing' of resources, to the extent that one-third of the syndicate people belonged to different political parties.
"This was a calculated political decision on behalf of the ruling party. There were various anomalies in the land acquisition process in Rajarhat and they ensured that political parties, especially opposition panchayat leaders do not raise a hue and cry by giving them a stake in the construction business", says a former Left leader in the district.
With the change in government, all these syndicates joined the AITC, to be close to power, to avoid legal hassles.
"Syndicate was always there. But now they are in the news because of their infighting. There are regular clashes to control the business. At least three leaders of the Trinamool Congress directly back different syndicates and hence, this turf war takes place", says a local.
"About Rs 50 lakh to Rs 60 lakh are required to contest an election. The party gives Rs 5 lakh and I put in Rs 5 lakh. The rest comes from these people. They know they would pay one day and do business peacefully for four years. They know I will look after them", Sabyasachi Datta was seen bragging in the sting operation.
Read: Bengal hasn't done badly under Mamata, but it isn't nearly enough
In Rajarhat, about 20,000 youths (a modest estimate) earn their livelihood through syndicates, their own version of the stock markets. If you include their families, then the number crosses one lakh.
The only difference these days- it has become imperative to join the AITC if you want to be a part of the syndicate.
Even Tapash Chatterjee, a CPI(M) leader in the region, who allegedly had a high stake in the syndicates and held the reigns of power in the region, joined Trinamool in July 2015.
He had fought battles against the party until 2012, but soon after he started establishing contacts with the AITC and eventually joined them.
Trinamool practically has no opposition in the region now, and the residents are unsure if they will be able to vote (going by last year's experience) and the Election Commission remains worried about how to control these 20,000 men on polling day.
Edited by Anna Verghese
More in Catch:
Raghuram Rajan is an asset. Govt must stop hating him & take his advice
Rosemary & Romance: there's magic in Stratford-upon-Avon on Shakespeare's 400th death anniversary
All Fr Sopena wanted was to be Indian. It took 67 years, but now he is
No houses on rent for minorities: UN expert hits out at Indian mindset