Asad Ali
| Updated on: 10 February 2017, 1:50 IST
The battle
In Nanoor, the contest isn\'t between TMC and Left. It\'s a battle for supremacy between 2 men
The players: TMC heavyweight Anubrata Mandal and Sheikh Kajal, brother of TMC MLA Sheikh Shahnawaz
Kajal is tacitly backing the Left Front this time
More in the story
Nanoor\'s saga of violence
What the voters have to say?
Can Kajal challenge Mandal\'s dominance?
Trinamool Congress's (TMC) district president for Birbhum, West Bengal, Anubrata Mandal's swagger is on point as he rumbles, almost under his breath, "Eleven in Birbhum and 3 in Bardhaman district. I'll win all 14 of those places, just call me on 19 May and see."
It's the same swagger - one might even say boorishness - that's resulted in all three election commissioners: CEC Nasim Zaidi along with AK Joti and OP Rawat, to come down to keep a tab on things in Bengal, particularly Mandal's aggression. But one man hiding in nondescript Papuri, a small village off Nanoor in Birbhum has been biting at away Mandal's authority with success in the region. Most significantly, that man is leading the way for CPI(M) to reclaim territories that were once Left bastions.
The irritation is writ large on Mandal's face as Kajal's name comes up in the course of conversation: "Is he from my party? Not anymore. Is he an MP? No. He's a useless, 420 lad and I don't want to waste my time on him." Sheikh Kajal, brother of Sheikh Shahnawaz (TMC MLA from another Birbhum constituency, Ketugram) used to be a TMC party worker.
But major differences over time resulted in Kajal giving unofficial support to CPI(M) in the area. Kajal was supposedly dead against Gadadhar Hazra, the present TMC MLA from Nanoor. Reasons ranged from turf wars over allocation of party funds to 'managing' Birbhum's illegal sand mining zones to control over the Gram Panchayats in the Nanoor Assembly segment.
Kajal never really got his way. Mandal did. So what's the next best thing Kajal could hope to do that would seriously dent TMC's image? Put all his weight behind the CPI(M) (Shyamoli Prodhon is the Left candidate from Nanoor) and use them to trump TMC.
Ask Mandal about how much Kajal's backing of CPI(M) is going to affect TMC's chances in the area and he shoots back, "Why do you have to keep bringing up the same name again and again? He is not a party member anymore. Why should I talk about someone who's not even from TMC at the Panchayat level? Please ask me if you have other questions".
But just in case avoiding a clear answer comes across as weak move, Mandal quickly adds in a half-calm tone - "his joining CPI(M) will prove beneficial for us." How so? "He's taken money from people, murdered people and is basically a criminal. So him joining CPI(M) will in fact increase our votes".
What the people say
But the streets of Nanoor and its surroundings have a slightly different story to tell. Even outside the limits of the city, the general trajectory of discussion seems to be around how Kajal's support is going to bring down the TMC. And how this man, who's been involved with murder and gunfights, isn't all that bad if you take away the context of TMC in-fighting from his story.
As a CPI(M) rally passes by en route to Nanoor town, Sumanto, a tea-shop vendor says how Kajal "is quite large-hearted. He's stood by people most of the time. I heard he helped out those who needed money for their daughter's marriage." In these areas, people are reluctant to disclose who they are voting for. They don't know what the implications might be.
"People from our neighbourhood just want to vote for peace and some quiet here," Sumanto says.
Which party is likely to offer that? "Well the TMC infighting between the 'goshti' (factions) of Anubrata-Hazra and Kajal has been terrible. It wasn't as bad when CPI(M) was around."
Shiben Prodhan says that if the Left comes to power, the violence that the region has seen because of all the infighting will stop. Does he know who the CPI(M) candidate is? "We just know Kajal is backing the Left...besides those who vote for the Left, vote for the ideology usually, not the face."
Aniruddha Ghoshal, an IPTA member in Nanoor explains that, "Perhaps what the Left did wrong in 34 years, the TMC is doing it in five. If CPI(M) made money it was usually behind the scenes. But for the TMC there is no shame and they want to get there quicker."
Goswami, another IPTA associate who knows most of the local Left workers acknowledges that, "Yes Kajal is supporting CPI(M) and that really is why you see the sudden emergence of rallies and slogans around the town in support of the Left".
Anondo Das, who lives in Ilambazaar - a town about 40 kms from Nanoor, says exactly the same thing: "I don't remember the last time I saw a proper CPI(M) rally here. It's obviously because of the support they're getting." He says that there used to be a party office near the Ilambazaar main market which was lying vacant almost after TMC came to power. It is now being revived.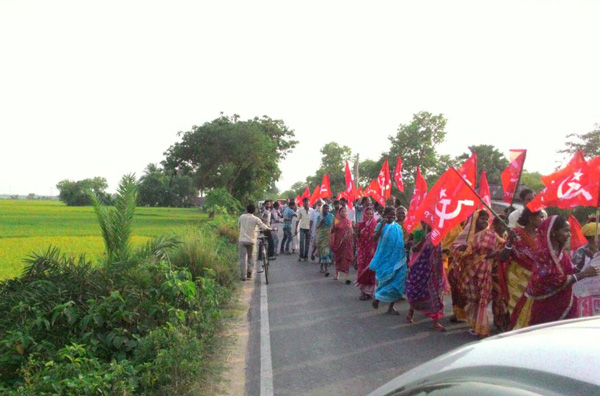 Any talk of alliance is a touchy issue for Mandal - "What alliance? They killed my son in front of me, beat up my father... used to cut hands of those who worked for Congress. And now today when Adhir Ranjan Chowdhury does an alliance, you think old Congress people are that stupid to vote for CPI(M)? That the people have forgotten the Left terror? It's Rahul Gandhi who's shameless. Gali gali mein shor hai, Rajiv Gandhi chor hai,,, he's forgotten that now? It's CPI(M) who said that. It's CPI(M) who used to draw Indira Gandhi as a witch. Even I have been in Congress before joining TMC, I haven't forgotten those days and neither have other Congress people. This alliance is not a factor."
Whether Mandal agrees to it or not, Kajal and his tacit support of the alliance is set to be a factor - if the people are given a free and fair vote that is. However the enigmatic figure of Kajal has a bit of a twisted history to it.
Dark irony of politics
"In March 2000 they killed one of Kajal's brothers. In 2004 they killed another of his brothers. Now they are followers of Gadadhar Hazra," reveals Kajal's nephew Bappa, when asked the main reason behind the animosity that Kajal harbours for TMC.
But there have always been allegations that it was in fact Left workers who had barged into Sheikh Shahnawaz's home and brutally murdered one of his (and Kajal's) brothers. Why Shahnawaz? Because he was already an established force at the local Panchayat level and that supposedly irked the bigger players. This was almost the same time when TMC was born in Nanoor (and in a major way in Bengal, though 'actual' formation happened around 1998) and Shahnawaz joined the fledgling party soon after.
Isn't it an irony that Kajal is 'supporting' the same party that was allegedly involved in murdering their family members fifteen years back?
Bappa categorically denies any CPI(M) support to begin with. Then he - and perhaps a bit predictably, the IPTA member from Nanoor - are quick to clarify: "Those people were CPI(M) then. Now they are with TMC, and Hazra supporters."
Eleven landless labourers were killed in Nanoor in 2000 (the incident is also known as the Suchpur massacre) - again, allegedly by suspected CPI(M) workers. It was the same time period when Shahnawaz's brother was killed. An old TMC hand, not from the constituency but with family there, says that Kajal and his brother resisted the Left forces together at that point.
Since Kajal was unavailable for comment, it couldn't be verified directly. But the truth is that Sheikh Shahnawaz is a contesting TMC candidate from Ketugram, a strong senior party person - and his brother is supposedly leading the Left revolt in the neighbouring district.
Even when he was not rumoured to be helping the CPI(M), it was well established that Kajal and Mandal were at loggerheads all the time. As recently as January, there was an almost-five-hour long gun battle between the two TMC factions at the border of Bahiri and Jagyanagar, two villages close to Nanoor. The police didn't intervene.
Kajal has in fact been on the run since September last year. He's the prime accused in the murder of three TMC workers, supposedly Hazra loyalists. Before this, there had apparently been a bomb attack on Kajal.
The violence-ridden attack-counterattack history can snake its way back many years through sporadic battles. But the war for future political supremacy has begun and Kajal might just have the upper hand.
Edited by Aditya Menon
More in Catch:
A killing a month: how state, Naxal violence has brutalised Chintagufa
There's too much "Jai" and too little "Bhim" in this rediscovery of Ambedkar
Odd-Even 2.0: Here's all you need to know