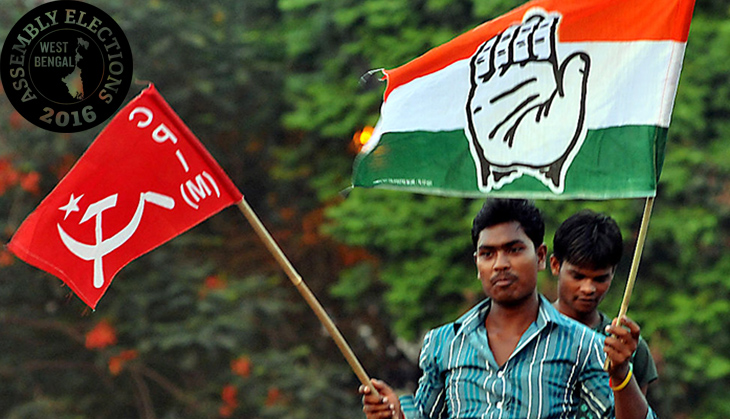 Much before Bharatiya Janata Party (BJP) made their clarion call for a 'Congress-mukt Bharat', the Comunist Party of India (Marxist) and then Trinamool Congress in West Bengal had started to compare West Bengal Pradesh Congress Committee with a lamp post. Because lamp posts don't really move much.
However, the Bengal verdict shows that the grand old party has finally emerged as a key player in the state, courtesy the alliance.
Congress has already won 22 seats and is leading in another 22. This is higher than the seats that the four-partied Left Front may win - 32 seats. Interestingly, back in 2011, Congress had managed to win 40 seats while in an alliance with TMC.
Also read: Bengal: Left's debacle is merely a symptom of the deeper rot
Inevitably, they are in the reckoning of being the main opposition party in the state, what with the coveted leader of opposition portfolio possibly going to them.
It is quite clear that Congress reaped the benefits of having the cadre based organisational strength of CPM at its side. In all likelihood, Left votes have been duly transferred to the Congress candidates, which has helped them. And yes, whatever remained of the CPM's once notorious muscle power has helped Congress take on TMC on polling day.
A conversation that I had in a Congress candidate's chamber somewhat highlights the equation.
In the room there was the candidate, her chief polling agent and another Congress worker, along with two CPM workers from the nearby slums. The candidate was up against a political heavyweight and a veteran of elections of the TMC.
"Vote ke din lad payenge TMC ke khilaf? Unka toh muscle power toh shayed aap logo se zaada hain (WIll you be able to match up to Trinamool on polling day? Do they not have more muscle power?)," I had asked the chief polling agent, a Congress worker.
He immediately turned toward the CPM workers and asked "Kya, hum laar payenge? Kya laagta hain? (Would we? What do you think?)" somehow goading them.
The answer was prompt. "Booth ke andaar toh paata nahi, leking bahar laar lenge (I am not sure about inside the booth, but outside, surely)," boasted the CPM worker enthusiastically.
The Congress workers looked relieved.
"Chowdhury is the clear winner of this election. After 19 May, if Rahul Gandhi asks him what he achieved after he was made the state chief, he will show a fair increase in seats, courtesy the CPI(M)'s help. This is why an egoistic man like him shook hands with a party which hounded him once", a Congress worked had said to me, during on ground reporting.
Also read: Cyclone Mamata: why Bengal brought her back with a bigger mandate
Looks like he was spot on.
But this development definitely comes with its own share of challenges for Congress.
What if Congress workers now start facing TMC onslaught? Will they think twice before joining the TMC?
Does the Congress need the Left any more?
Can Congress go back to their heydays of the 1960s?
But the big question now is, who will be the leader of the opposition? Abdul Mannan, one of they key architects of the alliance, Manas Bhunia, a veteran leader and former state Congress chief, or someone from the Adhir Ranjan camp like Manoj Chakraborty?
Edited by Durga M Sengupta
Also read: West Bengal election results 2016: Mamata thanks people for landslide victory