Somi Das
| Updated on: 10 February 2017, 1:49 IST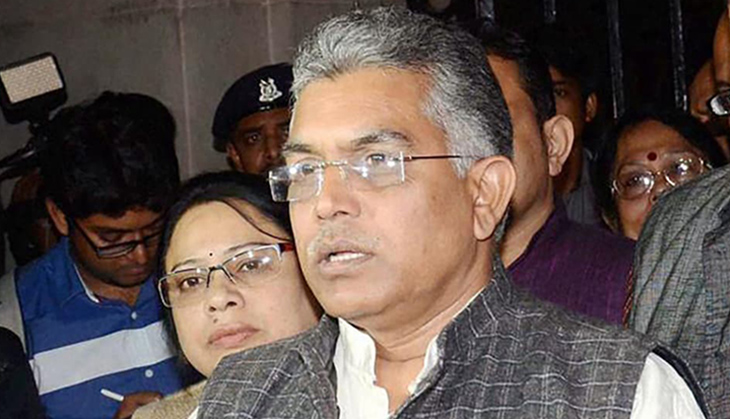 BJP West Bengal president and RSS import in the state, Dilip Ghosh has won from Kharagpur Sadar, West Medinipore. The first-time contestant has seen a steady rise within the party ranks ever since he joined in 2015. Several factors worked in Ghosh's favour in Kharagpur.
First, Ghosh had the support of the entire RSS machinery in the district. The central leadership campaigned for him as well. In fact, Prime Minister Narendra Modi kicked off his Bengal campaign with a massive rally in Kharagpur on 28 March. Beginning his speech in chaste Bengali, Modi had wooed the Kharagpur audience for Ghosh with his witty remarks attacking Mamata Banerjee. Union Minister Babul Supriyo too lent his star power and singing prowess to the rally asking the electorate to vote for Ghosh with the song 'rang de mohe gerua'.
Second, by virtue of being a railway town, Kharagpur is cosmopolitan by nature. Several non-Bengali speaking families who were apparently enamoured by Narendra Modi, the second Prime Minister to visit the town were ready to ditch the Congress and vote for him. In a way, credit for Ghosh's win in parts should also go to PM Modi's 28 March rally there.
Third, Ghosh's opponent, the formidable Gyan Singh Sohanpal, is a 10-time MLA and someone who is popularly called 'chacha' across the constituency. However at the age of 92, his contesting itself was a cause for concern. In fact, chacha wanted to hang his boots this time round. But Congress' insistence, backed by the CPI(M), led him to contest.
Strong RSS roots
Speaking on the campaign trail in April, Ghosh in an interview to Catch had said that although he was new in politics, being in the RSS helped understand how to fulfill a task at hand with efficiency.
Before joining the BJP, Ghosh was the RSS in-charge in Andaman and Nicobar Islands. He has also served as an assistant to RSS chief KS Sudarshan, during the latter's stint as a caretaker of Sangh activities in the north east.
He is quite aggressive when it comes to expressing his views on the ongoing debate on nationalism. On 3 March, he tweeted: "Those who r singing the song of Secularism, Intolerance And raising slogan of "Pakistan Zindabad". They should be sent to Pakistan. Those people will either be shortened 6 inches from the top or will be pushed 6 inches into the ground. Jai Hind !" (sic).
Given that other prominent BJP leaders like former state president Rahul Sinha from Jorasanko and state Mahila Morcha president Roopa Ganguly from Howrah North failed to make any impact, Ghosh's win is a major breakthrough for the party.
It remains to be seen how BJP uses the RSS man for the party to make further inroads in a state where it has always found it difficult to make its presence felt.