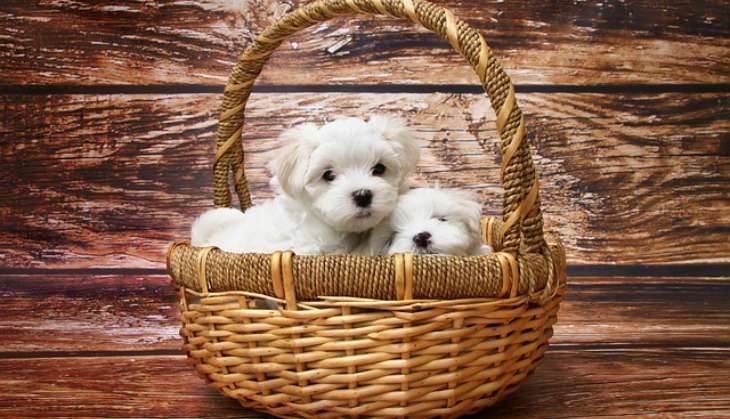 The struggle of parenting a pet while maintaining a social life is real. Real difficult that is. While cat cafes and dog-friendly restaurants and eateries are pretty common abroad, the trend is FINALLY catching up in India. Now you no longer have to leave your pet alone for a meal in a cafe, and more importantly, if you want to treat your dogs to canine treats or a romp in the park, you have quite a few options available.
Diggin Cafe, opposite Gargi College, Green Park, recently announced that they're now open to pets. For those of you who've never been here, we recommend trying their cappuccino while your dogs frolic about.
Here are five other cafes in NCR that will help give your pet parenting skills several gold stars.
1) Puppychino
Want to celebrate your baby's birthday with cake, goodie bags and toys? This is the perfect spot. It looks fabulous, you can also play with other dogs who've dropped in for a cupcake or two AND they also customise and sell pretty looking merchandise.
Address: Third floor, 119, Shishan Bhawan, Shahpur Jat
Nearest Metro Station: Hauz Khas
Contact: 09643084323
2) Cafe Canine
This place has a doggie pool. We repeat. A pool for dogs. To play in. Are you getting the keys? Are you getting in the car? You can get your dog groomed, you can get them to participate in outdoor activities like jumping over hurdles, running without road/human blocks - and yes, dog meals are served on time.
Address: 765 Bhelpa Greens, Bhondsi, Gurgaon
Contact: +91 9999300399
3) Tabula Beach Cafe
It looks like a beach cafe, it feels like a beach cafe, it has sand, drinks, food and is dog-friendly. What more do you want guys?
Address: Asiad Village, Khel Gaon Marg, Delhi
Contact: 9650250099
4) The Brown Box
The Brown Box is mostly a bakery for humans who have good taste. If you have a pet who has equally great taste, bring them along for a fresh cuppa and some tasty treats.
Address: Shop 2, S Block, DDA Shopping Complex, Panchsheel Park
Contact: +91 9910277733
5) Roots - Cafe in the Park
Listen up. If you live in Delhi NCR, and you have not been to Roots Cafe, you've not lived in the national capital yet. Take it from a frequent visitor and fan, everything is fantastic here. The food is cooked using solar energy, the cost is reasonable, it sits in the middle of a huge park where your dog(s) can enjoy a play date while you enjoy the in-house aam panna.
Address:
Rajiv Gandhi Renewable Energy Park, Leisure Valley, Sector 29, Gurgaon
Contact: 0124 2574616, +91 8800772611
--
Edited by Aishwarya Yerra