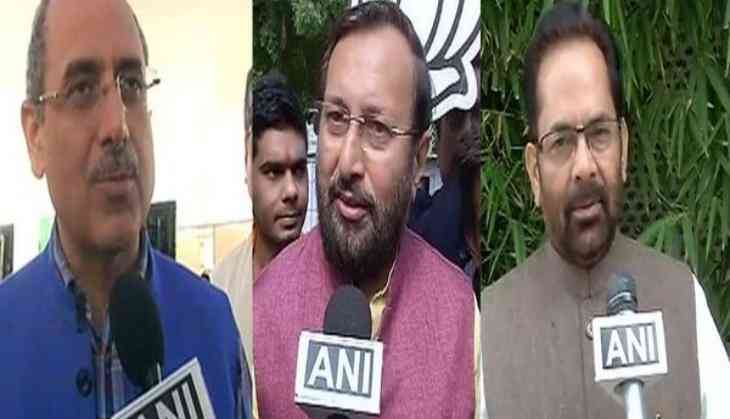 Expressing happiness over the early trends that indicate the Bharatiya Janata Party (BJP) leading in the fray in the Uttar Pradesh Assembly elections, the saffron party on Saturday said the people of the state have voted for the good work not for the politics of caste and corruption."This is very good and everything will be clear within an hour. People are showing confidence and trusting Prime Minister Narendra Modi's leadership. The people are voting for the development. They are voting for the good work not on the basis of caste and religion. We have received tremendous support from youth and women voters," Union Human Resources and Development (HRD) Minister Prakash Javdekar told ANI.
Echoing Javdekar, BJP leader Nalin Kohli said the people of the state do not want politics of corruption anymore and they want to see 'Ache Din' in the state.
"This clearly indicates that Prime Minister Narendra Modi's credibility, popularity, his work for poor, youth, women, backward class, farmers have reached among the people. People have faith on him. People are losing interest in politics of corruption and power," Kohli told ANI.
Resonating the same, Union Minister and BJP leader Mukhtar Abbas Naqvi lauded Prime Minister Narendra Modi, saying that he has transformed people's dream into reality and added that the politics of corruption, crime and misrule will be wiped out from the state.
"One thing is very clear that Prime Minister has always worked for the empowerment of the poor. People have put a stamp on the efforts made by our Prime Minister. There is atmosphere of development and faith in the nation and soon we will form government in the state," Naqvi told ANI.
The counting of votes has begun to elect a new assembly in Uttar Pradesh, one of the world's largest poll exercises that is being billed as a virtual semi-final to general elections in two years.
The stakes are high for almost 5,000 candidates across 403 seats in India's most-populous state.
The early trends show BJP ahead of Samajwadi Party and Bahujan Samaj Party (BSP).
Here are the latest updates:
• BJP-274, SP+ 79, BSP-25, Others-12
• BJP leading on five seats of Lucknow
• Uttar Pradesh minister Azam Khan's son Abdullah trailing from Swar, Rampur
• Samajwadi Party patron Mulayam Singh Yadav's daughter-in-law Aparna Yadav trailing from Lucknow Cantonment seat
• Uttar Pradesh ministers Azam Khan from Rampur and Gayatri Prajapati from Amethi are leading.
The counting of votes across five states-Uttar Pradesh, Punjab, Goa, Uttarakhand and Manipur which began at 8 a.m. is underway.
-ANI