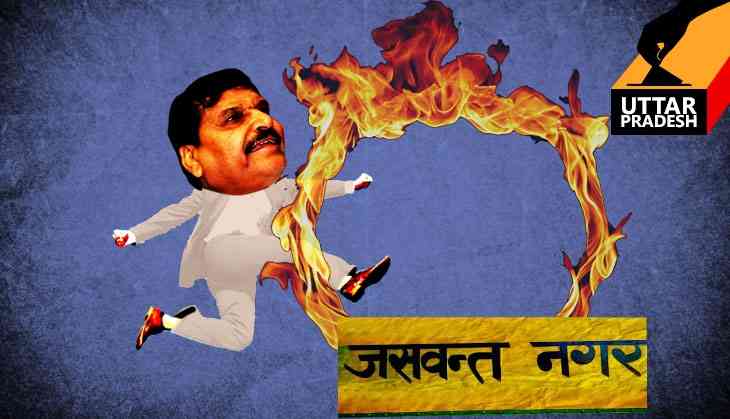 "Iss baar izzat ki ladayi hai" (This time, it is a battle for prestige) is a refrain you would hear across the Jaswantnagar Assembly constituency in Uttar Pradesh's Etawah district. Samajwadi Party leader Shivpal Singh Yadav is seeking a fifth term from the seat, which includes the Yadav family village Saifai.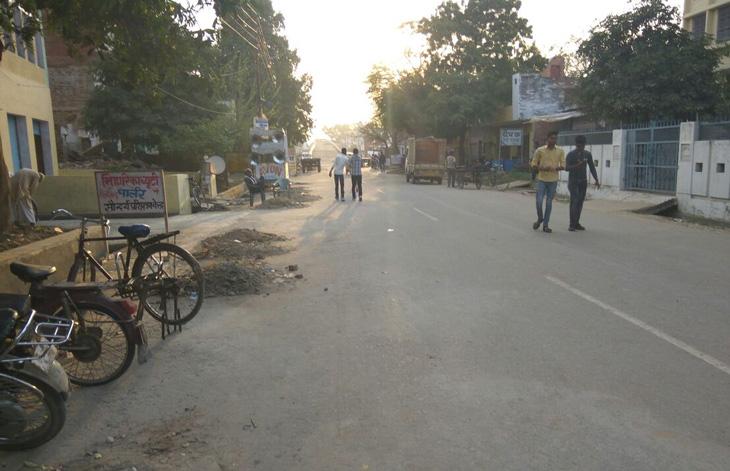 Jaswantnagar lies in the Etawah district of UP. (Photo: Aditya Menon/Catch News)
Shivpal Yadav's main challenge comes not from the Opposition but from within his own family – particularly from his cousin Prof Ram Gopal Yadav and nephew Chief Minister Akhilesh Yadav. Shivpal Yadav's supporters allege that the duo are actively trying to sabotage his campaign in Jaswantnagar.
Chief Minister Akhilesh Yadav's comments at a rally in Etawah on Thursday are being seen as an open call to vote against Shivpal Yadav.
"Jinhone Netaji aur mere beech khaayi paida ki hai, Etawah ke log usay sabak sikhaane ka kaam karna (Those who have created a rift between me and Netaji (Mulayam Singh Yadav), people of Etawah district should teach them a lesson)," he said.
During his speech, he also accused "certain elements" of conspiring against him and Mulayam Singh Yadav and trying to defeat the party's candidates.
"Their conspiracy against the party was exposed and now they say we got nothing as part of the (SP) legacy," he said, hinting towards Shivpal Yadav.
"Those who we trusted, tried to drive a wedge between me and Netaji," he added.
On the other hand, Shivpal Yadav and his loyalists are being accused of campaigning against the party candidates in several constituencies that vote in the third phase of polling on 19 February.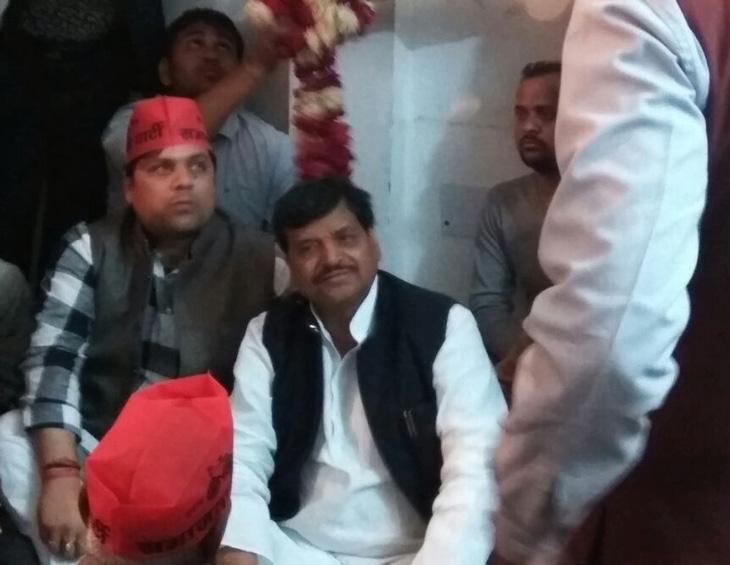 Shivpal Yadav addresses his supporters in the constituency (Photo: Aditya Menon/Catch News)
In Jaswantnagar, Shivpal is running a solitary campaign. All the campaign material – posters, leaflets and banners – in Jaswantnagar focus entirely on Shivpal Yadav with Mulayam Singh Yadav by his side. Akhilesh doesn't even figure in several posters.
The slogans, too, are focussed on Shivpal and betray a certain sense of hurt pride.
Mulayam's bastion
Mulayam Singh Yadav began his political career in this area exactly 63 years ago, when he was arrested in his village for protesting against a hike in irrigation tariff in February 1954. Jaswantnagar came under the influence of Ram Manohar Lohia in the early 1950s and this provided the context for Mulayam's rise in politics.
The seat elected anti-Congress MLAs as early as 1957 and 1962. Natthu Singh – the Praja Socialist Party MLA from Jaswantnagar – understood Mulayam's potential and took him under his wing.
In 1967, Mulayam Singh Yadav won the seat as a Samyukta Socialist Party candidate, beginning his family's association with the seat that has now spanned half a century.
Since then, he lost the seat only on two occasions till he passed it on to his brother Shivpal Singh Yadav in 1996.
In Jaswantnagar, the toughest challenges to Mulayam in this Yadav-dominated seat have always been from within. In 1989, the Congress fielded his one-time lieutenant Darshan Singh Yadav against him. He remained the family's main rival for the next three elections and came close to defeating Mulayam in 1993.
On one occasion, Mulayam's cavalcade was fired upon from a mill that belonged to Darshan Singh. Bombs were planted on the road, purportedly to assassinate him.
Rise of Shivpal Yadav
Shivpal defeated Darshan Singh Yadav by 11,000 votes and his margin of victory against various candidates has been consistently impressive –- 53,000 in 2002, 31,000 in 2007 and a whopping 81,000 in 2012.
Yadavs supposedly form nearly 40% of the 3.5 lakh electorate in Jaswantnagar, followed by 40,000 strong presence of the Shakya OBC community. Muslim, Brahmin, Vaish and Dalit communities are present in smaller numbers. The BJP has fielded a Yadav candidate and it is rumoured that Akhilesh supporters may strategically vote for him. The BSP candidate Durvesh Shakya is largely hoping to garner the support of Shakya and Dalit voters.
Shivpal's popularity cuts across communities and on Thursday he addressed gatherings of Brahmins and Muslims.
He has a quiet, unassuming style and changes his speeches according to the audience.
"After God, the words of a Brahmin matter most," he said at meeting of the Brahmin Samaj on Thursday.
In the Muslim gathering, he said, "when we were being hounded by Kalyan Singh, no one stood by us. Only the Muslim community opened their hearts and supported us".
Shivpal is credit with a lot of infrastructural work in Jaswantnagar. The roads are in good condition and seem to have been widened and repaired frequently. Sewage lines, too, have been maintained well, say locals.
"Shivpal Yadav has done a lot of infrastructural work here. Jaswantnagar is better than many localities in metropolises like Delhi and Mumbai," says Suresh Verma, a resident.
In this battle of prestige, Shivpal's rivals feel that a record margin would be an answer to his detractors.
"This time we want Shivpal chacha to win by over one lakh votes," says Vinay Pandey, an SP worker.
Feud creates confusion
The feud between Shivpal and Akhilesh has created a great deal of confusion among the party's rank and file. "Akhilesh's men" and "Shivpal's men" are clearly demarcated and often they tend to work for the party in their own areas and against it in areas where the rival group's candidates are in the fray.
Haji Zameerullah Khan, the sitting MLA from Koil in Aligarh district, was denied a ticket this time and decided to contest against the official SP nominee as an independent candidate there. He has now come to Jaswantnagar to campaign for Shivpal Yadav.
"Iss baar izzat ka sawaal hai," he says, addressing a public meeting in a Muslim dominated locality in Jaswantnagar.
"I am a nobody now. But yet Shivpal Yadav is standing by me. He will always stand by you," Khan tells the audience.
Raghuraj Shakya, sitting MLA from Etawah, is campaigning for Shivpal in Jaswantnagar, but allegedly against SP candidates in certain other seats in the region.
Local leaders admit that the family feud has harmed the party. Akhilesh hasn't even come to Jaswantnagar to campaign.
"People are confused. Party workers are confused. Their loyalty to the SP and Netaji is unflinching. But they are unable to understand what is happening," says Rahul Gupta, the Jaswantnagar unit head of the SP.
However, people will still vote for SP in the name of Netaji, he says.
What was once a VIP constituency for the SP, has now become a rebel leader's enclave.
"Ram Gopal Yadav is actively campaigning against Shivpal Yadav. He is tacitly backing the BJP candidate Manish (Yadav) Patre," says a functionary close to Shivpal Yadav.
On the other hand, Shivpal is being accused of trying to sabotage SP candidates in other seats such as Etawah, Auraiya, Bharthana and Dibiyapur and having a "secret deal" with BSP supremo Mayawati
This is the first time the election in Jaswantnagar has become unpredictable and voters are cagey in expressing their obvious loyalty towards SP.
"People are apprehensive of openly saying who they are with. Even if they are with SP, they don't know if it would be taken positively or negatively," says Radhey Lal Yadav, a shopkeeper.
Having a 50 year association with the family, the public here is hurt at the Akhilesh-Shivpal spat.
They are also apprehensive whether the state government's generosity would continue in case Akhilesh returns as CM. This is especially as Akhilesh removed Shivpal as PWD minister towards the end of his term.
One thing is clear, Shivpal Yadav might win his seat, but the political epicentre of the Yadav family has decisively shifted away from Saifai and Jaswantnagar to Lucknow.