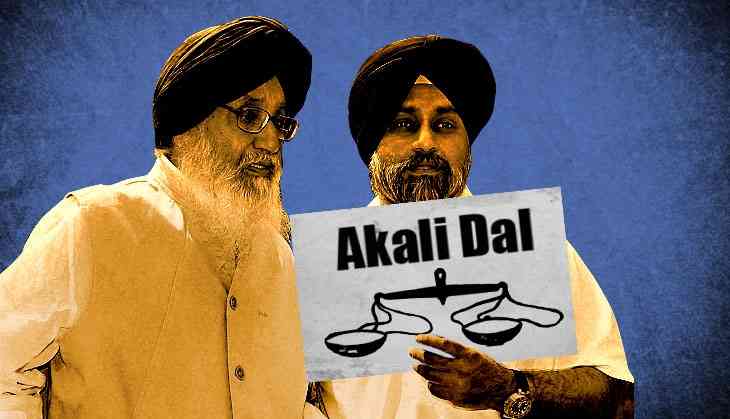 Punjab has voted decisively against the Shiromani Akali Dal-Bharatiya Janata Party alliance. The alliance has been reduced to just about one-fourth of its 2012 tally of 68 seats. It's vote share has also dipped considerably.
This is the party's worst ever performance in decades. The tally is even less than the 24 seats it won in 1972, in the aftermath of the 1971 war. With the Congress winning a nearly 2/3rd majority in Punjab and the Aam Aadmi Party emerging as the main Opposition, the SAD-BJP's relevance in the state is in question.
Even though outgoing Chief Minister Parkash Singh Badal won against Captain Amarinder Singh in Lambi and Sukhbir Badal defeated AAP's Bhagwant Mann in Jalalabad, the decimation of the Akalis has been comprehensive.
Bastions fall
Several Akali Dal and BJP stalwarts bit the dust, especially those who had becomes figures of hate among the public. Take for instance, the case of agriculture minister Tota Singh, who was widely blamed for the whitefly attack that destroyed Punjab's cotton crop in 2015. He lost to Congress' Sukhjit Singh Kaka by a large margin of over 22,000 votes in the Dharamkot seat in Moga district. This was an Akali pocket borough as the party has been undefeated here since 1997. Congress is winning it for the first time since 1985.
Tota Singh's son Barjinder Singh Makhan Brar, stood a humiliating third behind the Congress and AAP in Moga. In fact, the SAD-BJP alliance as entirely wiped out in Moga district.
Another high and might Akali leader who has been humbled is Sikander Singh Maluka, a senior minister in the Badal government. Maluka was known for his arrogant ways and had even been accused of disrespecting the Sikh ardas. He lost to the Congress' Gurpeet Singh Kangar from his pocket borough Rampura Phul in Bathinda district.
Congress caused another upset in the Patti seat of Tarn Taran district, where Harminder Singh has defeated Parkash Singh Badal's son-in-law Adesh Partap Singh Kairon by over 8,000 votes.
Akalis also lost the Attari (SC) seat where four-time MLA Gulzar Singh Ranike was defeated by Tarsem Singh DC of the Congress.
The Sri Hargobindpur seat in Gurdaspur district and Amritsar South seat, where Akalis hadn't lost since 1997, also fell in the Congress' kitty. In Amritsar South, the sitting Akali MLA Inderbir Singh Bolaria won on a Congress ticket.
The Balachaur seat in Nawanshahr had also been an Akali stronghold where its leader Nand Lal had been undefeated since 1997. This time, he lost to the Congress' Darshan Lal by nearly 20,000 votes.
In Sangrur district's Sunam seat, which the Akalis hadn't lost since the 2000 by-election, the party suffered a humiliating defeat at the hands of the AAP. Aman Arora, formerly with the Congress, won the seat with a margin of over 33,000 votes.
Several BJP stalwarts also suffered defeats, such as Anil Joshi in Amritsar North, KD Bhandari in Jalandhar North and Manoranjan Kalia in Jalandhar Central, clearly showing that the Modi wave which swept UP and Uttarakhand did not touch Punjab at all.
Scions and Sukhbir's aides
Several second generation Akali leaders also lost, such as Amarpal Singh Bony Ajnala, the son of senior Akali leader Ratan Singh Ajnala. He was contesting from the family bastion Ajnala in Amritsar district. Yuvraj Bhupinder Singh, the son-in-law of Bibi Jagir Kaur lost to AAP's Sukhpal Singh Khaira in Bholath. Other scions who lost are Inder Iqbal Singh Atwal in Raikot and Ravinder Singh Brahampura in Khadoor Sahib.
Sukhbir Badal's aides Bunty Romana and Hardeep Singh lost in Faridkot and Gidderbaha respectively.
The only silver lining for the SAD-BJP were the handful of seats where it managed to upset Congress stalwarts. In Batala LS Lodhinangal won a surprise victory over sitting MLA Ashwani Sekhri of the Congress and AAP Punjab convenor Gurpreet Ghuggi Warraich. Outgoing finance Minister Parminder Dhindsa defeated former CM Rajinder Kaur Bhattal in Lehragaga. BJP's Arun Narang, with the help of liquor baron Shiv Lal Doda, managed to upset Sunil Kumar Jakhar in Abohar. In Adampur, former Punjab Congress president Mohinder Singh Kaypee was defeated by SAD's Pawan Kumar Tinu.
The Badals, who have ruled every aspect of Punjab's polity and economy for the past decade, will now be a marginal player in the state, not eligible for even the Leader of the Opposition's post in the Assembly.