He doesn't sleep, requires endless assurances that his candidacy is on the path to victory, and wants constant attention showered on him - as D-day approaches, Donald Trump seems like a man on shaky ground.
As the clock ticks down to 8 November, Donald Trump is continuing his downward spiral. Trump's aides are worried the billionaire will do more damage than good, so much so that they have revoked his access to micro-blogging social network Twitter.
Shackling Trump
His closest associates are beginning to doubt the man, at least according to anecdotes from this New York Times article which is full of golden nuggets.
Trump's campaign is worried about the free shooting, freewheeling mad man and the late night Twitter rants that he has been indulging in, so they've have taken control of his Twitter account.
The NYT article goes on to talk about how Trump told Hope Hicks, his spokesperson, to write down a tweet about outgoing President Barack Obama. "Why is he campaigning instead of creating jobs and fixing Obamacare?" the article quoted Mr. Trump as saying. ""Get back to work." After some light editing - Ms. Hicks added "for the American people" at the end - she published it."
Looking at Air Force One @ MIA. Why is he campaigning instead of creating jobs & fixing Obamacare? Get back to work for the American people!

— Donald J. Trump (@realDonaldTrump) November 3, 2016
Making full use of these stories, even Barack Obama took a dig at his longtime nemesis. "Apparently, his campaign has taken away his Twitter," Obama said, speaking at a Hillary Clinton rally in Kissimmee, Florida. "In the last two days, they had so little confidence in his self-control, that they said, 'We're just going to take away your Twitter'".
"Now, if somebody can't handle a Twitter account, they can't handle the nuclear codes," continued Obama, to peals of laughter from the audience. "If somebody starts tweeting at 3 in the morning because 'SNL' made fun of you, then you can't handle the nuclear codes."
Stubborn & Delusional
Offline though, Trump is still a complete control freak. He personally approves every single commercial that goes out from his campaign, down to the smallest detail.

"He objected to a short clip in one ad that showed him emerging from a hug with a female supporter, worrying that it made him seem dismissive rather than warm," stated NYT. But it's not just perception Trump wants to manage, it's reality itself.

During a meal at the Trump Grill in the basement of Trump Tower, Trump's aides used 270towin.com to create winning electoral maps. 270towin is a site that lets you decide which state goes to which candidate, and Trump's camp has been using it sans sanity.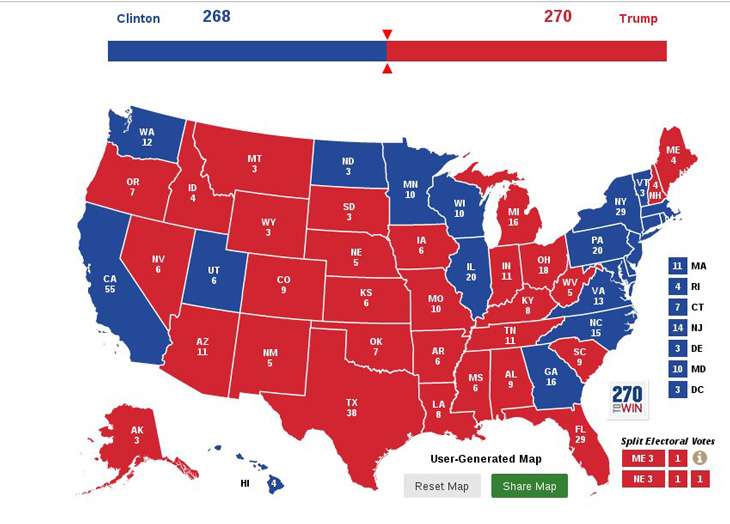 270towin
In their predictions, his aides gave democratic strongholds like New Mexico and Colorado Trump. The disconnect from the real world is something that agrees with Trump though, with the man stating, "I'm going to win."
Ivanka embarrased
Donald Trump's daughter Ivanka starred in a passionate ad endorsing her father for President of the United States (POTUS).
At a 'Coffee with Ivanka' series in Philadelphia, in front of a crowd of about 300, she made a passionate pitch for senior Trump: "America needs someone who is not afraid to think big. But with that, we need somebody with a track record of execution. So we need a dreamer. We need a do-er. We need both. We need someone who is tenacious, persistent. My father will outwork anyone."
Ivanka's commercial was made to appeal to suburban woman who "have recoiled from her father's incendiary language".
However, things are very different off-camera, where she's told the campaign not to promote the ad anywhere - in news releases, or on social network. This is because, while in public she is all for her father becoming the next president, in private she's worried her businesses will lose due to her connection to her father.
This undesired attention is already causing her problems. As New York Magazine points out, "Her high-profile participation has brought some unwanted attention to her clothing and accessories line, from revelations about the company's embarrassingly bad maternal-leave policy to its unpaid interns. Then there's the #GrabYourWallet campaign, where women have been tweeting about boycotting Ivanka Trump's line."
Clinton cleared
Democratic candidate for president, Hillary Clinton, has once again been cleared by the FBI. "Based on our review, we have not changed our conclusions that we expressed in July," Comey wrote in a new letter to the congressional committee chairmen. In doing so he has cleared Hillary of the cloud that's been hanging over her head since the FBI re-opened the probe into her mishandling of classified information eight days ago.
Trump though, doubts that a review of 650,000 emails could be done in eight days. "You can't review 650,000 new emails in eight days. You can't do it, folks," Trump said. The citizens of the United States - especially the Trumpers - need to realise though, that this sorting is done by a computer algorithm that narrows the mails down by picking up on key words and recipients.
Both stocks and the US dollar rallied after the news broke out. The news broke out whilst Clinton was on board her campaign plane. "We are glad to see that [Comey] has found, as we were confident he would, that he has confirmed the conclusions that he reached in July and we are glad that this matter is resolved," Clinton told reporters.
While Clinton now stands cleared, what is worrisome for her is that for the past nine days, the 20 million or so early voters thought that the FBI had something on Hillary. That assumption could have hurt her vote share.
However, we'll know whether or not that was actually the case in less than 48 hours.