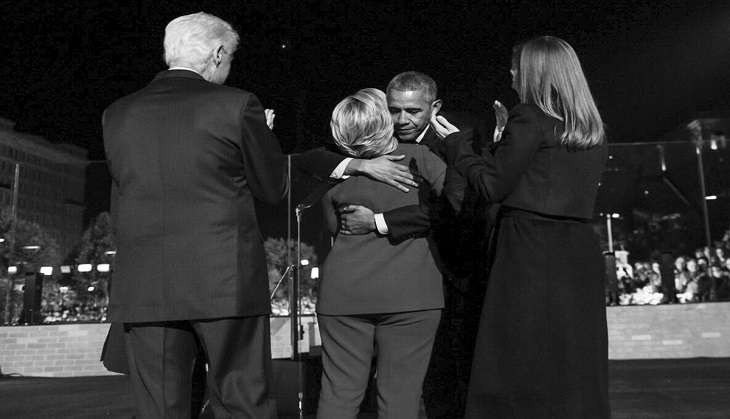 Ahead of the first polls in Dixville Notch, New Hampshire, Democratic candidate Hillary Clinton addressed a crowd of over 40,000 people in Philadelphia along with outgoing President Barack Obama, first lady Michelle Obama and former President Bill Clinton.
Addressing the rally, Michelle Obama said, "Your responsibility does not end when we leave the White House. That is why Barack and I are working so hard in this election. Because we believe that it is our responsibility to ensure that this country is handed over to a leader we all can trust. Someone who is ready to be the commander-in0chief from day one. We deserve a leader who will ensure that our daughters are safe and respected."
The crowd broke into a raucous cheer when Michelle Obama introduced Barack saying that she was extremely proud of what her husband had done as the President of the United States of America.
"I now have the honour of introducing my husband to the stage. It's my chance perhaps the last chance I will have to introduce him as President of The United states. So I just want to take a moment to publicly say how proud I am of all he has done for this country. I'm proud not just what he has done, but how he has done it; getting the job done in the face of unimaginable challenges, always going high when they go low; showing us all what intelligence, dignity and grace really look like. And never ever compromising his values or beliefs. Ladies and gentlemen, I introduce to you, the love of my life, the President of the United States, Barack Obama!," Michelle said.
Also Read: US Election 2016: Donald Trump vows to suspend Syrian refugee program if elected
Urging the crowd to vote for Hillary Clinton, Barack Obama asserted that the attacks unleashed on her was nothing like that had been seen before.
"I have had to bite my tongue about a lot of the nonsense people say about Hillary in this election. Most of the people saying this stuff don't really believe it. I'm betting America will reject the politics of resentment and the politics of blame. I am betting that tomorrow you will reject fear and you'll choose hope," Obama said.
He added, "If you want a President who shares our faith in America. Who will finally shatter a glass ceiling and be a President for each and every one of us, then I am asking you to work as hard as you can this one last day to elect this fighter, our next President for the United States of America, Hillary Clinton."
"Let's make history!" —Hillary pic.twitter.com/33JmMKRfR4

— Hillary Clinton (@HillaryClinton) November 8, 2016
Read More:US election 2016: America goes to polls! Who do you think will succeed Obama?
Latest polls indicate that the race to the White House has tightened over the last two weeks, with Clinton maintaining a slight edge over her Republican rival Donald Trump.
Election day has finally arrived and America goes to polls today.
You can read the entire speech here: