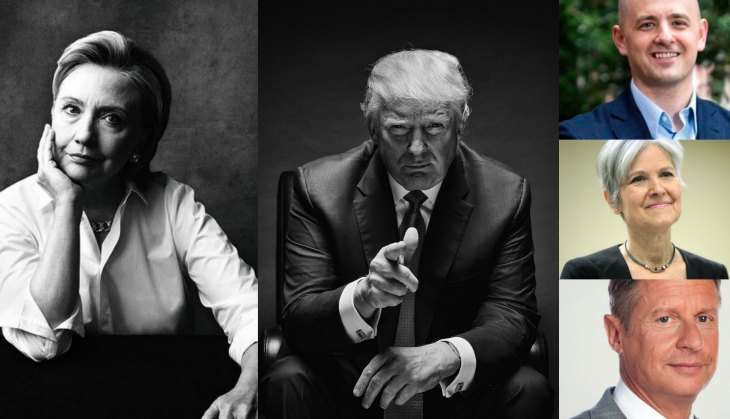 It is the best of times, it is the worst of times.
'Best' because if all goes south come US Election day, you'd have witnessed the end of life as we know first hand and would be able recount the tale in the spirit world.
And worst, because the human race has degenerated enough to reach a point where allegations of tax fraud, real estate fraud, education fraud, racism, homophobia, several counts of sexual assault and rape - including minor assault - have not been enough to stop a white man from becoming the Republican presidential nominee for 2016.
Worst, because if our luck's run out, he may win.
There are five candidates running to become the commander-in-chief - Hillary Clinton, Donald Trump, Jill Stein, Gary Johnson, and Evan McMullin. Five, who hope to fill President Barack Obama's shoes. Five, of whom three are just party poopers. Five, plus one raging man-child.
Here's the lowdown on the people fighting to become POTUS:
Let's begin with the lost causes whose presence can only serve to swing confused voters their way.
Who is Jill Stein?
Age: 66
Education: Harvard Medical School - where she studied Psychology, Sociology and Anthrology
Party: Green Party
Slogan: It's In Our Hands
Running Mate: Ajamu Baraka
Professional career: According to her Wikipedia page, Stein practiced medicine for 25 years ''at Beth Israel Deaconess Medical Center, Simmons College Health Center, and Harvard Pilgrim Health Care, and also served as an instructor of medicine at Harvard Medical School. She retired from practicing and teaching medicine in 2005 and 2006, respectively''. Her reports and medical journals include: In Harm's Way: Toxic Threats to Child Development (2000), Environmental Threats to Healthy Aging (2009)
Political career:
Unsuccessfully ran for Massachusetts Governor in 2002, 2010
Unsuccessfully ran for President of the United States in 2012
Top quote: "We cannot simultaneously fight terrorism, e and our allies, while with the other hand we fund terrorism, arm terrorism and train terrorism."
Chances of winning: Little to nothing.
Chances of swinging confused Bernie Sanders supporters her way: A bit.
Who is Gary Johnson?
Age: 63
Education: University of New Mexico
Party: Libertarian Party
Slogan: Be Libertarian with me. You In?
Running Mate: William Weld
Professional career: Started his career as a handyman which later lead to the birth of his company, Big J Enterprises which became a huge success.
Political career:
Governor of New Mexico - from a Republican ticket (1994 and 1998)
Unsuccessfully ran for POTUS on a Republican ticket in 2012
Books: Seven Principles of Good Government: Gary Johnson on liberty, people and politics (2012), Common Sense for the Common Good; Libertarianism as the End of Two-Party Tyranny (2016)
Top quote: "What is Aleppo?"
Chances of winning: Little to nothing
Who is Evan McMullin?
Age: 40
Education: Brigham Young Universty, MBA from Wharton School - University of Pennsylvania
Party: Independent candidate
Running Mate: Mindy Finn
Professional career: He is a former CIA operative, who worked at Goldman Sachs after studying MBA.
Political career: Evan has the Republican nominee really worried since Utah, which has traditionally been a Republican stronghold, has chipped him in favour of the Mormon.
What happens if Evan gets Utah? Utah has six electoral votes, and if Evan takes these home, in the event that Hillary and Trump both fail to get 270 of the 538 electoral votes, the House of Representatives will pick the next president. Now you know why Trump cannot stand the man.
Evan is fighting in just 11 states.
Top quote: "Donald Trump is scared of me and scared of what my campaign is doing in Utah and elsewhere. He's afraid of being humiliated. He's a very fragile man."
Chances of winning: Negligible, but maybe
Who is Hillary Clinton?
Age: 69
Education: Yale Law School
Party: Democratic Party
Slogan: Stronger Together / I'm With Her
Running Mate: Tim Kaine
Political career:
Ran for presidency in 2008, but lost to Barack Obama. Became the US Secretary of State (2009-13) during President Obama's tenure. In 2015 she re-entered the race for presidency and is the Democrats nominee for POTUS.
First Lady of the United States (1993-2001)
Senator of New York (2001-09)
Books: It Takes a Village: And Other Lessons Children Teach Us (1996), Living History (2003), Hard Choices (2013)
Biggest controversy: Using a private email address and server while serving as Secretary of State, thereby raising questions about possible security lapses. FBI launched an investigation (twice) but found nothing to indict her with.
Top quote: "As soon as he (Trump) travels to 112 countries and negotiates a peace deal, a cease fire... Or even spends 11 hours testifying in front of a congressional committee, he can talk to me about stamina."
Chances of winning: The force is strong with this one
Who is Donald J Trump?
Age: 70
Education: Fordhan University (2 years), transferred to University of Pennsylvania and studied Economics (2 years). Did an undergraduate course at Wharton School of Business.
Slogan: Make America Great Again
Running mate: Mike Pence
Books: None that he's written all by his winsome self.
Chances of winning: Real because America has too many uneducated white people.
If you've been living under a rock for the last few months, Trump is best known as a presidential aspirant who inherited a rich business and went on to expand his business by fleecing people. He has a history of sexual harassment with cases still pending in court.
He also has a history of fraud in business and income tax, has zero issues in objectifying women (including his own daughters), thinks climate change is a hoax manufactured in China, believes Mexicans are either rapists or taco truck owners, believes Muslims are terrorists.
In addition he is a compulsive liar, is utterly incapable of forming complete coherent sentences, and is too trigger happy to be unleashed upon the world with such cruelty.