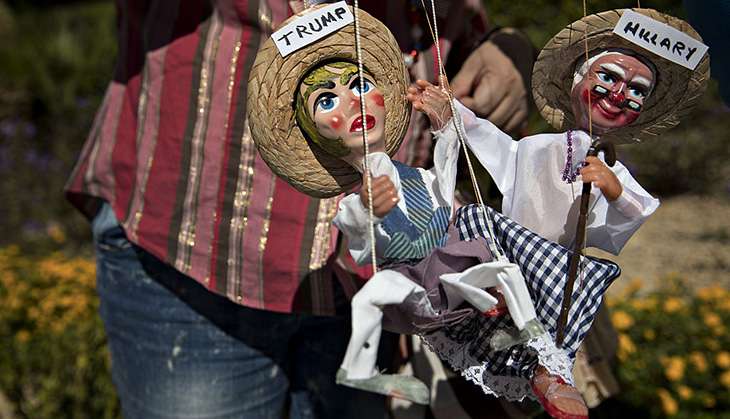 It's been a long, long campaign for Americans. In many ways, it's been the worst campaign in US history. Personal attacks have trumped common sense and policy debates; it's been a bitter fight to this final moment between Donald Trump, the Republican Party's unlikely and reviled candidate, and Hillary Clinton, one of the most disliked politicians in America.
Basically, it's a fight between the much hated and the even more hated. This election is a referendum of hate, and in some ways, the winner will be the candidate America hates the least.
Politics of exploitation
Throughout this rough campaign, Trump has seemed to be stuck in some sort of school presidential election, where bullying the opposition will make you seem scary and cool so people will vote for you. Clinton, on the other hand, has made it her mission to make herself as relatable as possible to the millennials.
Also read - The US election won't be rigged - but the system has to be fixed
The Republicans have already begun to come apart at the seams. We have an "anchor around their necks" as one supporter from Iowa said.
The Democrats, on the other hand, aren't fully assured of a victory yet despite having a candidate who has served the government for years.
Hate trumps all?
Trump has time and again directly advocated bigotry, repeatedly uttered racist statements, and publicly engaged in misogynistic conduct.
He has inflamed the worst voter passions in a way that perhaps even former president Richard Nixon could not have dreamt of. Over there past 16 months, he has brought public debate to its knees and infused it with the hate and bigotry that form the very essence of Trumpism. He has dumbed down political discourse in a way never seen before in a US presidential election.
But if he wins, there's a whole world of pain that supporters of the other camp will have to deal with. For most of that populace, America is standing at the edge of a deep abyss as Trump, with his statements, has the power to wreck the country's reputation in more ways than one. In fact, the mere thought that the outcome may sway his way is inducing anxiety in people around the world.
If he does win, it would be a sour victory of a candidate who has lied like no other in history and who stunningly unqualified for the job.
Worse, if he wins, he replaces Barack Obama, who has been more than just a cautionary voice "counselling against the global rush towards xenophobia and insularity".
None of this works out well for the Americans who sighed in relief when Obama won the 2012 election. There are many who claim that they will abandon the US if such a victory does come about, and many are talking of migrating to Canada by the caravan loads.
Trump would then serve in the executive office for four years - from 2017 until 2021. His first term, analysts say, will probably yield gridlock after gridlock and perhaps even a recession. In such a scenario, Clinton would also be sidelined by the Democrats - after all, it will be beyond embarrassing for the party to have nominated the one Democrat who could have lost to Trump.
Meanwhile, the Left will suffer at the hands of an emboldened Right with a radical change in the pecking order. This win will not be about conservatism or the GOP, but about Trump and Trumpism.
Winning without winning
Though Clinton is poised to become the first woman president of the United States, she has no dearth of haters.
"I would argue that Hillary Clinton is what she is, or appears to be, today because America has been taught to hate her for a quarter of a century and if you say something often enough it sticks," writes Jurek Martin for the Financial Times.
The Hillary-hating brigade has oohed each time a new set of emails is released. Their hate for her has been very visible for months. For example, at the Republican convention, Trump's campaign made no effort to throttle back the "lock her up" cheers.
Trump supporters themselves have proven themselves time and again to be beyond just brash. They've rejoiced through this election because their voice is finally being heard through a nominee like Trump who has validated the extremist agendas of various groups - be it building a wall, dealing with police shootings or terror. He has normalised name-calling, prejudice and bullying.
So in a way, Trump supporters have won - they found a voice willing to reiterate the fears, worries, dreams and hopes.
"Trump has shown that our message is healthy, normal and organic - and millions of Americans agree with us," said Matthew M Heimbach, a co-founder of the Traditionalist Youth Network, a white nationalist group, to the New York Times.
It's as simple as that - Trump reaffirms what they say and allows rabid ideas to invade mainstream discourse.
A Hillary win isn't likely to silence those who have just found a voice, but it is likely to dim the noise. And not see stock markets plummet, banks crash, housing prices crater, trade cease, alliances break or a wall on the US-Mexico border.
So will hate trump all? The answer is almost upon us.
More in Catch - Both Trump and Clinton would see the US run like a corporation
Six types of ugly American, and Donald Trump is all of them