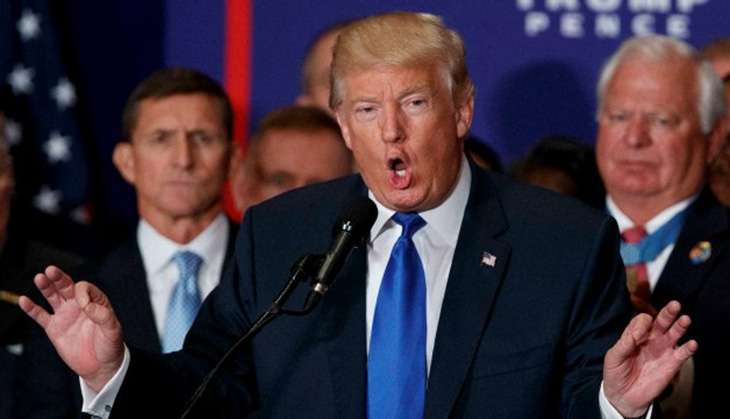 Donald Trump has done it! The Republican candidate bagged 276 electoral votes to be elected the 45th President of the United States on 9 November.
After the poll results were announced, Trump made a victory speech at his party's headquarters in New York.
"This is a historic night," Mike Pence said at the Trump HQ, before Trump took the stage. "The people of America have spoken and have picked their new champion," he said, as he thanked them for the honour of picking him as the new Vice-President.
Trump thanked the crowd, which cheered him on with loud cheers of "USA, USA". He also apologised for keeping them waiting. "I just received a call from Secretary Clinton. She congratulated us... it is about us... and I congratulated her and her family on a very hard fought campaign. She fought very hard," Trump said.
"It is time for Americans to bind our wounds... It is time for us to come together as one united people," he said.
"I pledge to every citizen of our land that I will be president for all Americans. This is so important to me," he said.
He also reached out to his critics. "For those who have chosen not to support me in the past - and there have been a few - I'm reaching out to you for your guidance and your help so we can work together to strengthen America," he said.
"Ours was not a campaign but a movement made up of million hardworking people who wanted a better life for themselves and their family... Working together, we will begin the urgent task of building our nation and renewing the American dream," he said.
"The campaign is over. The work is just beginning," he said.
"You are going to be so proud of your President," Trump concluded.
Later in the day, Trump tweeted out from his official handle for the first time post his win on a hopeful note, appealing to America to "come together as never before".
Such a beautiful and important evening! The forgotten man and woman will never be forgotten again. We will all come together as never before

— Donald J. Trump (@realDonaldTrump) November 9, 2016
Here's how Trump did it!
Here is a list of the states that Trump managed to sweep, and the electoral votes he bagged.
Pennsylvania - 20 electoral votes
Iowa - 6 electoral votes
Utah - 6 electoral votes
Georgia - 16 electoral votes
North Carolina - 15 electoral votes
Idaho - 4 electoral votes
Florida - 29 electoral votes
Ohio - 18 electoral votes
Missouri - 10 electoral votes
Montana - 3 electoral votes
Louisiana - 8 electoral votes
Arkansas - 6 electoral votes
Texas - 38 electoral votes
Kansas - 6 electoral votes
Wyoming - 3 electoral votes
South Dakota - 3 electoral votes
North Dakota - 3 electoral votes
Mississippi - 6 electoral votes
Alabama - 9 electoral votes
Tennessee - 11 electoral votes
South Carolina - 9 electoral votes
Oklahoma - 7 electoral votes
West Virginia - 5 electoral votes
Kentucky - 8 electoral votes
Indiana - 11 electoral votes
Also Read:
Indian markets hit by Trump's lead
Clinton camp remains subdued
On the other hand, Clinton's campaign chairman John Podesta told the crowd waiting at the Democratic candidate's headquarters to go home.
"They're still counting votes and every vote counts... several states are too close to call so we're not going to have anything more to say tonight," he said. "Everybody should head home, get some sleep. We'll have more to say tomorrow," he said.
Here's a look at the states that Clinton won:
Nevada - 6 electoral votes
Washington - 12 electoral votes
Oregon - 7 electoral votes
California - 55 electoral votes
Hawaii - 4 electoral votes
Colorado - 9 electoral votes
Virginia - 13 electoral votes
New Mexico - 5 electoral votes
Connecticut - 7 electoral votes
New York - 29 electoral votes
Illinois - 20 electoral votes
Rhode Island - 4 electoral votes
Delaware - 3 electoral votes
District of Columbia - 3 electoral votes
Maryland - 10 electoral votes
New Jersey - 14 electoral votes
Massachusetts - 11 electoral votes
Vermont - 3 electoral votes
Twitter reacts to #ElectionDay madness
Hillary Clinton and her entire campaign staff should be completely embarrassed that they couldn't sweep Trump.

— UCF MBB TOs: 71 (@UChrisF) November 9, 2016
How is this even happening how is there people voting for Trump? Is there something I don't know? Because this can not be fucking happening!

— Emily (@EmSwenLM) November 9, 2016
Clinton HQ pic.twitter.com/LgAEBnA11y

— Nicolé (@NicoleHefty) November 9, 2016
Yepp Trump ain't losing tonight

— Lil_khinda5 (@JaskKhinda) November 9, 2016
trump supporter: but hillary opposed gay marriage in 2004!!?!
trump, in 2016: has a homophobic running mate who supports conversion therapy

— carly 🗝 (@broadwaydodie) November 9, 2016
Trump is our new president. Fuck going to work tomorrow. I need a day off to reevaluate my life

— Kevin Brown (@PlayaKB) November 9, 2016