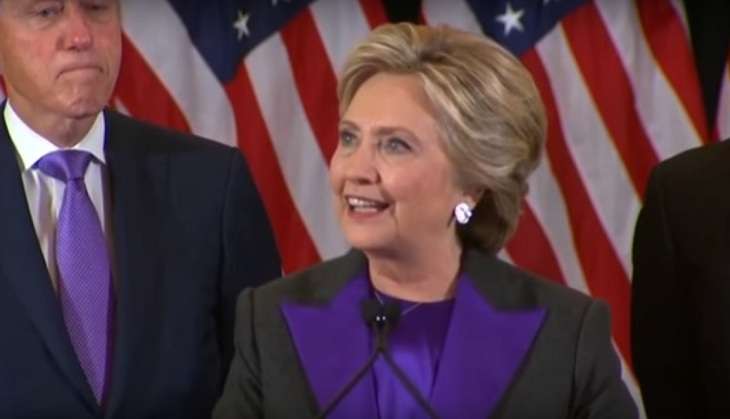 Democratic candidate Hillary Clinton was a picture of composure when she graced the humble stage at the New Yorker Hotel in New York City, conceding the 2016 Presidential election to Donald Trump on 9 November.
It was all supposed to unfold very differently. But Clinton held her own, and in her precise, moving and inspirational speech reminded us that it is going to be a long, hard battle against misogyny and bigotry ahead of us.
On 9 November, Donald Trump went on to be elected as the 45th President of the United States after bagging 276 electoral votes, against Clinton's 216.
"I just received a call from Secretary Clinton. She congratulated us... it is about us... and I congratulated her and her family on a very hard fought campaign. She fought very hard," Trump had said, while addressing the pulic for the first time since his victory.
The morning after, Hillary began her concession address congratulating Trump on his victory, and offering to work with him on behalf of America. In her ever-so-graceful stance, she went on to remind the 'best of America' that they owe Trump an open mind, and the opportunity to lead. Because those are the values her campaign stood for, the values that are enshrined in the US Constitution.
Also read - Hillary Clinton loses race to White House: Here's what went against her
"Our country is more deeply divided than we thought," she said, while also stressing on the fact that in order to realise the dream of a hopeful and inclusive America, it is pertinent to accept the results, and look into the future.
"We spent a year and a half bringing together millions of people from every corner of our country to say with one voice that we believe that the American dream is big enough for everyone," she said. "For people of all races, and religions, for men and women, for immigrants, for LGBT people, and people with disabilities. For everyone," Clinton added, amidst an eruption of applause.
Despite it being painful, as Clinton herself pointed out, she urged all those who voted for her to move past the disappointment and to continue fighting for their causes with renewed jest. Because precisely that is the need of the hour.
She thanked President Barack Obama and the First Lady, adding that the entire nation owed them an enormous debt of gratitude.
Also read - Here's how Donald Trump beat Hillary Clinton to become the 45th President of the United States
"This loss hurts, but please never stop believing that fighting for what's right is worth it," Clinton said.
"And to all the women, and especially the young women, who put their faith in this campaign and in me: I want you to know that nothing has made me prouder than to be your champion," she said.
"Now, I know we have still not shattered that highest and hardest glass ceiling, but someday someone will - and hopefully sooner than we might think right now," Clinton said in conclusion, while expressing gratitude for being able to represent America's populace in the elections.