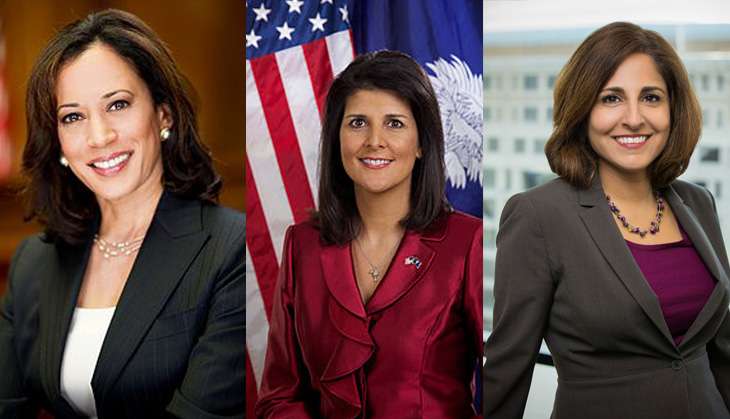 Indian-American women politicians are making a mark in this year's general elections in the US with Democrat Kamala Harris all set to be elected as the first Senator from the community.
This is seen as a direct effect of Clinton, 69, the first- ever woman candidate of a major political party and also a result of political success of two-term South Carolina Governor Nikki Haley, who as the first Indian-American woman governor has made an impact at the national level.
Two top positions in the Clinton Campaign are held by Indian-American women.
1) Neera Tandon
Tandon, who heads the Center for American Progress, a top American think-tank, has been appointed as Co-Chair of the Clinton Transition team. She is highly being speculated as a potential Cabinet nominee in a Clinton administration. She was a key member of the Democratic Platform team.
2) Huma Abdein
Clinton's closest personal aide Huma Abdein, whose father was from India and mother from Pakistan, is the vice chairwoman of the Clinton Campaign. She is considered as one of the most powerful individual in the Clinton Campaign.
3) Mini Timmaraju
Timmaraju, who once served as chief of staff of Congressman Ami Bera, is women's vote director at Hillary for America. She was also the women's outreach director for Clinton Campaign.
4) Maya Harris
Harris is one of the key policy advisors to the Clinton Campaign.
5) Shefali Razdan Duggal
Based in California, Shefali Razdan Duggal is a key player in Clinton's national financial team. She is Democratic National Committee's National Finance Committee and is a Co- Chair for the DNC Women's Leadership Forum.
Two Democratic leaders Kamala Harris and Pramila Jayapal are all set to make history this year.
6) Kamala Harris
Kamala, 51, is all set to be elected as the first Indian- American Senator from California.
7) Pramila Jayapal
The 51-year-old is all set to enter the US House of Representative from Washington State.
Indian-American women are also not far behind in the Republican party.
8) Harmeet Dhillon
California-based Harmeet Dhillon is the National Committee woman in the Republican National Committee.
In the July convention, she had invoked an 'ardas' - a Sikh prayer - a first in the either party. She was the first vice chairman in California Republican Party history.
9) Mary Thomas
Mary Thomas, who currently serves as the General Counsel at the Department of Elder Affairs in Florida, lost the Republican Congressional primary in the State this year but she has her eye set on future political positions.
10) Kesha Ram
Similarly, Kesha Ram, 30, is a young legislature in the Vermont House of Representatives. This year, she unsuccessfully tried her luck to run for the Vermont Lieutenant Governor.
--PTI