Rohan Raj
| Updated on: 9 July 2016, 19:48 IST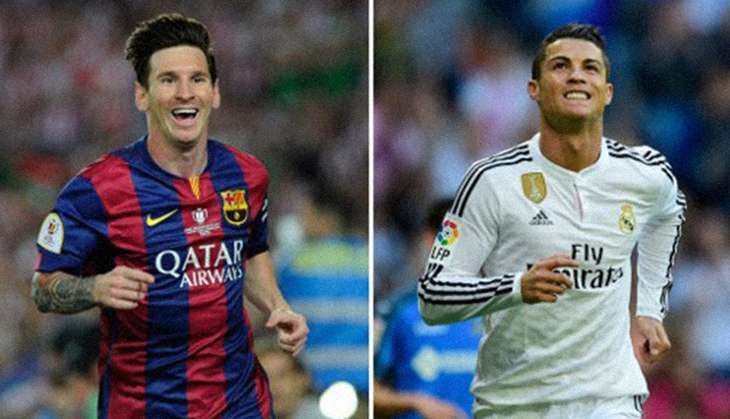 Two of the biggest names in modern era of football, Cristiano Ronaldo and Lionel Messi, thrive on the competition between them. The football world has been witness to numerous duels between the two stars who continue to outshine each other.
Whether it is scoring goals, providing assists or shattering records, Ronaldo and Messi have arguably done it all. Apart from individual success, the duo has also tasted enormous success at the club level. But, what has eluded the two superstars till now is the international glory.
So, when two of the most coveted football tournaments - Copa America and UEFA Euro - came calling last month, all eyes were once again on these football giants to break their international title jinx.
Messi's dream of winning a senior international title with Argentina ended after a heartbreaking loss in the Copa America final. After letting the coveted title slip from his hands, the 29-year-old Argentine also announced his retirement from international football.
While Messi suffered yet another heartbreak in Argentina jersey, his counterpart is just one game away from winning Euro 2016. It will be Ronaldo's first major trophy with his national side and more importantly, it's something even Messi has not achieved yet.
But, whatever happens on Sunday in Paris, Messi will still be the better player.
Ronaldo is good, not great
One has to be an utter fool to ignore or even doubt Ronaldo's capabilities on the football pitch. The Portuguese is one of those rare breeds whose extraordinary dedication and ambition mean he is constantly looking to improve his previous result.
His desire to be the best player has also led him to countless trophies - both individually and collectively - along with three prestigious Ballon d'Or awards. However, the 31-year-old can claim the Euro 2016 title, win more trophies and add more laurels to his career, but he would still not be a better player than Messi, who is superior at every level.
Is scoring goals everything?
Talk about scoring goals. Ronaldo has surely scored a lot of goals, but Messi has still scored more during the time the two players have played in Spain. Amongst those goals, though Ronaldo can boast some spectacular efforts, most strikes are just tap ins and free headers.
Now, there's no argument over the ultimate result - a goal is a goal, no matter how it is scored. But, the beauty of a build-up to score and creating a chance out of a difficult situation is what sets great footballers apart. It is not the same thing to see off five players and score in a spectacular solo run than it is to tap in from close range.
What about assists?
When it comes to assists, the picture isn't different either. Ronaldo has his fair share, but the Portugal captain shoots so often that many of his efforts fail to hit the target, while some find a teammate in a better position. His assist for Nani against Wales in the semifinals is a classic case.
Not all of his assists are like that, but they are less spectacular and technically, less difficult when compared with Messi's. A mesmerising run past three players to set up a teammate or deliver a curling ball from deep to take out several defenders is way more difficult than a sheer cross, single pass or a mishit.
Club titles
Even on numbers, Messi is ahead of his Portuguese rival. Despite being two years younger, the Argentine has claimed 28 titles with Barcelona (including two trebles) against Ronaldo's 17 titles with Manchester United (9) and Real Madrid (8).
International title jinx
At the international stage, none of them have achieved in accordance to their capabilities. Messi has won an Under-20 World Cup and an Olympic gold medal (U-23) with Argentina. He has lost three Copa America finals and a World Cup summit clash.
On the other hand, Ronaldo was left in tears after losing the Euro 2004 final for Portugal. He fell again in the 2006 World Cup semifinals before exiting the last four at Euro 2012. His biggest disappointment came in the 2014 World Cup when Portugal crashed out in the group stage.
The verdict
The final against France is probably Ronaldo's last chance to win a major trophy with Portugal. But even if he wins it and produces a match-winning performance at the Stade de France, that will not make him a finer footballer than Messi.
Messi creates more chances than Cristiano, scores greater goals, is less selfish, dribbles better, possesses superior technique and passing. And, victory for Portugal in the Euros won't change any of that.