Rohan Raj
| Updated on: 13 February 2017, 3:18 IST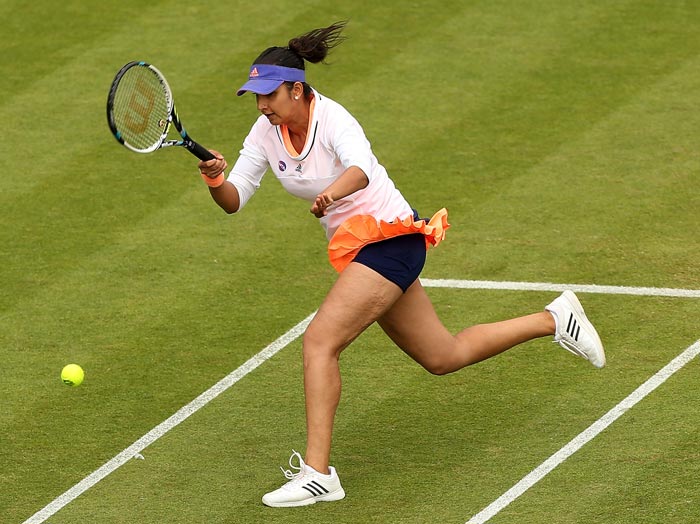 Indian tennis sensation
Sania Mirza
is all set to be conferred with the prestigious Rajiv Gandhi Khel Ratna award after her name was approved by the Awards Committee on 11 August. Sania Mirza recently won her career's first-ever women's doubles Grand Slam title with Swiss partner Martina Hingis in June. She also became world number one before winning the Grass Court major.
Here's a look at some interesting facts about the Indian tennis sensation:
1. Born on 15 November 1986 in Mumbai, Sania Mirza attended the NASR school in Hyderabad and later graduated from St. Mary's College.
2. She began playing tennis at a tender age of six and was being coached by her father Imran Mirza, who risked his career in journalism to help Sania chase her dreams.
3. Sania holds an honorary degree of Doctor of Letters that she received from the MGR Educational and Research institute Univeersity in Chennai on 11 December 2008.
4. While growing up, Sania Mirza had a huge crush on Russian tennis star Marat Safin. She has named Roger Federer and Steffi Graf as her tennis idols.
5. Mirza became the third Indian woman in the Open Era to feature and win a round at a Grand Slam tournament. Nirupama Vaidyanathan was the first at the 1998 Australian Open, Shikha Uberoi being the second at the 2004 US Open.
6. Sania Mirza became the first-ever Indian woman to win a WTA title, by winning her hometown event, the 2005 AP Tourism Hyderabad Open, defeating ninth seeded Alona Bondarenko in the finals by a margin of 6-4, 5-7, 6-3.
7. In 2004, Sania Mirza was awarded the Arjuna award by the Indian government. Later in 2006, she was also awarded the Padma Shri - India's fourth highest honour - for her achievements as a tennis player.
8. In 2005, the TIME magazine listed Sania Mirza among the "50 heroes of Asia".
9. She became the first Indian woman to reach the fourth round of a Grand Slam tournament at the 2005 US Open, defeating Mashona Washington, Maria Elena Camerin and Marion Bartoli, before losing to top-seed Maria Sharapova in the Round of 16.
10. Following her memorable season in 2005, Sania Mirza was named the WTA Newcomer of the Year.
11. Sania Mirza got engaged to her childhood friend Sohrab Mirza, a millionaire businessman, in 2009. However, their wedding was called off shortly after for unknown reasons.
12. She later married Pakistani cricketer Shoaib Malik on 12 April 2010 following the traditional Muslim Islamic way and held ceremony at the Taj Krishna Hotel in Hyderabad. Their reception was held in Lahore, Pakistan.
13. Following her grand marriage, Sania Mirza became the most searched Indian sportsperson on Google in 2010.
14. She won a solver medal in women's singles and a bronze medal in women's doubles during the 2010 Commonwealth Games.
15. Sania Mirza has won two gold medals, three silver medals and three bronze medals in 2002, 2006, 2010 and 2014 Asian Games.
16. In 2013, she became the UN Goodwill Ambassador for South Asia. She became the first South Asian woman to feature as a Goodwill Ambassador.
17. In 2014, a fatwa was issued against Sania Mirza after severe objections were raised against her outfit on the tennis courts. The incident hurt her so much that she vowed never to play in India.
18. Sania Mirza was named Telangana's brand ambassador by the state government in 2014.
19. On April 12 2015, she created history after becoming the first Indian woman to achieve the World No. 1 rank in women's doubles.
20. Apart from being a prolific tennis player, Sania Mirza is also a very good swimmer. She is also related to former Indian captain Ghulam Ahmed and former Pakistan skipper Asif Iqbal.
21. Sania Mirza stays with her husband Shoaib Malik in Dubai.