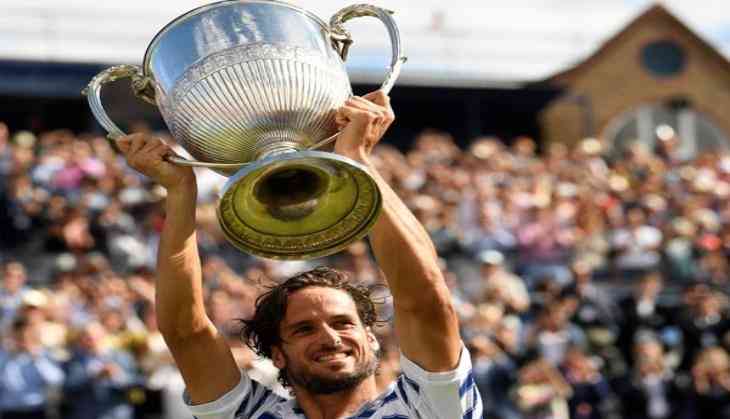 Spanish veteran Feliciano Lopez produced a spirited performance as he bounced back from a set down to defeat Croatia's Marin Cilic and lift the Aegon Championships title at Queen's Club last evening.
After going down in the first set, Lopez rebounded strongly and saved a match point in a tense tie-breaker to register a 4-6, 7-6 (7-2), 7-6 (10-8) win over Cilic in a grueling final clash of the men's singles event that lasted two and a half hour.
Lopez, who trailed by a set to the to the big-serving Cilic, held his nerve in a gripping summit showdown to outplay world number seven and clinch his first ATP title since Gstaad in July 2016.
Ecstatic to win the trophy, Lopez said that he had been waiting for it from so long before admitting that he was a little bit lucky to make the cut.
"Wow. I can't believe I finally won this trophy. I've been waiting so long.I thought until the end that I wouldn't make it, but I was a little bit lucky and it went my way.It was so difficult to handle my nerves when I was serving for the match," Sport24 quoted Lopez, as saying.
Lopez, who suffered a heartbreaking defeat in the 2014 final when he held a match point against Bulgarian Grigor Dimitrov, is now the oldest Queen's champion in the Open era.
Having made it to the finals of the Stuttgart Open last week, the 35-year-old has so far won nine of his 10 matches on grass this year, thus increasing his chances of a strong run at this year's Wimbledon, beginning July 3.
"It's hard to believe I'm playing my best tennis at 35, but yes I am. There's no better situation than to go into Wimbledon after winning here," he added.
It was also Lopez's third title on grass after winning Eastbourne in 2013 and 2014.
-ANI