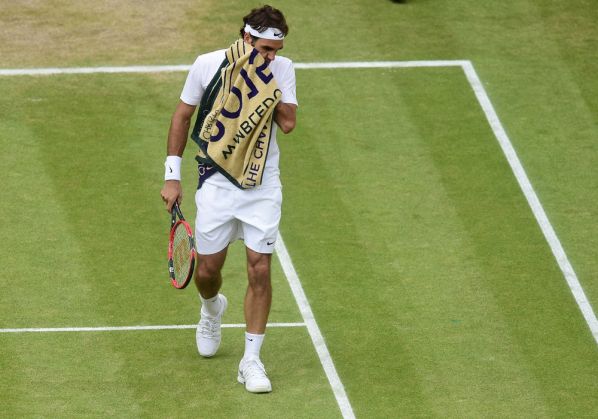 For Roger Federer, it was a disappointing end to an almost flawless run in the tournament. Prior to his final defeat against Novak Djokovic at the All England Club, Federer had been broken only once throughout the six matches at Wimbledon this year. More importantly, he had dropped only a single set in those six matches, losing a close tiebreaker to Australian Sam Groth in the 3rd round.
In the semis against Andy Murray, Federer's performance brought back memories of his peak years, as he demolished the challenge of the Scot, bit by bit, in one of his best ever displays at Centre Court. In the end, however, he failed to match up to the brilliance of World Number 1, Novak Djokovic, in the final.
Final vs Djokovic
Federer began well, breaking Djokovic's serve in the sixth game. When it looked like he would take the first set, a string of uncharacteristic errors saw him drop the seventh game, only the second time when his serve was broken in the tournament. Djokovic took advantage of the momentum swing, and took the first set to a tie-breaker, which he won comprehensively.In the next set, Federer saved seven set points in the tiebreaker, coming back from 6-3 down at one point, to win it 12-10. From this point onwards, it was a different story altogether. The much younger, fitter and athletic Djokovic broke Federer's serve in the third game of the third set. Federer never recovered after losing the game which he had led 40-15 at one point. Djokovic took the set 6-4, and in the fourth set, he had little trouble putting away a visibly-tired Federer, as he broke the Swiss maestro's serve twice to win the set 6-3, and lift his third Wimbledon title, his ninth major overall.
What next for Federer?
Most of Federer's rivals from the early stages of his career have already taken the bow from the sport. Some have taken up coaching; others have become commentators, while quite a few have kept away from the sport altogether. Approaching 34, Federer is well past his best years, but his ability to stay in the top level of the men's game is quite remarkable. This year's Wimbledon run is proof of the fact that his career is far from over. He may no longer be a favourite during grand slams, but if he manages to remain free of injuries, he could add another major title to the 17 in his trophy cabinet. For now, Federer will take a short break from the sport before starting his preparations for the US Open.