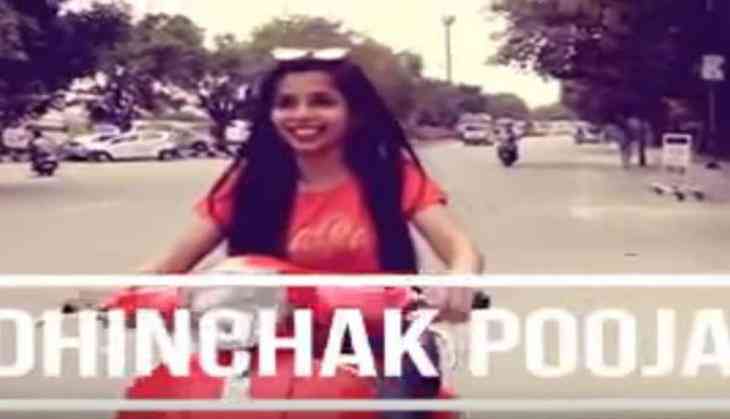 As the next season of reality show Bigg Boss is all set to kick start, the so-called 'music-sensation' Dhinchak Pooja will reportedly be seen on television taking part on the popular show with some other contestants including Nia Sharma and Sana Saeed.
If reports are to be believed, a list was recently leaked of contestants approached for the Salman Khan-hosted show.
When contacted for a confirmation, Pooja told a leading daily, "No, I haven't been approached by anyone."
When she was told that there are event management companies looking to get in touch with her to talk about the details of the reality show, she said, "I don't know [if they are looking for me]. Share my email id with them, and I'll talk to them directly."
But there is still no confirmation on contestants taking part in Bigg Boss 11.
Online star, Dhinchak Pooja, is the latest viral sensation on Youtube and social media in India.
After viral hits like 'Swag Wali Topi', ' Daaru' and ' Selfie Maine Leli Aaj', she recently went live with 'Dilon Ka Shooter'.
Here is a look at her popularity on Youtube and her earnings from her videos as per Vidooly's data-
- Dhinchak Pooja's Youtube channel received an average of 2.65 million views per month.
- Talking about her 12 videos, she has accumulated almost 29 million views. While in the last 30 days alone views on her channel have shot up by 59%. In May alone her videos chalked up to 16 million views while in June they have reached 10 million views.
- While she has over 118,000 subscribers on Youtube, she continues to add an average of 2630 subscribers a day. In the last 30 days alone she has added 59,834 subscribers and registered a growth of 51% in subscribers.
- While three of her videos have crossed the hallowed million views mark she continues to pull in over 600,000 views a day given her recent video "Dilon Ka Shooter" which has crossed four million views already.
- In terms of demography, majority of her viewers are male with 89.74% of the views while 10.12% of views are by women viewers.