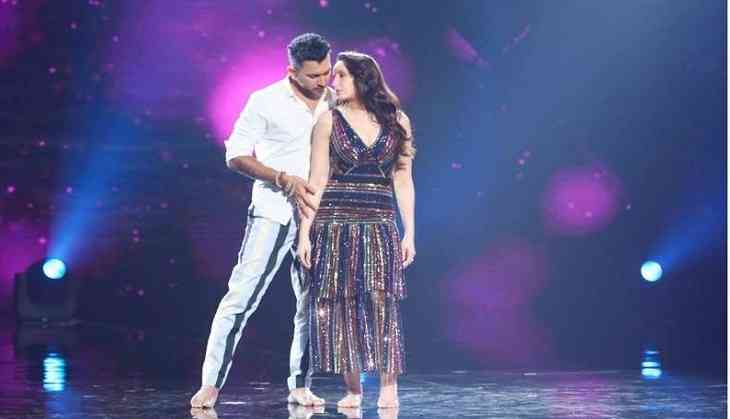 Dance guru and ace choreographer Terence Lewis, who is currently judging the show India's Best Dancer, has been hitting the headlines for the wrong reasons.
The viral clip claims that Terence is touching the guest judge Nora Fatehi inappropriately.
The whole incident began after the clip was shared by Rock band 'Vin Sinners' vocalist Vin Nair aka Big Daddy Vin on Twitter. He captioned the video, "Please name and shame this rascal. This is certainly some talent show and he's definitely some host. So, @terencehere what is your explanation for this? Was this an accident? Let's hear you say it. Cos that would be a copious amount of BS. Was @Norafateahi ok with this? I mean this sort of blatant indecency is quite the limit. But I want to know what @terencehere has to say too."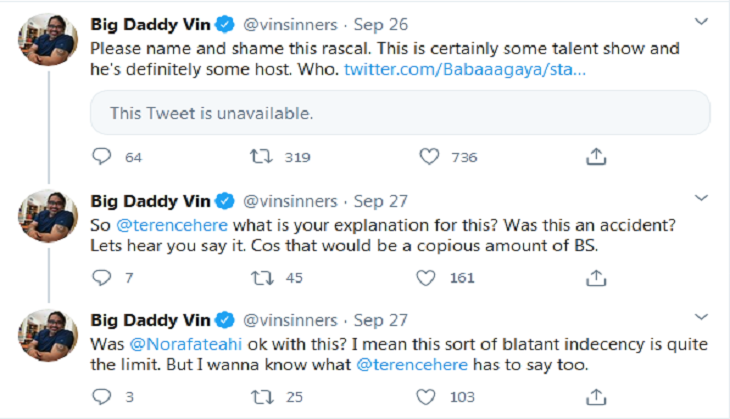 After the video went viral, netizens got irked with the act of Terence and started bashing him.
Several users have used derogatory words for the choreographer.
Shame on his upbringing. Maybe he does that often at home.

— UN (@UshaNirmala) September 26, 2020
India's beat Dancer programme.

— nijith (@nijithak) September 26, 2020
This is terrible.

— Pradeep B. Sawant (@pbsadvisory) September 26, 2020
After receiving severe backlash from social media users, Terence and Nora Fatehi slammed the claims and clarified that the video is morphed.
Even Terence Lewis shared a photo of him carrying Nora in his arms on Instagram. He also shared the story of the monk who carried a woman across a violent river.
Terence wrote, "I carried her across the river and left her on the other side. Are You Still Carrying Her?"
The show judge concluded his post by thanking Nora for having trust in him. "Thank you @norafatehi for being the most elegant, dignified n classy guest judge & for your implicit trust in me!" Lewis said.
Nora also replied on Terence's post and commented, "Thank you, Terrence! In today's time of social media video morphing and photoshop effects for meme purposes... I'm glad you have not let it bother you and you have remained poised and dignified! This too shall pass you and Geeta mam have been so respectful with me and have made me feel so loved and accepted as a judge on the show, it's been a great life learning experience! Stay blessed."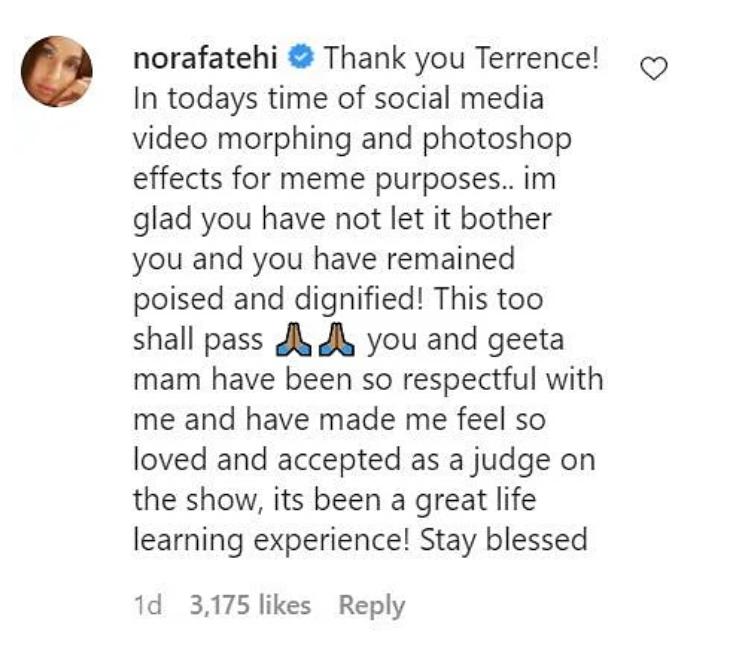 For the unversed, Nora replaced Malaika Arora earlier this month after the latter tested positive for COVID-19. Choreographer Geeta Kapoor is also one of the judges in India's Best Dancer.
Also Read: Nora Fatehi's mom gets irked while she performing WAP Challenge's moves; see hilarious video