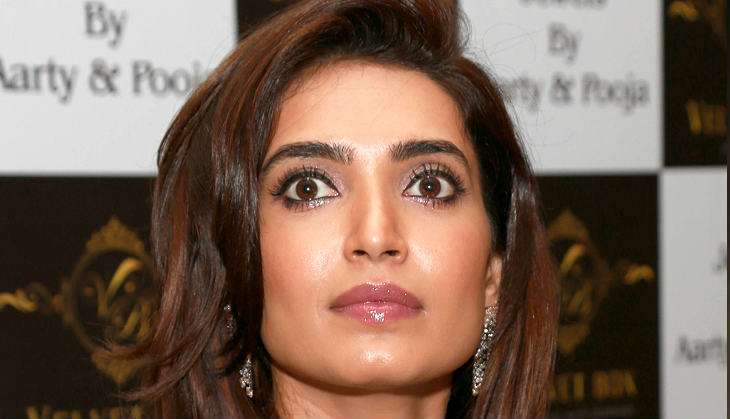 She may be giving her competitors a run for their money with her killer moves on celebrity dance reality TV show, Jhalak Dikhhla Jaa, but Karishma Tanna is currently making waves for a number of other reasons.
Apart from her statements on her breakup with actor Upen Patel, Karishma also opened up about how the strategies she uses to dodge the casting couch. In a recent interview with a leading daily, the Bigg Boss 8 contestant spoke about her work on Jhalak and about her struggle in Bollywood. Excerpts:
On whether this is the toughest Jhalak season ever:
"Imagine even the choreographers are saying this is the most difficult season. I feel I attract only all the difficult seasons of all the reality shows. Bigg Boss was a three-and-half month season it got pushed to four-and-half months, Nach Baliye was always a pure dance competition but when I participated they added the Bigg Boss angle to it. The third reality show where public voting is not there audience voting is there and to add to it all the contestants are good dancers. So, it is the most difficult season where all the contestants know how to dance".
On her favourite judge on the show:
"I really miss Madhuri Maa'm. I wanted her to judge me as she understands the expressions. I wanted Madhuri Dixit to judge me. I was offered Jhalak earlier as well, when Madhuri was the judge but I couldn't take it up as I was doing a film then. I am sure Jacqueline is also good. She is little new to reality shows, but she may warm up during this season. I am happy that Karan Johar is a part of the show. He's my favourite judge because he talks sense. I take his advice seriously. For that matter, even (choreographer) Ganesh Hegde is a good judge, as he is technically sound. So, I get scared that I don't point my legs he will notice that. I think this kind of awareness and little nervousness should be there. It makes you eagerly look up to the comments".
Also read: So that's why Shahid Kapoor isn't a judge on Jhalak Dikhhla Jaa anymore
On leaving her television career:
"I was over exposed that time. They told me if you continue doing TV you won't get films. So, I consciously made an effort to withdraw from television industry for two and half years and I stopped doing reality shows also. I wanted to completely get out and come in films as a heroine but it didn't happen that way. During that time I missed out on really good work on television. I was out of sight and out of mind for good 2-3 years. But I took it as a challenge that I have to do films. Then I realised if it had to happen it would have happened in 2.5 years with some career push".
On not being able to make it big in Bollywood:
"I blame it on my destiny may be. I was not there at the right place, at the right time. I do feel bad but my mom always says that you see people who are below you then you will feel better. I did give auditions to big banner films from Yash Raj to Dharma; if I had to click, someone would have spotted me and taken me in their films. If that has not happened that means I am meant to be on television. And I don't regret being on television but I just regret that I deserve being in films and that didn't happen. I don't look down upon TV and today whatever I am is because of television. It's just that everybody wants to move a little forward in life that didn't happen in my life. If people call me for films auditions I will never stop going, I will try till the end".
Also read: Did Bigg Boss 6' Sapna Bhavnani just call Salman Khan 'a male chauvinist f***ing pig'?
On casting couch:
"I have not faced the proper casting couch like 'come sleep with me kind of thing'. If people have hinted also I have not given that hint back. May be things would have been different, if I would have. But I never believed in that, if I have the talent and face then the director will take me in the film. Forget about the director even if you are speaking to someone, people flirt and give hints and it's up to you how you want to take it forward. I never encouraged that kind of things probably that's why I am still here".
--Quotes from TOI