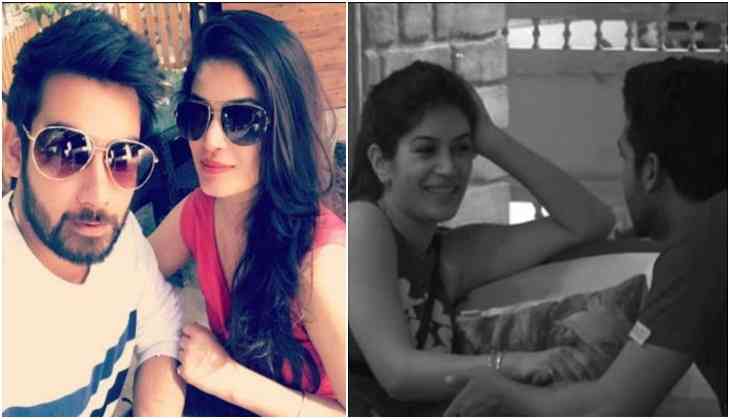 Every season of the popular reality show Bigg Boss has seen a love story irrespective of the fact that many of those relationship ended post the show. In this season too the fans of the show are witnessing another cupid struck couple and yes we are talking about commoner contestants Bandgi Kalra and Puneesh Sharma.
Also Read: Bigg Boss 11: Bandgi Kalra and her relationship with the show's co-director, the reason behind her longer stay in the show?
The present seasons' contestants Bandgi Kalra and Puneesh Sharma, day by day are getting close to each other. When others sleep in the house, the two love birds awake to talk with each other. When the lights goes off theur cuddling begins. In a lot of episodes Puneesh was seen holding Bandgi's hands and kissing her. To an addition, in the last night's episode too he was even seen getting possessive for Bandgi when she asked Love to remove her chain.
But it seems as if the fondness between the two contestants of the show is not going well with the co-director of the show who is also Bandgi Kalra's boyfriend. Dennis Nagpal who is the co-director of the reality show is also the boyfriend of Bandgi Kalra. He is not at all happy with the plan of Puneesh and Bandgi.
Also Read: Bigg Boss 11: An old suicide note of Sapna Chaudhary is going viral on the internet
Dennis fans and well-wishers on Twitter have been tweeting and telling him about the fake love angle that they both are planning to make in order to survive in the game. And Dennis too has accepted the fact that he is angry and in one of the tweets even claimed that he want to enter the show.
Check out their Twitter chat:
I wish too, they get eliminated

— Dennis Nagpal (@dennisnagpal) October 12, 2017
wooo hooooo@ColorsTV we want @dennisnagpal inside the #BiggBoss11 house

In dono ki bajani hai
what nonsense

GO Denis#bb11 https://t.co/6iIsQly1O7

— Bhavna (@designall123) October 12, 2017
Cmon man! Too low of you to run after 11 year younger girl.

#BB11 #BiggBoss11 #bandgikalra #PuneeshSharmahttps://t.co/ZfCgVAl1pq

— Dennis Nagpal (@dennisnagpal) October 11, 2017
In the first episode of 'Friday Ka Faisla' both Puneesh and Bandgi were seen discussing about a plan of love to stay for long in the show. So it is quite obvious that both of them are doing that just to gain TRP and footage in the show. Well, it will be exciting it Dennis in reality enters the show.
Also Read: Bigg Boss 11: The final two contestants who will fight for this week's captaincy are...
For more updates related to Bigg Boss, stay tuned!