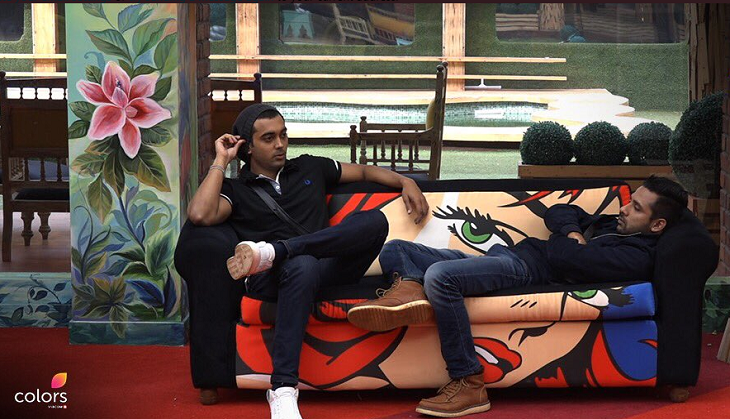 A new week began in the popular reality show Bigg Boss 11, and with that came the fear of nominations. Since few weeks are left for the finale everyone was pretty geared up about whom to nominate and whom to save. In a shocking incident that happened inside the house, each and every contestant in the house except Hina Khan got involved in discussing about the nomination process and that is why Bigg Boss nominated the whole house except Hina Khan.
For those who missed the last night's episode of the reality show, here are the highlights of the show which will update you about the recent happenings of the show.
Check them out:
.@eyehinakhan and @ipriyanksharmaa discuss about @lostboy54. Watch what they are talking about on #BB11.

— COLORS (@ColorsTV) December 18, 2017
1. Everyone woke up and Vikas called Priyank for help. After that Hina started talking to Priyank about Vikas and warned him about Vikas and told him that he is trying to become friends with him because Hiten is gone. Puneesh and Shilpa also talked about Vikas and how he was bonding again with Priyank for his benefit. Shilpa apologized to Hiten and became emotional.
.@lostboy54 and Puneesh Sharma discuss the future of the #BB11 housemates. Watch them only on #BB11.

— COLORS (@ColorsTV) December 18, 2017
2. Vikas and Puneesh discussed about nomination process and gave names to many contestants. While Hina was being called Hong Kong, Akash was being called crab. They while discussing also involved Shilpa, Arshi and Luv in the same and told them to nominate both of them.
Akash Dadlani refuses to perform his punishment. Will his decision have an impact on the luxury budget? #BB11. pic.twitter.com/43Q2MD9bLv

— COLORS (@ColorsTV) December 18, 2017
3. Akash got mad and stood against the punishment that was given to him and said that he won't sleep on the floor and started making food for himself in the kitchen. Everyone tried to stop him but he did not listened and at last ate the food.
Arshi Khan and @ipriyanksharmaa discuss some more about nominations using code names. #BB11

— COLORS (@ColorsTV) December 18, 2017
4. Arshu tried to convince Priyank to do the same but he denied and that is how Hina came to know about how everyone was involved in discussing about the nominations. She got upset with Luv and how he was behaving with them. Luv is really angry with Hina and Priyank.
Bigg boss has smartly cracked the code names and found out that the housemates tried to discuss nominations. How will he punish them? #BB11 pic.twitter.com/rmL42yXx7q

— COLORS (@ColorsTV) December 18, 2017
5. Bigg Boss became angry with everyone and showed the clip in which everyone can be seen discussing about the nominations. They got a punishment and nominates everyone except Hina that made her shout in happiness. Akash became angry with everyone and even with his friend Arshi. She tried to explain him that they were doing it for fun but he said that he did not trust anyone anymore in the game.
For more news related to Bigg Boss 11, stay tuned!