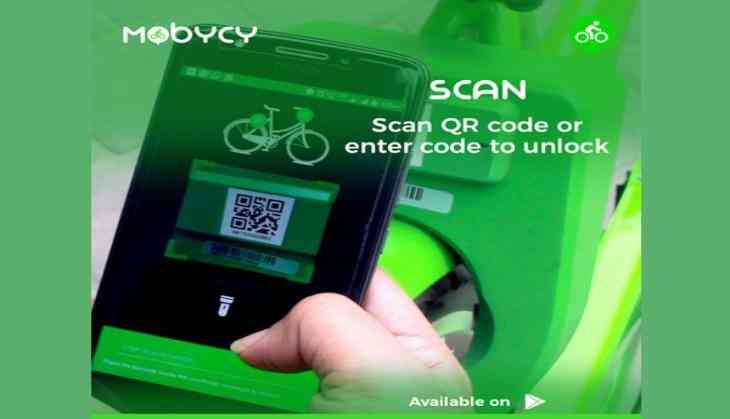 Gurgaon-based Green Tech startup Mobycy on 7 December announced India's first dockless bicycle sharing app on Google Play Store.
Bringing a unique 'Uber for Bicycles' model in India, Mobycy's app allows users to discover a smart bike in their vicinity, unlock it via QR Code and commute shorter distances in a jiffy.
The newly launched app will allow users to make a healthy habit of cycling almost at Re 1 or paying Rs. 10 for a single ride with a monthly subscription to enjoy two daily rides for an hour each.
Mobycy has also partnered with Paytm to ensure easy digital payments via the app and are also partnering with more digital instruments for a complete digital customer experience.
Launching its operations with currently 5,000 smart bikes, Mobycy plans to increase the number to 50,000 in the next six months.
These smart bikes are available across Delhi/NCR regions, including Noida, Gurgaon, Chandigarh and Faridabad. App users can discover these bikes around public places like metro stations, markets, and popular haunts like North Campus, Cyber City etc.
Furthermore, to help students with better mobility, Mobycy will be making its smart bikes available across several colleges and universities, such as Amity Noida and MDI Gurgaon.
"We are excited to announce that Mobycy is India's first dockless bicycle sharing app which is now live on Google Play Store. Everyone has suddenly started talking about bicycle share, but proud to highlight that the app that you can use and try the service now is Mobycy's only so far," said co-founder Mobycy, Akash Gupta.
Adding to this Akash said that the app presents users with a greener, healthier means of commute with complete last-mile connectivity, in the form of Smart, Dockless Bikes.
"Going by the need of fitness in our sedentary lifestyles and curbing the growing menace of pollution in urban cities, I am hoping, and would urge users to switch to cycling and join us in turning India into a greener, fitter, cycling nation. In a couple of days, the app will be live on Apple Appstore too," added Gupta.
-ANI