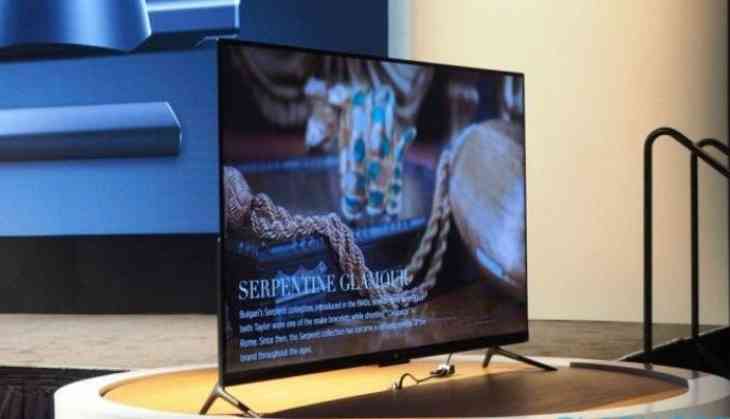 The LED panel is Xiaomi's first entrant into the market of television displays in the country but not the last. The television goes on sale on the 22nd of February is tactfully priced at Rs. 39,999 to capture a market that traditionally chose smaller displays for a better feature set. Considering Xiaomi's performance and response in India, it'll be tough to get your hands on the world's thinnest TV. But is it worth all the hyper and your money? Let's find out!
Also read: Quick Read: Everything you want to know about Xiaomi Mi TV 4
Design and Build
Essentially almost invisible when you look at it from the side, at just 4.9mm, the new Xiaomi Mi TV 4 is even slimmer than most smartphones—an Apple iPhone X measures 7.7mm and a Motorola Z2 Force, 6.1mm. The world's thinnest TV offers you a 55'' inch wide screen. Mostly black with a subtle Mi logo at the bottom it has a finish that doesn't catch dust or fingerprints. It has a brilliant design with minimal use of material. Its panel, mostly bare, is strengthened by a single sheet of brushed steel backing to Add support to the otherwise flimsy screen. A strong metal stand is extremely sturdy and managed to hold the 17.2 kg TV set. You can even use the 400 x 200 mm bracket to mount it on a wall.
The Smart TV
The Mi TV 4 runs Android TV with a MIUI TV skin and a Patchwall interface. Which means, unlike other smart TVs that put apps first, the TV 4 puts content first via curation that understands your preferences - PatchWall also gathers information from the set-top box (STB) of your cable or direct-to-home (DTH) provider, putting your favourite channels and programmes on the home screen. One of its significant feature is that, where most of the TVs come with the display and motherboard in a single package, Xiaomi on the contrary offer its users all the freedom to upgrade their motherboard that is far cheaper than the display. Mi TV4 also has a sound bar that actually features all ports of the TV. When you switch on the TV, what you see are rows of movies and TV shows from services such as Hungama Play, Sony Liv and more, though Netflix and Amazon Prime Video are missing—most of the content is free at the moment.
Good News: Xiaomi is said to be working with providers like Netflix and Prime Video to get those apps fully available on the Mi TV 4 and that may happen soon.
Features – Audio and Display Quality
A really slick feature is the remote, which can control set-top boxes and manage the volume from attached soundbars or home theatre systems, reducing the clutter of remotes on your coffee table. The Mi Tv 4's remote inspired by Apple TV's remote has a minimal button design which makes it easily one of the most intuitive remote in the budget TV space. The picture quality on the MI TV 4 is also brilliant and if you are into detailing the contrasts and the true blacks are one of the finest. Talking about the audio, Mi's TV 4 comes with a Dolby Atmos-compatible and the sound is distortion free and the TV also gives you various presets as well as custom audio profiles as per your liking. The bar comes with 10 built-in speakers and an extra two satellite speakers and a subwoofer, to close the deal.
Final Verdict
The Mi TV 4 is exactly what India needs! It easily slays and shows that quality panel can be made more affordable. The Xiaomi Mi TV 4 is a Smart TV that one would like to own in 2018 simply because in that price point you hardly will get a TV with a company name as strong as Xioami in India right now. Just like any other Mi product expect this TV to sell out quickly.