Here's your daily dose of all the top tech stories:
01
Binny Bansal is the new Flipkart CEO as Sachin Bansal steps down
In a major management reshuffle, Sachin Bansal has stepped down as the CEO of Flipkart. Binny Bansal, COO and co-founder of Flipkart, is set to replace him.
Sachin Bansal will be the new Executive Chairman of the company. "Sachin will provide strategic direction for Flipkart, mentor the senior leadership of the company and look for new investment opportunities. He will play an active role in championing the Indian e-commerce sector and building the internet ecosystem, and represent the company in external forums. Sachin will continue to be the Chairman of the Board", reads the company statement on the website.
02
More than 200,000 people do not want Apple to remove this iPhone feature
The reports of Apple mulling to remove the headphone jack have come as a shock to many iPhone users.
Apple wants to introduce the wonderful world of wireless listening to its users, but it seems that they are just not ready for it.
Though Apple has not uttered a word on this issue, but the rumours have sent fans in to frenzy.
And of course, baffling headlines like this are all over the internet: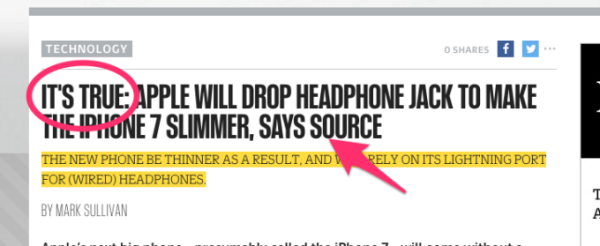 Worried users have started and signed an online petition with more than 200,000 digital signatures, asking Apple to keeping the jack as it is.
03
Snapdeal marketing head Srinivas Murthy resigns to start own venture
Srinivas Murthy, Senior Vice President of Marketing at e-commerce major Snapdeal, has put in his papers to start his own venture.
"The entrepreneurial drive has rubbed off onto me. I'm now moving on to become an entrepreneur myself," Murthy told PTI.
He, however, did not disclose details of his new venture. Murthy added that he will announce his venture in the next few months.
"Srini has decided to begin an exciting new journey as an entrepreneur, and while he will surely be missed, I am delighted to see that he is carrying forward the Snapdeal spirit of entrepreneurship," Snapdeal Co-Founder and CEO Kunal Bahl said.
04
Why is Facebook blocking Hike Messenger ads?
Home-grown Hike Messenger has accused Facebook of blocking an option in its advertisements which lets people visit the chatting application's website.
Run by Kavin Mittal, son of Bharti Enterprises chairman Sunil Mittal, Hike competes with Facebook-owned WhatsApp. Hike is owned by a joint venture of Bharti and Japan's Softbank.
"Advertisers have, among other options, the option to 'send people to your website'. A few weeks back we were suddenly blocked from using this option, while we were able to use other non action-led options," a Hike spokesperson told PTI.
The spokesperson further added that initially, they assumed it was a technical glitch, but when the team wrote to Facebook, the social networking giant said Hike will not be able to run the ads.
05
Google celebrates Sleeping Beauty, Cinderella author Charles Perrault's 388 birthday with a doodle
We all owe are childhood to Charles Perrault as without his fairytales it would have not been so beautiful. Be it the glass slipper and the pumpkin that turns into a carriage or the princess who falls into a deep sleep when she pricks her hand on a spindle, Perrault has filled magic in everyone's life.

And to celebrate the French author's 388th birthday, Google has created a special doodle.The doodle features scenes from stories such as 'Sleeping Beauty,' 'Cinderella,' 'Mother Goose' and 'Puss in Boots.'