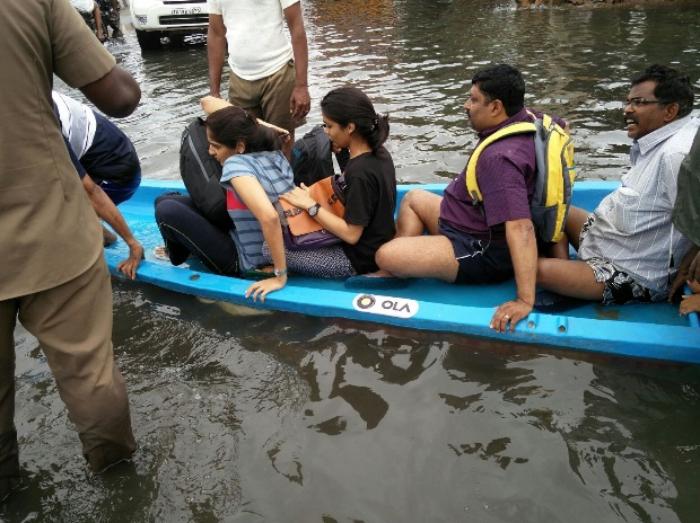 Taxi operator Ola has deployed boats along with professional rowers to rescue people in the waterlogged areas to safer places.
#Ola boats in Chennai 👠👠👠..Dear @Olacabs you rock 👠👠👠#chennairains pic.twitter.com/V3lakvqSJL

- HARI KIRAN (@harikiranroyal) November 17, 2015
"Ola deployed boats in waterlogged and partially submerged areas on the basis of information from the Fire and Rescue department", Ola said in a statement.
#OLA brings boats to evacuate people from flooded areas. #chennairains #ChennaiFloods pic.twitter.com/6ItvMKSl2C

- Tamil Movies (@tamil_films) November 17, 2015
The boats were manned by professional rowers and also fishermen to rescue people and to provide food and drinking water free-of-cost.
The boats are equipped with two rowers, sufficient umbrellas and can ferry between five to nine people in a trip.
"While we are addressing the increased demand for transportation in city, we are working closely with local stakeholders to help ferry those stranded in water-logged areas.", Ola, business head (Tamil Nadu), Ravi Teja said.
The boat service would be available for next three days and will be extended if water-logging continues, it added.
-PTI
Certain things need recognition rather than just appreciation ,& there it trends in INDIA - #OlaBoats #chennairains pic.twitter.com/nsyw0LHFM9

- DEEPU S GIRI (@DEEPU_S_GIRI) November 17, 2015
Ola Boats were actually plying on the streets today! pic.twitter.com/aWpVFlzv1p

- Saleem Pheku (@prdyt) November 17, 2015
Ola introduces ola boats #chennairains pic.twitter.com/YpoIv6QYAK

- Vaishakh pai (@vaishakh_pai) November 16, 2015
So, @Olacabs did send out boats to rescue people trapped in floods. Hats off to the team! #OlaBoat pic.twitter.com/O2IGGu8GpN

- Sai Shyam G (@SaiShyamG) November 17, 2015
Great gesture by Ola to introduce #OlaBoat 🙠Saves lives when it is most needed!!! #ChennaiRains pic.twitter.com/tbZBQJp7yY

- KurapatiJagadeesh (@jagadeesh3991) November 17, 2015