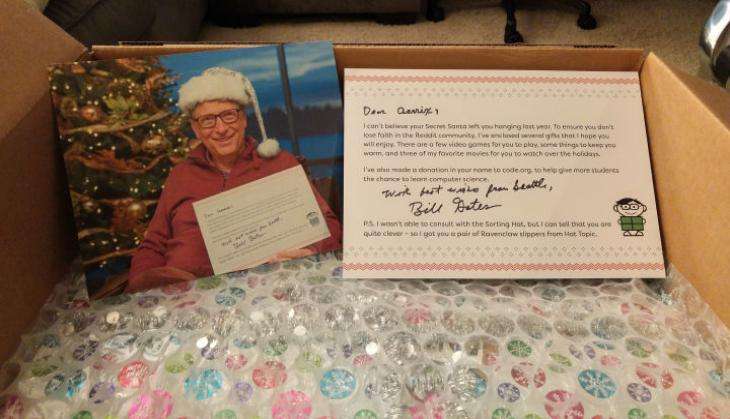 A Louisiana woman recently revealed that Bill Gates sent her amazing presents as part of a Secret Santa gift exchange on Reddit.
User Aerrix was pretty shocked when she discovered the gift box of goodies from the Microsoft co-founder, the richest man of the world, reports E! Online.
"I saw the Redmond, WA return address, thought nothing of it, and uncovered a few layers of bubble wrap to see the first picture of him in the Santa hat holding my letter. If I'd had to poop, I'm pretty sure I would have literally s--t myself," she wrote on Reddit.
"My eyes got wide and my jaw dropped and then I screamed out loud, to no one, because I was alone (well my dog and cat were there, cat ran and hid, dog ran around jumping)," she shared.
"I then called my husband, freaked out to him, then called my mom and had her on speaker for an hour while I opened everything, sending her the pics I was taking as I opened! :D"
Before picking out her presents, Gates apparently did his homework, scouring over her past Reddit posts to figure out what she was into and who her loved ones were.
"I got everything out and laid it out all nice, and there was glitter EVERYWHERE," she wrote.
"I just had to go for the two unwrapped boxes that said 'Aerrix's Mittens' and 'Clairrix's Mittens' first. My dog's name is Claire, btw, how freakin CUTE IS THAT?! He got me ZELDA MITTENS and you guys, matching ones for my DOWG!" she added.
Aerrix said Gates also got her an NES Classic Edition, Xbox One Editions of the video games Minecraft, Halo 5: Guardians and Rise of the Tomb Raider, three special edition wireless Xbox One controllers and a 12-month Xbox LIVE gold membership cards.
-ANI