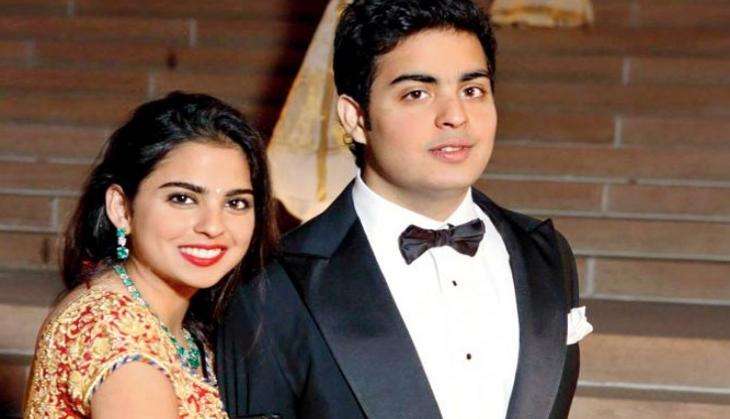 The excitement over Reliance mega venture Jio has brought in focus the next generation of Ambanis - Akash and Isha Ambani.
The 24-year-old twins are the directors of the innovative telecom business. The twins were appointed the directors at Reliance Retail Ventures and Reliance Jio Infocomm two years ago.
Akash majored in economics at Brown University. He is an avid cricketer and is closely involved with the family-owned IPL franchise Mumbai Indians. On the other hand, Isha graduated from Yale with a double major in psychology and South Asian Studies. She has also worked as a business analyst at McKinsey.
Addressing the Reliance Industries annual general meeting, proud father and group chairman Mukesh Ambani said, "The average age at Jio is 30 years. Jio is a creation of the young, by the young and of the young. Akash and Isha, both 24, our directors at Jio, have been hands-on leaders. They represent the large contingent of less than 30 years at Jio."
"I want to tell all our young people at Jio - Jio is what it is because of your passion, ownership and an attitude," he added.
Jio is being touted to be the world's cheapest telecom network with low 4G tariff, free voice calls, no roaming charges and just Rs 50 per GB data cost. Reliance Jio will launch on 5 September and will be free for all users until 31 December.
Also Read: The good, the bad, the ugly: 5 things you must know before you buy Jio SIM

Also Read: An easy guide to port your number and get a Reliance Jio SIM card

Also Read: Reliance Jio: #Ambani_प्रचारक_Modi trends; Twitterati target PM Narendra Modi & Mukesh Ambani

Also Read: Good times ahead: Reliance Jio sets aside Rs 5,000 crore-fund for Indian startups
Also Read: Samsung, ASUS, LG, Micromax, 5 other companies get Reliance Jio 4G LTE services
Also Read: All about Reliance Jio: Mukesh Ambani announces dirt cheap data plans, free voice calling