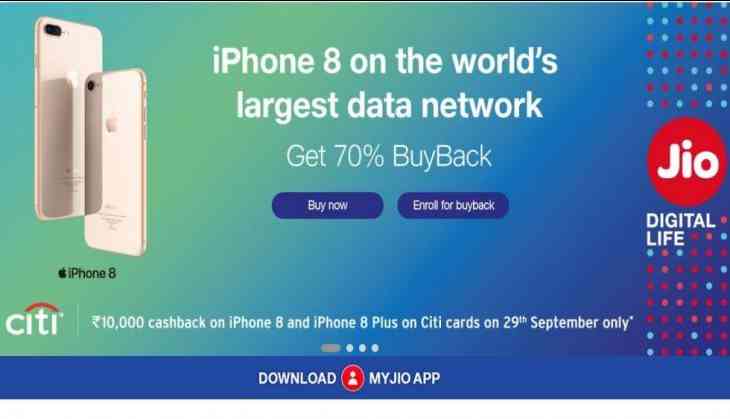 If you want to buy Apple iPhoneX, then the Mukesh Ambani owned Reliance Jio is providing you with the best offer possible. Jio is giving a buyback offer of 70 percent to its users. According to the new offer of Jio buyback, the user will get the 70 percent MRP of iPhone X after they will return their phone. The users of Reliance Jio can also pre-order their iPhone from Reliance Retail Limited Store, MyJio app, Jio.com or from e-commerce giant Amazon at rs. 1,999.
Reliance Jio's buyback offer is valid from 29 September to 31 December. One can also get cash back on their Apple iPhone if they prefer to do shopping using Citi credit and world debit cards. Apart from iPhone X, Reliance Jio's offer is also valid for iPhone 8 and iPhone 8 plus.
Here is how you can book iPhoneX from jio.com
Step 1: Visit the official website of Reliance Jio
Step 2: Select any of the available iPhone X variants
Step 3: Enter your Pincode and select the number of iPhone you want to book.
Step 4: Enter your personal details
Step 5: Select the desired payment option
Step 6: Pay the per-booking amount
Here are the terms and condition of Reliance Jio's 70 percent buyback offer:
1- The Offer shall be open to all Eligible Subscribers on and from September 29th, 2017.
2- These T&C shall be read concomitantly with the terms and conditions of the Jio Prime membership plan and the CAF.
3- Two or more offers cannot be clubbed together. This Offer cannot be used in conjunction with any other alternative offer or promotion of a similar nature. However, the Eligible Subscriber will be entitled to avail the benefits under "Jio Dhan Dhana Dhan", till such time that it is available.
4- If the Jio MSISDN enrolled with Eligible product doesn't recharge as per the terms and conditions of buy back offer, the Offer Benefits shall be discontinued.
5- RJIO recognizes that the choice to be contacted for promotional messages and alerts is that of the Eligible Subscriber. RJIO intends to keep the Eligible Subscriber informed on matters relating to the Offer and any upcoming offers from RJIO for the benefit of the Eligible Subscriber. Accordingly, by availing the Offer, the Eligible Subscriber hereby consents to be contacted by RJIO and such consent shall remain unaffected by the Eligible Subscriber's registration in the National Do Not Call ("NDNC") registry under the relevant category stipulated therefor.
6- RJIO reserves the right to cancel/withdraw this Offer at any time, without any prior intimation to the Eligible Subscriber. However, the benefits accrued to the Eligible Subscriber on or prior to the cancellation/withdrawal of this Offer, shall not undergo any change.
7- RJIO, may, at its discretion, modify any of the terms and/or conditions and/or any aspect of the Offer, without any prior intimation to the Eligible Subscriber. The modifications so carried out will be posted on www.jio.com
8- If any term/ condition under the T&C of the Offer is found to be invalid, void, or for any reason unenforceable, such term/ condition shall be severed from the other terms and conditions and shall not affect the validity and enforceability of the remaining terms and conditions of the Offer.
9- Any claims, issues, damages or losses with respect to the Eligible Product shall be the sole responsibility and liability of the manufacturer of the Eligible Product, and RRL, RJIO (including its affiliates, group companies or parent company) hereby disclaims, any and all claims, losses and liabilities, whether or not arising out of, or in connection therewith and/ or this Offer and the terms and conditions governing the Offer. This disclaimer shall apply to the fullest extent permitted by law and shall survive cancellation/termination/determination of this Offer.
10- In no event shall RRL, RJIO or its directors, officers, employees, agents or other representatives be responsible or liable for any direct, indirect, special, incidental, consequential, or punitive damages, or any other damages of any kind, arising out of or related to the Offer.
11- This Offer is subject to guidelines/directions issued by Telecom Regulatory Authority of India (TRAI), Department of Telecommunications (DOT) or any other statutory authority from time to time.
12- The Eligible Subscriber hereby authorizes RJIO to collect his/her personal information including name, address and mobile number etc. and share with its partners so as to enable the Eligible Subscriber to avail the Offer. The Eligible Subscriber's personal information will be stored and processed in accordance with RJIO Privacy Policy which is available at www.jio.com
13- In case of any queries/issues, please contact JIO Customer Care at 198/18008899999 or write to [email protected]
14- The Eligible Subscriber agrees that he/she has read, understood and voluntarily agrees to the T&C mentioned and stated herein.