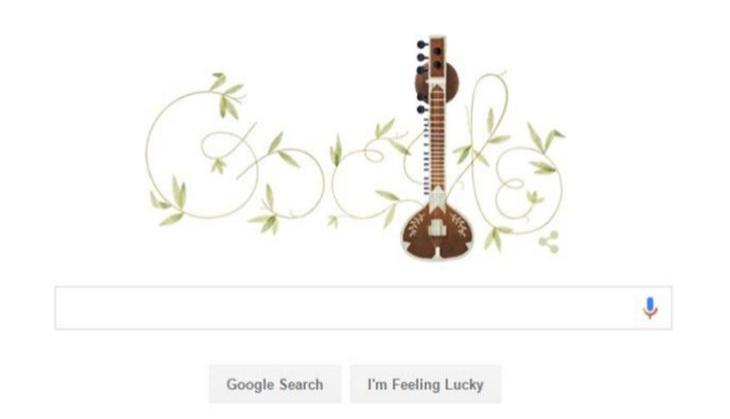 Google has honoured Pandit Ravi Shankar, the sitar maestro who popularised Indian classical music in the West in the 1960s, with a doodle.
In honour of the virtuoso's 96th birthday today, Google doodle's centrepiece is a sitar.
"Shankar evangelised the use of Indian instruments in Western music, introducing the atmospheric hum of the sitar to audiences worldwide," the search engine giant said.
Born Robindro Shaunkor Chowdhry in 1920 to a Bengali family in Varanasi, the musician and composer spent his younger days touring the country with his elder brother Uday Shankar's dance troupe.
He gave up dancing to learn the sitar from renowned musician Allauddin Khan. He soon went on to become the music director of All India Radio and also worked as a composer, creating the music for the 'Apu Trilogy' by Satyajit Ray.
Pandit Ravi Shankar performed frequently with violinist Yehudi Menuhin, and composed a concerto with the sitar for the London Symphony Orchestra. He also taught Beatles' George Harrison how to play the sitar and widely influenced popular music in the 1960s and 70s.
"The distinctive character of Shankar's compositions attracted the attention of composer Philip Glass, with whom Shankar wrote the 1990 album, Passages," Google said in a statement.
The legendary musician who passed away in 2012 at the age of 92, has been conferred with a Bharat Ratna, the Padma Bhushan and the Padma Vibhushan.
At the centre of today's Doodle, by artist Kevin Laughlin, is a sitar, with two bridges, one for the "drone" strings and the other for the melody strings.
The doodle has been viewed mostly in the US, Sweden, Kazhakasthan, Lithuania, India, Indonesia and Japan, according to the search giant, which sometimes makes spontaneous changes to the Google logo to celebrate holidays, anniversaries, and the lives of famous artists, pioneers, and scientists.
-With agency inputs