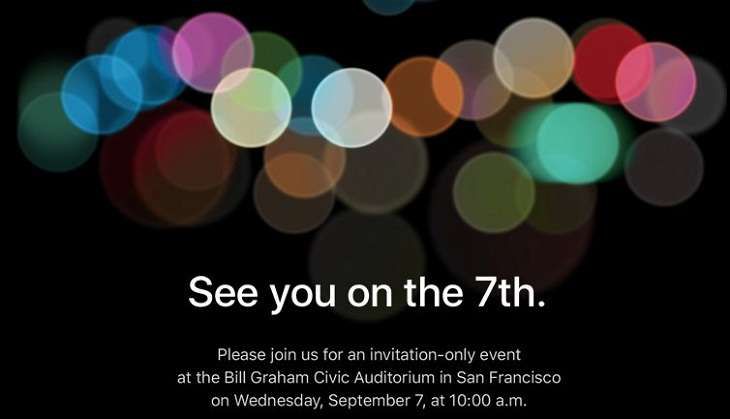 Enough has already been said about Apple's new launches tonight. There have been rumors of iPhone 7 models that will have faster processors, technologically enhanced cameras, and improved software while doing away with jacks for headphones wires.
Another aspect of the iPhone 7 and the iPhone 7 Plus is that they may look similar to the existing iPhones, which not many people are very pleased about. However, the fact that they are bringing along the changes that will, once again, create ripples in the smart phone world is enough to keep the excitement intact.
Watch: What to expect from Apple's iPhone 7 launch
The keynote that begins at 10.30 IST in San Francisco is an invitation-only event that is expected to launch not just the iPhone 7 with iOS10, but also bring about improvements in the Apple Watch, iPad, MacBook Pro and other Apple devices. This year's phone is rumoured to have some interesting changes and additions.
With iPhone 7, we are expecting a sleeker phone with rubberised Antenna lines moving on top, making the phone look neater. Plus, iPhones till now have rocked hues of gold, silver and rose gold, however, the buzz is that they may move to darker tones, with the iPhone 7 perhaps offering black and navy blue variants.
Another big change could be Apple doing away with the 3.5 mm headphone jack and might introduce bluetooth earphones in the box. This way Apple will make wireless earbuds fashionable and popular. To facilitate users accustomed to wired headphones, Apple could roll out an adaptor that plugs into a port. Also speculated is the use of lightning port to connect headphones.
There could be major enhancements to the phone's camera with many websites also speculating twin rear cameras in Plus model. Apple may include an ambient light sensor for better photo quality and two 12-megapixel lenses.
Apple Watch 2 is also vying for attention as the original hardware has not been updated since its debut in April 2015. In all probability, Apple might release the updated version as Apple Watch2. Mac Book Pro might also get an update this year with a new version launch.
Live streaming details, specs and more about Apple launches today:
How you can watch the Apple iPhone 7, iPhone 7 Plus launch event live
Apple, this is what we do NOT want to see in the upcoming iPhone 7
Apple iPhone 7 launch, price and specifications : What to expect from the 7 September event
Apple iPhone 7 launch today: Get all the details here