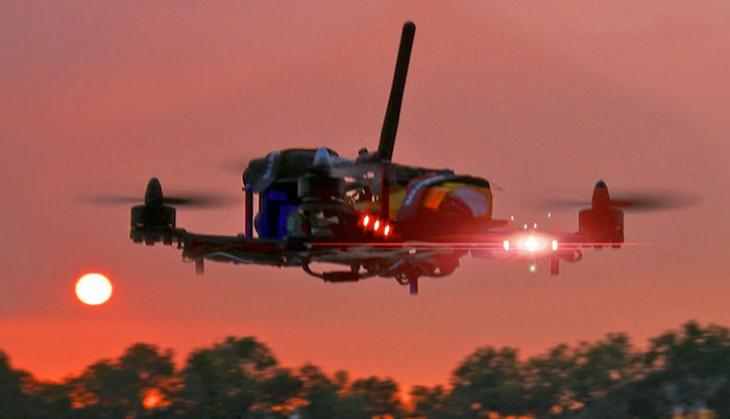 Faridabad, commencing 22 September, will be using drones to help the police maintain law and order in the city. This practice will be carried out on a trial basis first to explore their potential.
One such trial was conducted in the premises of National Power Training Institute (NPTI) in Faridabad.
Faridabad Police Commissioner Hanif Qureshi said drones could be used to prevent traffic jams in the city, which have become a big problem. He further added that the aerial devices could be used to search for people stuck in a building fire and also help in evacuation process.
Besides this, sometimes anti-social elements take advantage of demonstrations and strikes and try to create social unrest. Drones will help in identifying such persons, he added.
Close proximity to New Delhi makes Faridabad a sensitive area, so the drone will be helpful in gauging any terror-related activity, explained the commissioner.
However, this is not the first time a drone has been used to keep an eye on the public; drones have been used in Andhra Pradesh, Lucknow, Maharashtra, Mumbai-Pune Expressway, Kashmir - to help police maintain decorum in the city.
Out of all the functions, drones in India have been used primarily to maintain law and order. Commenting on how the officials will be trained to use drones, Andhra Pradesh Chief Minister N. Chandrababu Naidu on 20 September, said that an academy will be setup to train professionals on the maintenance and operation of drones and drone technology.
The Andhra Pradesh government has also declared that drones will be used for tourism purposes.
On 10 April, Lucknow used a drone for crowd-control purposes. How? The drone used was loaded with a pepper-spray device and a camera was fitted to it.
Also Read: Maharashtra govt may soon use drones to control traffic; 6 fun facts about drones
In the valley of Kashmir, which has been in a state of unrest since the past two months, was also subject to use of drones. One the eve of Eid, drones were used to keep the crowd in check.
Also Read: Curfew kills Eid al-Adha festive spirit in Kashmir Valley, drones, helicopters to keep vigil
However, apart from the regular use, drones were used to keep an eye on the traffic on the Mumbai-Pune Expressway. The camera-administered drone would help the police identify the root of the traffic.
Also Read: With an eye on you: Drones to monitor the Mumbai-Pune Expressway to avert accidents
Officials of Yamunanagar, Haryana, have started using drones to keep a check on public from defecating in the open.
Apart from the above mentioned states, Tamil Nadu, Uttrakhand, Gujarat, and West Bengal have used drones to maintain decorum in the region.
But what if drones are used by the wrong people?
The Dutch have an interesting solution to this -- eagles. The Dutch police from October 2016 will be training eagles to tackle drones that have been deemed unsafe or illegal.
Dutch police spokesperson, Dennis Janus said, "The eagles will see the drones as prey and intercept them as they are flying, before landing where they feel safe with the drone still in their claws."
Also Read: Eye in the sky: Dutch police to use flying squad of eagles to control drones
Drones might just be the one of the best solutions to maintain the law and order in our country but it will surely take a course of trial and error to use them to our maxium advantage.