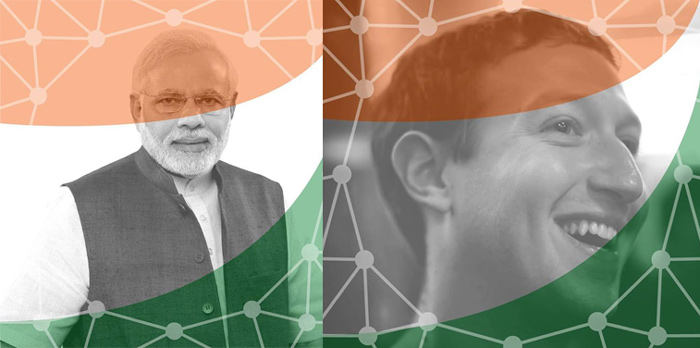 Think twice before you put up the attractive new tricolour profile picture on Facebook. Mark Zuckerberg, Facebook CEO, may have done it. Indian Prime Minister Narendra Modi may have also done it prior to the Townhall at Facebook's headquarters in Menlo Park. But I, for one, will not be doing it, thanks to an eye opening investigation by NextBigWhat.
It was possibly a historic meeting between Mark Zuckerberg and Narendra Modi where in our Prime Minister announced that he wants to take India from an eight trillion dollar economy to a 20 trillion dollar one. Whoa. During the 45-minute Townhall, Modi answered several questions and even broke into tears when talking about his parents. Make in India was also discussed.
Before the Townhall though, both took to Facebook to lend their support for Digital India by changing their profile pictures. But if one is to carefully read into the image, one can uncover a lot more. Zuckerberg's post read: "I changed my profile picture to support Digital India, the Indian government's effort to connect rural communities to the internet and give people access to more services online." It is, undoubtedly a clever move by Zucky to combine Digital India with his plans to connect rural communities to the internet. This has famously been his pitch for his controversial Internet.org project.
According to Inc42, Internet.org is "an open platform offered by Facebook across 19 developing countries, including India. It aims to enable easy access of selected apps and app-based services to people at zero cost. In India, it has partnered with Reliance Communications to offer free access to about 30 websites."
Indians around the world are lending their 'support' for Digital India by putting up their tricoloured profile picture. While this may be a moment to show off patriotism to all your friends, in reality, it shouldn't be. The truth is that it's not Digital India you would be supporting, but Facebook's sneaky input for Internet.org -- the so called 'free 'Internet' that can potentially kill all the freedoms you once enjoyed on the web and subsequently, the startup ecosystem.
To uncover these details, NextBigWhat ploughed through the source code only to find a portion that reads, "_internetOrgProfilePicture_". Bam.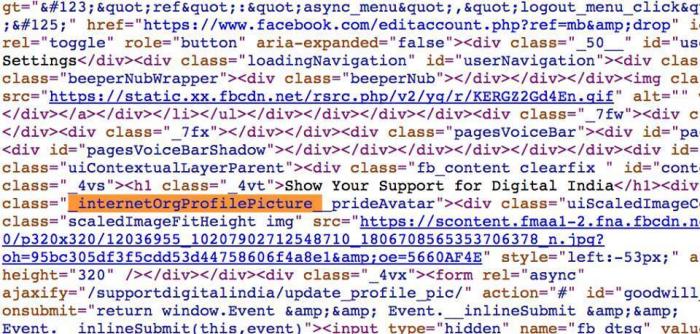 Looks like Facebook is subtly trying to merge their Internet.org scheme with Modi's Digital India vision. One way to do this is to dramatically change public opinion. Facebook has started to air advertisements on television and even in the cinema.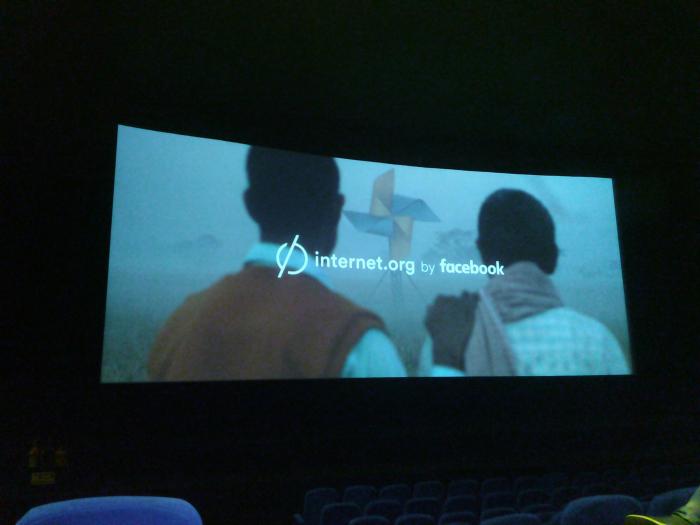 In an earlier response to the Department of Technology, Facebook announced that 17 million people have supported the Internet.org service and they even published all comments they received. Most comments came from a poll: do you want India to have free basic internet services? The two options were 'Not Now' and 'Yes, I'm In'. Basically, there was no way to say a point blank 'No'.
Long story short, if you want to support Digital India, do not put up the tricoloured profile picture of yourself that Facebook is offering you. Because it doesn't really stand for that.
Long live free internet.