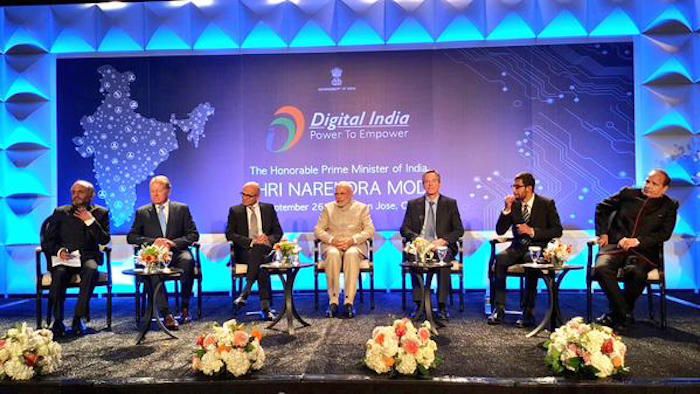 While speaking before a gathering of Silicon Valley CEOs, Prime Minister Narendra Modi said the Digital India initiative is unprecedented in human history. "Digital India is an enterprise for India's transformation on a scale that is, perhaps, unmatched in human history," Modi said.
Modi, the first Indian Prime Minister to visit Silicon Valley in more than three decades, said his government wants paperless transactions. "We would set up digital locker for every citizens to share documents across departments," he said.
"After MyGov.in, we have just launched the Narendra Modi Mobile App. They are helping me stay in close touch with people. I want our 1.25 billion citizens to be digitally connected," he said amidst applause from the audience."I see technology as a means to empower and as a tool that bridges the distance between hope and opportunity," he added.
"In this digital age, we have an opportunity to transform lives of people in ways that was hard to imagine just a couple of decades ago," the Prime Minister said, adding that the pace at which people are taking to digital technology defies stereotypes of age, education, language and income.
"We must ensure that technology is accessible, affordable and adds value," he said, adding that his government is giving highest priority to cyber security, intellectual property. From large corporates to young professionals in this great centre of innovation, each can be part of India story," he said.
"Building upon that vision, we conceive of Digital India, to fundamentally transform the way our nation will work," the Prime Minister said.
Adobe CEO Shantanu Narayan, Microsoft CEO Satya Nadella and Qualcomm executive chairman Paul Jacobs were among those present at the event.
-- PTI