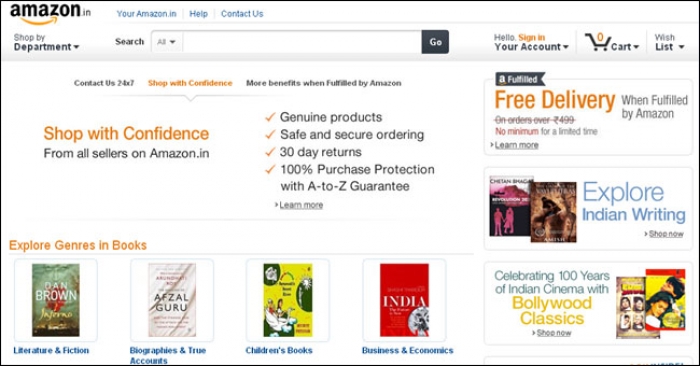 Amazon.in has released Amazon Best Reads which features the Top 25 bestsellers in India, in print and digital formats, based on sales on Amazon.in in any given month.
The list will be published on Amazon.in on the fifth of every month.
Amazon.in will provide the users an opportunity to purchase their favorite books at attractive prices. Amazon.in is offering a minimum 50 percent off on MRP on the Top 25 bestsellers and the respective eBook versions are available at a 20 percent discount to their corresponding physical book.
Noor Patel, Director Category Management - Media, Amazon India said that they are excited to launch Amazon Best Reads- a comprehensive list of bestsellers of each month for readers in India.
He also said that Amazon.in is a leader as far as online book sales are concerned. The number of books sold per day has grown by 1400 percent over the past two years. With this initiative, they believe the time is right to introduce a list that will guide book lovers to decide what to read each month. They hope that this initiative will gain support from book lovers and further spread the love for reading among customers in India.
The new releases are not included in Amazon Best Reads before completing one month of circulation and it will also exclude academic, reference and test preparation books.
The first Best Reads list contains books Hindi titles in the list like 'Ikshvaku Ke Vanshaj' & 'Rahasya'. In addition, the list has classics such as 'To Kill a Mockingbird' from Harper Lee and 'The Alchemist' by Paulo Coelho.
Amazon.in is waiving off shipping charges for all books Fulfilled by Amazon (FBA) for a limited period to encourage readers to purchase books available at low price points without worrying about additional shipping charges.
-ANI