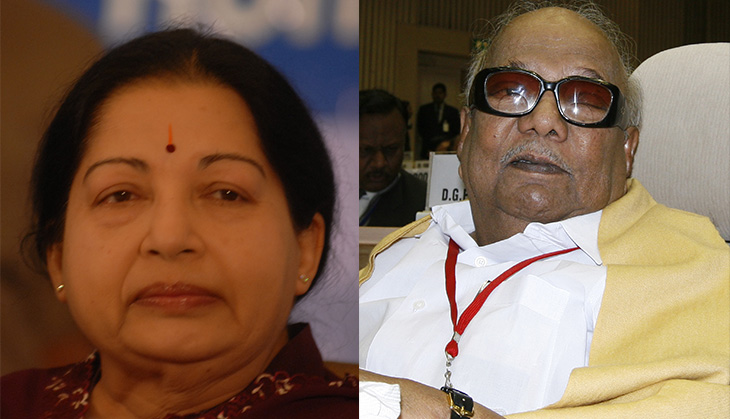 The battle for the Tamil Nadu assembly came to an end on 16 May. With exit polls painting a mixed picture for AIADMK chief, Jayalalitha, all eyes are now set on the results, which will be counted on 19 May.
Voting for Aravakurichi and Thanjavur constituency has been deferred to 23 May.
The two major Dravidian parties in the state - which have been alternatively ruling for the past 50-years are the All-India Anna Dravida Munnetra Kazhagam (AIADMK) led by Jayalalithaa and the Dravida Munnetra Kazhagam (DMK) led by M Karunanidhi.
Other parties in the fray include the Bharatiya Janata Party (BJP), the Pattali Makkal Katchi (PMK), and the Desiya Murpokku Dravida Kazhagam (DMDK) - led by actor-turned politician Vijaykanth.
Key issues that will govern Tamil Nadu polls
1) According to a survey by the National Council of Applied Economic Research (NCAER), Tamil Nadu is one of the most corrupt states in India. The two major political parties have been entangled in various corruption practices - including current Chief Minister Jayalalithaa's disproportionate asset case and the DMK's involvement in the high-profile 2G scam.
2) Many have alleged that Jayalalithaa has been inaccessible even to the ministers of her party, due to which the governance in the state has taken a backseat.
3) Cash for vote or distributing freebies in order to win support from the people at large is one of the major concerns during the elections in the state. Polling in Aravakurich was deferred after it was alleged that candidates and political parties had bribed voters.
4) A lack of job opportunities in the state was also a major poll issue. Tamil Nadu's education system has drawn flak for encouraging rote learning. Additionally, many people in the state are reportedly unaware of the jobs available in their hometown and have migrated in search of jobs.
5) Last but not the least, the promise to ban liquor found mention in the pre-poll promises of all the parties. With liquor generating massive revenues for the state, voters in Tamil Nadu are bound to carefully scrutinise the possibility of a complete ban on liquor.