S Murari
| Updated on: 10 February 2017, 1:50 IST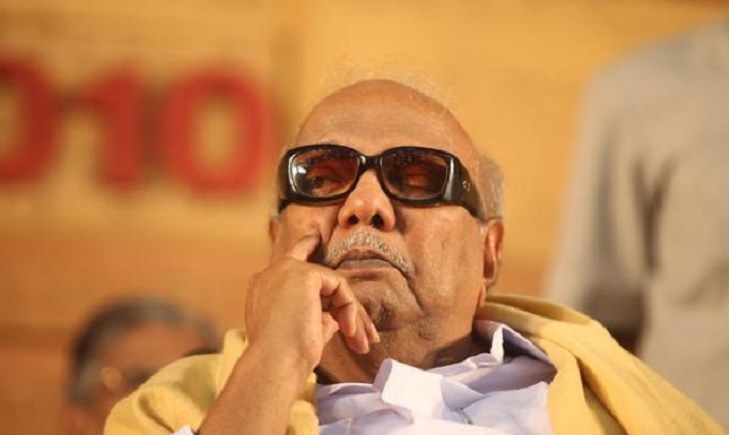 While five-time Tamil Nadu Chief Minister and president of the Dravida Munnetra Kazhagam, M Karunandhi, is seeking to be re-elected from Tiruvarur - his home town - his son, M Stalin, will contest for a second win from Kolathur for the for the Tamil Nadu Assembly polls, which are slated for 16 May.
On 13 April, Karunanidhi released the list of candidates for the 173 constituencies that the DMK is contesting - after allotting 41 seats to the Congress, ten to two Muslim outfits and ten to other fringe groups.
The 93-year-old, wheelchair-bound DMK patriarch, who is making what might just be his last attempt at the Chief Minister's chair - for a record sixth time - has decided to maximise his party's win by playing safe.
Not only has Karunanidhi gone back to his roots in Tiruvarur, near his native place Thirukuvalai in the Cauvery belt for a second time, but the DMK has also accommodated all the bigwigs and fielded them in their strongholds.
Stalin will seek a second term in Kolathur, a labour-dominated area in North Chennai, that he has assiduously cultivated in the past five years. The same goes for Karunanidhi. Besides the development he has ushered in for Tiruvarur, the son-of-the-soil sentiment will also work in his favour.
Not that Karunanidhi is afraid of a fight. He holds a record for having not lost a single election since the DMK entered the electoral arena in 1956. The only time he missed an election was in 1984, as he was then a member of the Legislative Council.
Even when the DMK faced its worst ever rout in the 1991 election - held in the immediate aftermath of Rajiv Gandhi's assassination in Tamil Nadu - Karunanidhi was the sole winner for the party, winning by less than 100 votes from Chennai Harbour constituency.
He gave up that seat and the AIADMK grabbed it in the by-election that followed. As a saving grace, the DMK got representation when Parithi Elamvazhuthi was elected from Egmore as the polls there were countermanded following the death of a candidate.
From 1991 to 1996, Parithi was the sole representative of the DMK and he resisted the autocratic and corrupt regime of the Jayalalitha-led AIADMK. Over time, he lost his clout after he fell out with Stalin. Now Parithi is in the AIADMK and is contesting from the same Egmore constituency.
Stalin has brought the party under his complete control. More importantly, he has seen to it that his elder brother, and bitter rival, Aznagiri and supporters are kept out of the race.
Azhagiri's base is confined to Madurai in the south. For the three seats there, one of the candidates is Thalapathi, a former loyalist of Azhagiri who has switched camp since. The second candidate is PTRP Thiagarajan, son of former Speaker and Minister PTR Palinivel Rajan.
Azhagiri sabotaged his chances in 2001 and a hurt Palanivel Rajan - a highly respected figure in Madurai - withdrew from the scene. He was cajoled into contesting again in 2006 by Karunanidhi and he won - this time with the support of Azhagiri.
The candidature of Thiagarajan is a signal that Azhagiri is yet to win favour from his estranged father Karunanidhi. At a recent meeting, Karunanidhi is believed to have advised him to back the party, in order to help the party withstand the onslaught from Vijayakanth, in his stronghold, Madurai.
Karunanidhi has given ticket to all party veterans - including Durai Muragan, who is seeking a second term from Katpadi, KN Nehru from Tiruchi and Ponmudi, who has shifted from Villupuram to Thirukoilur.
Karunanidhi has also given a ticket to veterans from the AIADMK who have joined the DMK over the years. These include KKSSR Ramachandran (Aruppukottai), S Muthuswamy (Erode) and Anita Radhakrishnan - who will go up against actor Sarath Kumar in Tiruchendur.
Other veterans who are in the race are former Speaker Avudayappam (Ambasamudram) and former Minister Poongothai - the daughter of late Minister Aladi Aruna. Also in the fray is former Chennai Mayor and staunch Stalin loyalist, M Subramanian who will contest from Saidapet.
The party has fielded 12 women candidates besides Poongothai. Prominent among them is Geetha Jeevan (Thoothukudi), former Minister and daughter of district secretary I Periyasamy.
In Chennai, which is now a fortress of the AIADMK, there are no star DMK candidates besides Stalin. Prominent among them are Sekhar Babu (Harbour), Stalin-loyalist, K Anbazhagan and Vagai Chandrasekharan.
The DMK has fielded the relatively unknown candidate Simla Muthuchozhan, against Chief Minister and AIADMK chief J Jayalalitha who is seeking a second term from KK Nagar, a party stronghold.
A notable omission is party general secretary and DMK number two, K Anbazhagan - who is senior even to Karunanidhi. Anbazhagan, who is untainted by corruption, has probably opted out because of age and health.