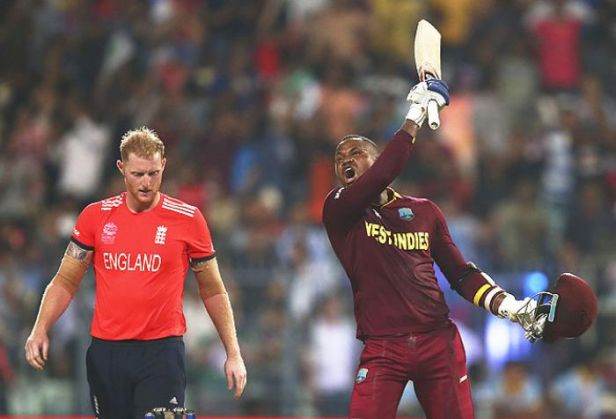 West Indies all-rounder Marlon Samuels has been fined 30 per cent of his match fee for using offensive language against England's Ben Stokes during the ICC World T20 final at the Eden Gardens in Kolkata on 3 April.
Samuels, who was adjudged the Man of the Match for his unbeaten 66-ball 85, was found to have breached Article 2.1.4 of the ICC Code of Conduct for Players and Player Support Personnel, which relates to "using language or a gesture that is obscene, offensive or insulting during an International Match", an ICC media release said.
The incident occurred in the final over of the West Indies innings. After Carlos Brathwaite slammed Stokes for a third consecutive six, which tied the scores, Samuels laid into Stokes who turned from walking back to his mark to confront him. After Brathwaite had hit the final six to sound England's death knell, Samuels removed his shirt and rushed across to be in front of the England dugout to gesticulate. The right-hander had to be restrained by his teammates and the West Indies coaching staff.
Earlier, Stokes had sledged Samuels when West Indies slipped to 11 for three before they chased down England's total of 155 with two balls to spare. Stokes was spotted taunting Samuels again when it appeared that Samuels was out - only for replays to show the ball had touched the ground before being collected by Jos Buttler.
In the post-match press conference, Samuels lashed out at Stokes. He said:
"Well, he (Stokes) doesn't learn. I didn't even face a ball and he had so much to say to me that I knew I had to be right there at the end, again. That's what I thrive on".

"Stokes if a nervous laddie, so what I told Brathwaite was to just hold his pose and he's going to bowl a couple of full tosses - as always - and it will work in our favour."
Samuels and Stokes have history, most notably when the West Indies player gave a send-off to the England all-rounder while appearing to salute him during a Test match in the Caribbean in April last year.
Apart from Stokes, Shane Warne - who also has some history with Samuels - came in for some stick as well. Warne as a commentator in the ICC World T20 has not been very complimentary of Samuels, who doesn't seem to like it.
The West Indies cricketer displayed his Man of the Match trophy to the cameras and said, "This is for Shane Warne." At the press conference, he laid into Warne some more. "Every team I play for, Shane Warne has a problem with me," Samuels said.
"I don't know what, I've never disrespected him, it seems he has a lot inside him that he needs to come out with. I don't appreciate the way he continues to talk about me, and the things he keeps doing. I don't know, maybe it is because my face is real and his face is not," he added.
The history of feuds between Samuels and Warne dates back to January 2013 when a Big Bash League (BBL) match witnessed a heated exchange between the two cricketers. During the game, Samuels seemed to have grabbed Warne's Melbourne Stars teammate David Hussey as he turned for a second run. Warne indulged in some some shirt pulling himself when Samuels came out to bat. Then a Warne throw from close range whizzed by Samuel's face, provoking the Jamaican player to throw his bat in anger.
For some inexplicable reason Samuels' press conference was ended abruptly at six minutes. Though he wanted to talk and asked for more questions, but the ICC representative put his foot down to bring an end to an explosive press conference.